Need A Decent 2D Dark Souls Metroidvania Fix This Year? Try Vigil: The Longest Night
Platform: PC, Nintendo Switch
Genre: 2D Dark Souls Metroidvania Action Platformer
If you're looking for a challenge this month from an indie developer, look no further than Glass Heart Games' Vigil: The Longest Night. This 2D action game wears its inspirational sleeves proud – that of From Software's hardcore action RPGs and Castlevania titles in the late 90s that require maps to navigate its secrets & discoveries.
Unfortunately, 2020 is a year littered with unique heavyweights like Ori & The Will of the Wisps, Carrion, and Midnight Succubus Castle DX. As such, it's got a bit of competition to stand out among the rest. But we'll get to that in a bit, because Vigil is still worth considering.
Night Watch
Vigil: The Longest Night starts you off with a female warrior named Leila, who is part of a night-watching group called the Vigil who has to solve the everlasting night plaguing the town of Maye.
Apart from a main objective – finish a Vigil trial followed by doing some main quest stuff that requires you to explore the edges of the game's map- you have a bunch of plot details and odd characters you meet and converse in the town. Vigil is going for the whole "approach and find out more" method that's prevalent in most old-school RPGs, and that helps with the mystique of the title. The game's purposely drab aesthetic and creepy music starts you off slow and curious, and then as you're out and about, you hear the more dramatic OST breaks out the guitar when you're dealing with the things that go bump in the night. These include bats, rabid wolves, zombie dogs, belligerent guards, and mutant cultists.
Dealing with these foes requires you to be a bit careful than your standard 2D Metroidvania fare. Your standard attacks (Light and Heavy) and dodges require stamina, and using up too much of it put you in a negative debuff state. Every enemy here hits really hard, no matter how fast you can level up here.
No matter how many skill points you allocate to max out your sword or axe damage, or just your survival skills so you consume less stamina when dodging & attacking, you'll need to be on point with the controls on a 2D space. It takes some time getting used to, but after multiple deaths, you'll be dodging and finding attack opportunities like a pro. Think Dead Cells, but with a more loose control scheme and the aforementioned skill tree that's pretty beneficial if you invest in just one or two of them.
Because of that, as well as other control and 2D plane-related benefits and knowhow, I did manage to cheese through most of the endgame past the 4-hour mark once I gave my axe skills quite a boost. I was doing absurd damage to all enemies save the endgame bosses. I was also told by another compatriot who played through the game about the same time I did that he cheesed through it by putting maximum points in the bow skill. With a bit of careful points allocation, Vigil's challenge may end up being broken by sheer determination.
While I had my occasional flubs and was really taking in too many potions, the point is I can still blaze through the opposition with careful positioning, dodging, and jumping. Yes, the act of jumping and double jumping doesn't require stamina at all, which is fine but it did make me use it more often in combat as a penalty-free escape option.
Also, some additions do not make sense here and are there just for the sake of making the game stay true to its Dark Souls inspiration. Why have the save points/"bonfires" respawn enemies when entering and exiting a room does just that? Why is there fall damage in a Metroidvania-designed title that features a TON of verticality? There are already spiked floors in the game; why not use that instead of needlessly punishing players for exploration via leaps of faith?
Why are there split-second moments where I jump down a platform that's purposely obscuring a bad guy just waiting down there who is ready to strike in a milisecond? There are quite a few instances of this, and it's not challenging; this just comes off as cheap and annoying. And why does the map look terrible and isn't functional at all? I'm not asking for a George Kamitani work of art, but I can't make head or tales at where I'm at and where I need to go half the time.
A Shot In The Dark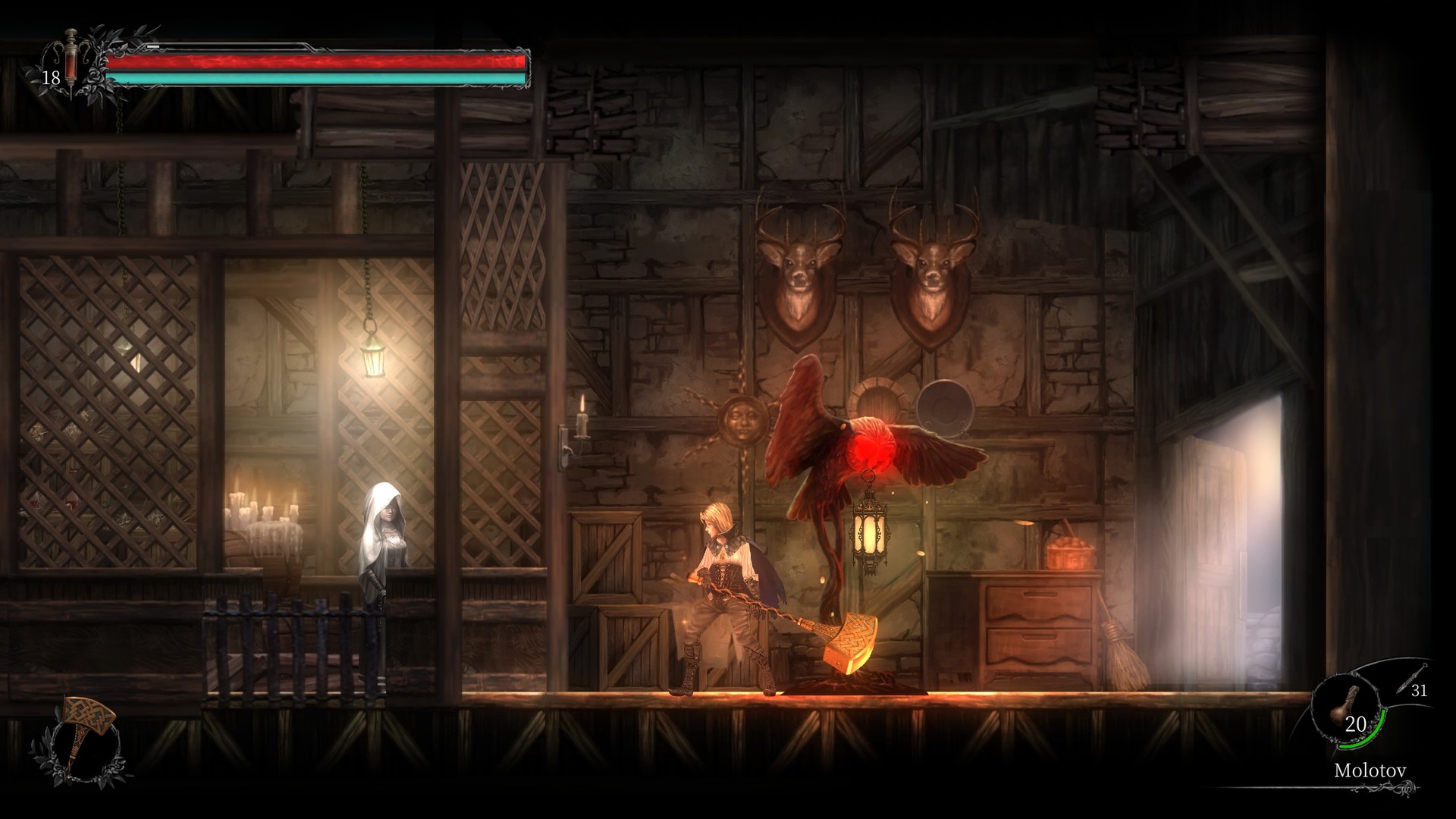 Speaking of art, we have to remember that all kinds of visual aesthetics are subjective. While Vigil: The Longest Night has a particular unique style and animation, it isn't doing anything for me, especially in a year filled with visual standout indie titles like Ori and the Will of the Wisps and Carrion. Plus, the game's character and level design is pretty stock. Save for some later Cthulu-slash-Bloodborne-inspired areas and some lovely monster designs, the majority of the game pits you in really bland-looking villages, spooky caves, mine shafts, and forests filled with people who came right out of a rejected Renaissance tapestry.
I understand that Glass Heart Games is keeping in theme with the dark fantasy motif, but I feel there's a better way to convey that in a unique way that doesn't feel like elaborate Flash animations. Personally, it's just monotonous to look at and makes me just want to get to the boss fight more than savour through the gruelling atmosphere.
It also doesn't help that sometimes the enemies blend in with the background because of their colour scheme matching the environment. This means you'll get hurt more often than usual for big chunks of damage just because enemies are unintentionally camouflaging themselves. Luckily you can still keep track of your heroine and you can customize how she looks so that she doesn't get lost in all the bloodletting you'll be doing.
No Shade Thrown Here
I look forward to seeing more great things from Glass Heart Games, because Vigil: The Longest Night is a lovely first effort from the studio. Its ode to Dark Souls and Metroidvania titles offers a lot of do-it-yourself mentalities and worthy challenges big and small. It needs some cleaning up with its balancing and cheap difficulty tactics, as well as a better way to convey its art style.
I can't recommend above this year's action-adventure indie game offerings of the "heavy searching" variety. But if you've played those already and need another fix, you could do worse than the pretty solid Vigil: The Longest Night.
Pros
Solid controls & tight combat.
Exploring Maye and its environment is fun & expansive.
Great music, especially in dungeons.
Lovely boss fights.
Cons
Divisive art style that obstructs gameplay.
Some sections & levels get cheap difficulty-wise.
Doesn't elevate the "search" action-adventure genre.
Final Score: 60/100