Multiplayer
Star Wars Squadron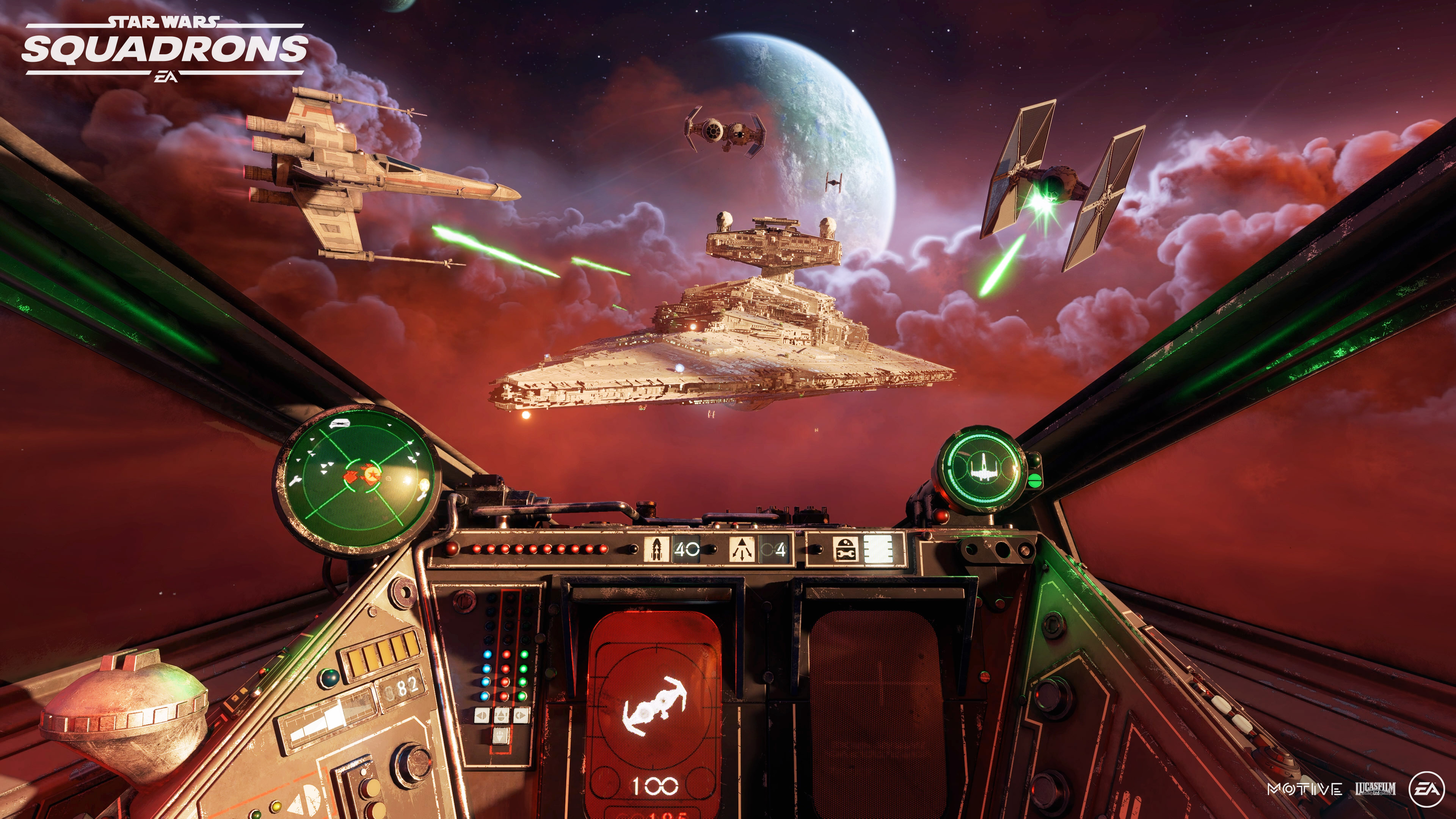 Genre: Sci-fi Flight Simulation
Platforms: PC, PS4, Xbox One
Why This Game? Because there are only so many multiplayer shooters you can play before you end up getting too jaded. The flight sim genre has been a relic lost in time, at least until the Elite reboot came into play. The Star Wars brand brought forth a true return to flight sim form: Star Wars Squadron.
True, its single-player campaign isn't anything to write home about, but its multiplayer mode is a different beast. Once you've gotten the hang of flying and the game mechanics (diverting power and energy, and the usual flight maneuverings), you'll get hooked just teaming up with your pals with a good old-fashioned Rebels vs Imperials space dogfighting action complete with the genre's thrills and intensity. Sure, the game could use more than 10 ships fighting at the same time, but it's already hectic enough as it is.
Star Wars Squadrons has potential to go even bigger if EA plans to expand the game further. Which is should, for its own sake and for jilted Star Wars fans butthurt by the new trilogy.
Estimate Playing Time per Day: An hour or so.
Call of Duty Warzone
Genre: Battle Royale Shooter
Platform: PC, PS4, Xbox One
Why This Game? There's a logical reason why this game hit 30 million players within 10 days, and it may partly be due to the COVID-19. It's because people are clamouring for a high polished and "fresh" take on the battle royale that also happens to be absolutely free. Activision finally caved in after delivering Blackout; they're going the F2P route and are getting love and plays for it.
With new systems like the second wind "gulag" feature and the contracts that make even the best of PUBG campers think twice about their current status, developer Infinity Ward are at the top of their game in both claiming their dominance and showing guys like Epic Games and BlueHole how it's done.
Estimate Playing Time Per Day: 1 hour at the minimum. –Mr Toffee
Apex Legends
Genre: Battle Royale Shooter
Platform: PC, PS4, Xbox One
Why This Game? If Infinity Ward's stellar battle royale game doesn't strike your fancy, why not try another battle royale title that was once the king of the genre. Respawn Entertainment's battle royale title, Apex Legends, brought a ton of innovative features such as the contextual ping feature that elevated the genre's experience.
The game is starting to mature from its very sudden release, as it's in its fourth season, featuring new characters and weapons, shaking up the meta that was just about to settle down. It's always a fresh experience every time you drop into World's Edge, the current map that evolves as the lore progresses.
Estimate Playing Time Per Day: As long as it takes to win once, and then the "winning hype" kicks in, prompting you to go for another round, in which you die immediately. So you try for another win. Then the vicious cycle repeats. Give or take 1 – 3 hours. -Syazwan
Monster Hunter World: Iceborne
Genre: Action-Adventure
Platform: PC, PS4, Xbox One
Why This Game? Capcom's best selling game is a great time sink if you are invested in min-maxing your character, and that in itself will consume countless hours of farming and grinding for the proper materials, items and equipment. It might sound like a drag, but for certain players, staying inside means more time to hunt Elder Dragons and stroll The Guiding Lands.
If you don't find joy in such 'chores', worry not, for the true end game is hunting monsters together with your friends. The game gets even better with friends on board because you'll be working together on a single goal; taking down a greater challenge, all while having unique talents and flashy movesets to contribute to the fight.
Plus, the Gathering Hub is a nice social space to mingle around and show off your hard-earned flashy weapons and armour.
Estimate Playing Time Per Day: To quote Captain America, "we can do this all day". Â -Syazwan
Warframe
Genre: Sci-fi shooter/ space ninja game
Platform: PC, PS4, Xbox One, Switch
Why This Game? In Warframe, you're a special warrior who doesn't simply hide behind cover like in most third-person shooters. No, you propel yourself through the air, wall run (though it's more like hopping, now), and do other acrobatic feats while slaughtering enemies with style. You've got an arsenal of guns and melee weapons, as well as suits called Warframes that imbue you with special abilities.
Warframe's primary gameplay loop revolves around farming, crafting (which happens in real-time and can take multiple days for some items) and levelling up gear so that your profile levels up. It's not uncommon to reset Warframe or weapon levels and level them up again so that you can cram more mods into them. It can be a chore, but it can also be seriously compulsive, but the moment-to-moment gameplay is so satisfying that you could just log in for 30 minutes a day and have fun that way.
What I've written only describes a small slice of the game too. There are numerous randomly-generated levels spread across multiple planets to clear, but there are also open-world zones, space-set missions, and you can even make your own spaceship called a Railjack. There are tons of things to craft, and you sometimes need to craft things in order to craft other things.
Basically, Warframe offers a lot. And the best part? It's free-to-play.
Estimate Playing Time Per Day: Up to you. As mentioned above, you can just spend 30 minutes a day and still have fun, or you could spend hours making progress in the game.
Destiny 2
Genre: FPSMMORPG
Platform: PC, PS4, Xbox One
Why This Game? Another free-to-play game on this list is Destiny 2. While not all of the content is free, the base game can offer you more than weeks of content to burn through. For starters, you have the Red War story mission to complete. Once you've done that, you can drop into the Strike playlist to play through missions, or Crucible for PvP action. Maybe some Gambit for high-octane boss battles laced with a drizzle of PvP.
Once you're bored with that, assuming your character has been powering up, you can enter end game content, such as Raids but this will require a fireteam of six competent players. You can easily find players in LFG groups scattered over the interwebs searching for Raid members. Trials of Osiris is also back for PvP-centric players to snag that sweet Flawless armour.
Going into its third year, more and more content is introduced into the game. So, it's worth trying it out, especially when you're the adventurous type.
Estimate Playing Time Per Day: Completing Bounties will set you back for less than an hour, while farming for gear will usually consume about 1-2 hours, while Raids, especially long ones like the Last Wish raid will take 3 to 4 hours. -Syazwan
Ace Combat 7: Skies Unknown
Genre: Arcade Flight Simulator, Action, Vehicular Combat
Platform: PC, PS4, Xbox One
Why This Game? Yeah, Ace Combat 7: Skies Unknown has a full-fledged campaign mode, but who actually plays these games for their story? The plot doesn't make much sense anyway, cause they're full of typical overblown and over-the-top stuff, sort of like an anime Top Gun or a Metal Gear with jets. I'm primarily a single-player gamer but this game is one of the few titles that actually convinced me to spend time in its multiplayer modes.
Forget conventional FPS and third-person-shooter battle royales. How about a free-for-all jet battle royale extravaganza? That's what you'll get in Ace Combat 7: Skies Unknown, along with team-based battles and deathmatches as well. My advice is to turn off special weapons and search for missile-only matches (that rely on skill) so that no one can spam those overpowered QAAM.
Estimated Playing Time Per Day: Unlike other online games, the multiplayer battles in Ace Combat 7: Skies Unknown usually lasts a lot shorter. You'll probably spend around 10 to 15 minutes per match, but they're good hectic and intense short bursts of fun.
Nothing beats the feeling of finally tagging that enemy fighter with your missiles.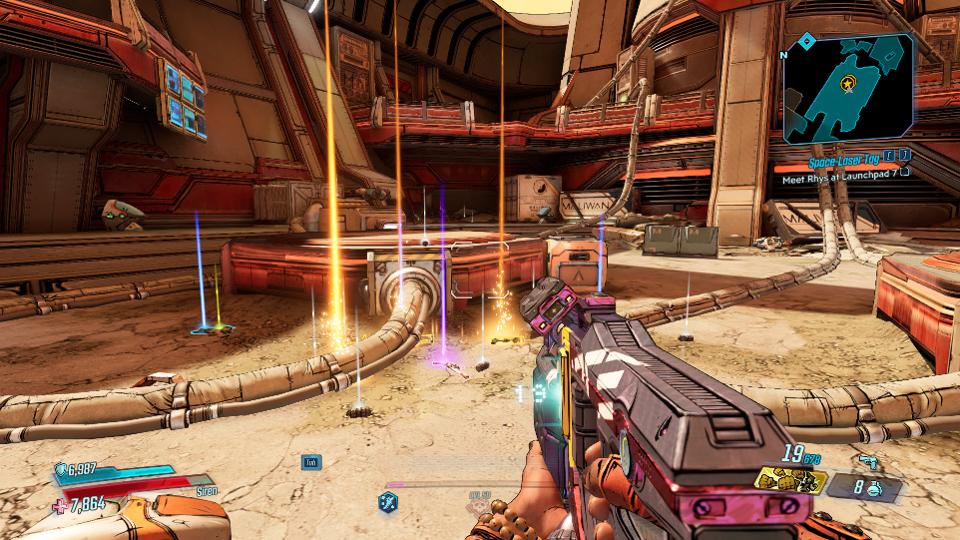 Genre: The sequel to the loot-and-shoot FPS king
Platform: PC, PS4, Xbox One
One of our picks for Best 30 Games Of 2019 is still a viable co-op PvE game, just because of the continuous hotfixes, updates, and DLC it's getting since its September release.
Like we said before, Borderlands 3 has much-improved gameplay, a better UI and inventory management, great character classes to fiddle around with & tweak, and great co-op play. The latter is highlighted due to the recent Takedown challenges, which are the game's versions of Raids that take out respawns at certain intervals and plonk in tougher-than-usual enemies and unique bosses.
Unlike other loot-and-shooters like Destiny 2, you can play Borderlands 3 using LAN, or play offline by yourself. And unlike those games, the guns here are actually different from one another beyond just stat increments. And they do get monthly updates and buffs/nerfs so things do get fresh from time to time. Guns that were not so hot back in September like The Lob and Woodblocker and now dangerous with the right build(s).
It's also recently out on Steam, so you really have no excuse not to jump on this much-improved loot-and-shoot train.
Estimated Playing Time Per Day: Assuming you've completed the game within 20-30 hours using one Vault Hunter, you'll probably want to beef him/her up to the highest level possible. And you'll also want to get the guns you need for your ideal build, which means farming bosses and partaking gauntlets and challenges, boosting up the difficulty via the Mayhem system.
This never-ending quest will net you at least 2 to 3 hours per day, with or without pals. You can cut an hour out if you have a full party because loot rates get a boost with more friendlies around. -Mr Toffee
Final Fantasy XIV: A Realm Reborn
Genre: MMORPG
Platform: PC. It's also on PS4 but I doubt anyone's using that for an MMO.
Why This Game? Because we forgot to put a Final Fantasy game on this eclectic gaming-during-quarantine list. Truth be told, all the FF games are worthy picks, but special mention should go to the one that turned from "alright" to "stellar" within 7 years. 
Final Fantasy XIV: A Realm Reborn is gorgeous, accessible, and chock filled with great storytelling bits, which is surprising given that MMOs aren't that good with handling that. Yes, even World of Warcraft's story was janky until at least a couple of expansions in. FFXIV: ARR got it right the first time and topped itself with its subsequent expansions. The Shadowbringers plotline wrapped up in the most epic manner possible, to say the least.
There's also no shortage of content in FFXIV: ARR. You'll be teaming up a lot with people and tackling dungeons and raids featuring classic enemies and guest stars from that one android game we talked about earlier on the list.
Estimated Playing Time Per Day: If this is your first time playing FFXIV: ARR, be prepared to spend hours catching up to the latest expansion. Unless you want to save time and spend extra money to level up and unlock story points (yes, you can do that), you'll spend at least a 100+ hours for this bit.
If it's per day, then probably 3-5 hours, depending on what your party & guild members want to do. – KKP Staff