Guess How Much Borderlands 3 Received From Epic Games For That Exclusivity Clause?
Back in 2019, when Borderlands 3 was released, the looter-shooter game was exclusive to the Epic Games Store for one whole year until it was released for Steam and other PC platforms. This deal from the Fortnite/Unreal Engine-making company was pretty sweet for many developers since the company will be recouping development costs for them.
Thanks to certain documents being made public via the Apple vs. Epic lawsuit that's all the talk this week, we now know how much Epic paid Borderlands 3 developer Gearbox Software: a hefty sum of US$80 million. To break it down:
The Borderlands 3 exclusivity minimum guarantee cost was initially US$80 million; Epic Games basically paid Gearbox that amount to start off in exchange for only having the PC version of the game be on sale on the platform for a year.
Once that US$80 million thresholds in sales has passed, Epic Games gets to recoup the cost. The game's marketing commitment and non-recoupable fees total are US$35 million. This means the deal total was US$115 million.
In the first two weeks, Borderlands 3 sales were worth US$77 million revenue for Epic Games, out of a total of US$100 million. The US$23 million from that amount is from PC retail and resellers.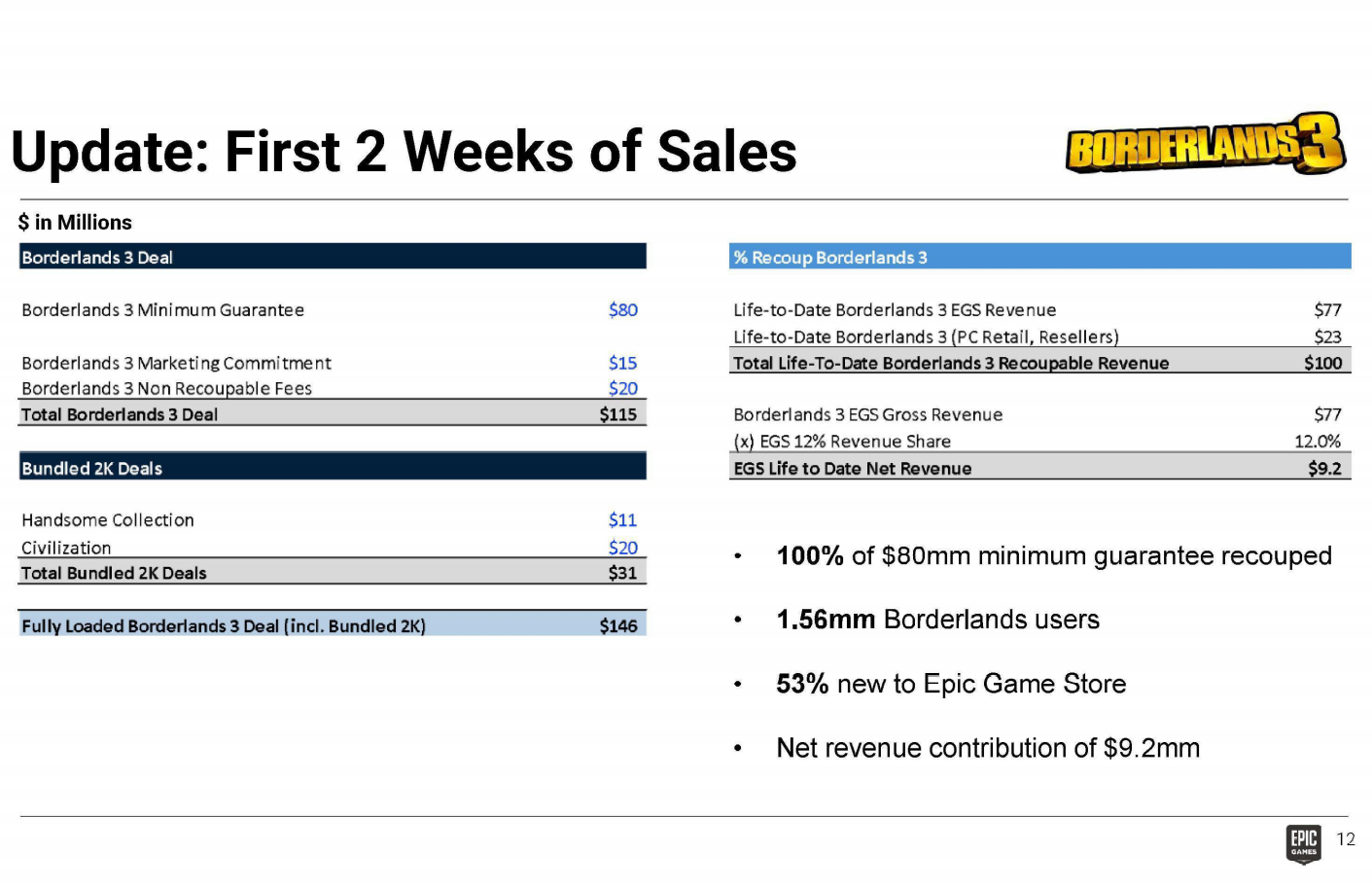 Long story short, this is profitable for Epic Games and also a win for developers who need the extra money for development and marketing arm. As to how Epic Games has US$80 million+ to front Gearbox in the first place? Well, the company has been around since 1991 and its game engine has been used by a lot of game makers. And they did make the Unreal and Unreal Tournament series. And Gears of War. So you do the math…