Happy birthday Malaysia! To celebrate the actual birthdate of this fine country (since Sarawak & Sabah fully gained independence on this date), we should look back at the few times the country was portrayed in a video game.
Not all of them are accurate, but god knows game devs are trying their darndest. Special thanks to writer Aero and his WordPress post that made this all possible.
Hitman 2
Agent 47 had to assassinate a high-profile target in Kuala Lumpur at one point in the 2002 sequel. And we must say: IO Interactive did a good job with the environments and level design.
While the KL Twin Towers look nice and all, there are just a number of things lost in translation. For one, the accents and slangs don't match up. Two: the cops are wearing brown uniforms from the 70s.
Still, the stage itself is well-done. We hope the upcoming Hitman sequel reboot has a stage taking place in good ol' Kuala Lumpur again. Just make sure the cops are in dark blue attire, okay?
Just Cause 2
The sandbox in this open-world action game sequel is fictional, but Panau Island bears some resemblance to a mild Sarawakian coastal town like Mukah, Miri, or parts of outer Kuching. With places like Tanah Raya, Pulau Berapi, and Gunung Gila Pangkat, you know you're going into a fully-voiced masterpiece containing a rojak of Malaysian, Indonesian, and Singaporean accents.
Hell, even the Panau Falls Casino looks like a glammed-up gaudy version of the Petronas Twin Towers. God bless developer Avalanche Studios for putting all of the prominent Southeast Asian races into one racially-harmonized digital island while having one Mexican stereotype with a grappling hook and unlimited parachutes to eff it all up.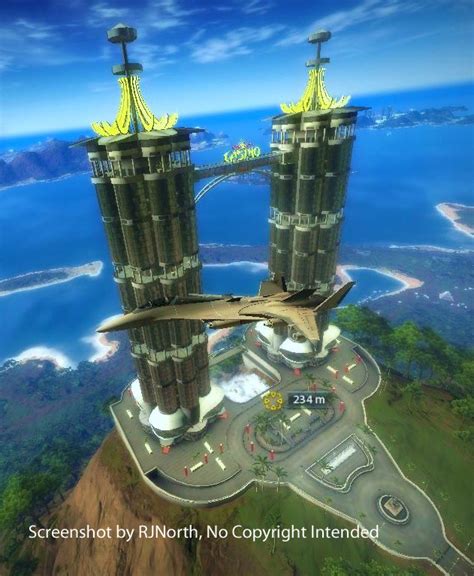 Burnout Dominator
Not everyone remembered the Burnout game that came out in-between Burnout 3 and Burnout Paradise, but a lot of Malaysians probably did. Why? Because the game's Spiritual City courses are in fact based on Kuala Lumpur's Sultan Abdul Samad & Dataran Merdeka square.
KL's prime area is lovingly recreated, with KL Sentral and Petaling Street also added in for good measure (they're called ST Central and Chinatown respectively). The game also has the KL Twin Towers on display in the backdrop, only they're called the Spiritual Towers. Even the course's traffic contains Perodua MyVis and Kenaris for you to wreak havoc upon.
If you ever want to take your frustrations out onto actual KL traffic, you may need to search for a working PS2 and a copy of this to do so.
SOCOM 4
If you ever wanted to see a NATO-sanctioned civil war unleashed in Malaysia, look no further that the PS3 exclusive shooter SOCOM 4. While devs Zipper Interactive stated that the warzone is in Southeast Asia, observant gamers can tell that the battlefield in question is a facsimile of Kuala Lumpur. From the buildings to the denizens, there's quite a bit of Malaysian flavour going on here that's set aflame.
One nitpick though: the Proton Saga cabs are the wrong colour. It's red and white, guys, not yellow and black. One thing to note: the terrorist group is called Naga, which is "dragon" in Bahasa Melayu. Subtle as a sledgehammer. Great Malay accents though.
2010 World Cup FIFA South Africa
Back in 2010, there was a Malaysian team playing in the 2010 World Cup, though they didn't qualify for it. Here, they're called the Harimau Malaya and their ratings are not exactly the highest…
To be fair, the devs at EA Sports did their best to make them look good and play in accordance with their skill level. This is probably the very rare instances where a full Malaysian team was featured recently in the game. Nowadays in football games like your FIFAs and PESs, it's mostly individual players.
Uncharted 4
There's a chapter in the game that says "The Malaysian Job" where our resident grave robber Nathan Drake gets a contract about salvaging some wrecks across a coast in Malaysia. Unfortunately, he turned it down because of legal issues, which means no Malaysia level in an Uncharted Naughty Dog game. Boo!
Dirt 2
This rally game from Codemasters features an extreme X Games course on the Rawang trail in good old Malaysia. It's full of crazy twists and turns, and a lot of split paths. In short, probably one of the better rally courses out there.
A S***load of F1 Games
Malaysia prides itself with the Sepang International Circuit when it comes to the F1. So naturally, the course is featured in most F1 games from Codemasters from 2010 to 2017's iterations of the game. The course is what you would expect from a prestigious F1 circuit: lots of curves and difficult turnings to master and pull through.
Alas, our prestigious course was only featured in the last F1 game, F1 2017, since the Sepang International Circuit will not feature any more F1 races. I'll quote a recent F1 2018 review from our side:
For my fellow Malaysians, I have some grave news indeed. I already pointed out last year that F1 2017 would be the last time that an F1 game will feature our prized Sepang International Circuit. The aforementioned circuit has been removed in F1 2018 since the Malaysian Grand Prix 2017 was to be our last such event, and that from then on the Sepang International Circuit will no longer hold Formula One races.
So long, and thanks for all the bends and curves!
If you think we missed any other Malaysia cameos & appearances in video games, let us know. Do check out the original feature that inspired this piece right here:Â https://a4rzero.wordpress.com/category/video-gaming/