ASUS Republic of Gamers (ROG) has announced a unique concept gaming laptop created exclusively for world champion professional skateboarder Nyjah Huston.
The ROG Strix Nyjah Huston Special Edition concept gaming laptop is based on the acclaimed ROG Strix SCAR series, the leading laptops built for professional esports players. The concept introduces new design explorations at the intersection of the esports and skateboarding cultures.
Developing this concept for Nyjah Huston allowed ROG to explore novel ways to enhance the experience of ROG gaming laptops, paving the way for new design thinking and future innovations.
Nyjah Huston x ROG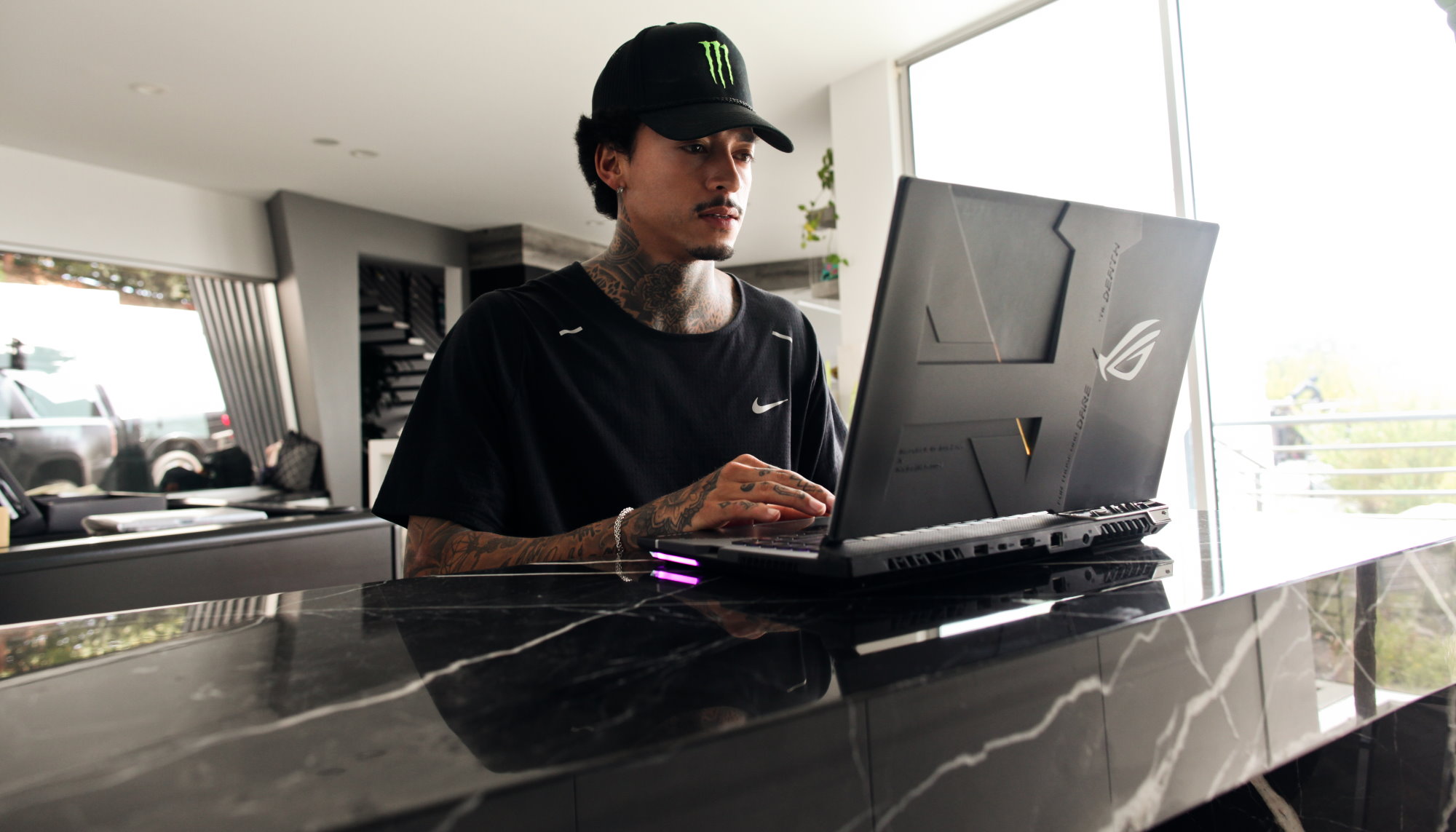 Nyjah Huston said:
"ASUS makes such great laptops, I am hyped to be working with them.

I have a bunch of friends who are into esports and they all told me ASUS is the best, so it was easy decision for me to partner with ROG."
Born in California, Nyjah Huston began skateboarding at age five and quickly became a household name in professional skateboarding. He is now the top-ranked athlete in Street League Skateboarding and has earned 19 X Games medals since 2009, including 13 golds.
This year, Huston is in line to represent the United States at the 2021 Olympic Summer Games in Tokyo, Japan. He also has a long history in gaming, having been featured in multiple popular skateboarding games.
Based on the ROG Strix SCAR series
To develop a concept gaming laptop for Huston, ROG started with the ROG Strix SCAR series as a foundation. The Strix SCAR series is engineered from the ground up to give esports players an uncompromising experience in competitive tournaments. The laptops incorporate ultra-high-refresh displays, including the world's fastest laptop display on the Strix SCAR 17, which boasts a 360Hz refresh rate and 3ms response time.
Those panels are backed by powerful NVIDIA GeForce RTX 30 Series GPUs and AMD Ryzen 5000-Series Mobile Processors, advanced cooling technology with liquid metal, ultra-responsive optical-mechanical keyboards, and bold designs inspired by athletic gear.
The experience of the ROG Strix Nyjah Huston Special Edition starts with unique, customized packaging. The box doubles as a skate park for fingerboards and two fingerboards are included with the laptop.
"The one-of-a-kind laptop ASUS made for me is so sick and unique, I was hyped when I unboxed it," said Huston. "I have never seen another laptop like it. I will use it all the time for skate part edits and running my businesses."
The ROG Strix Nyjah Huston Special Edition elevates the athletic Strix SCAR design by introducing elements that celebrate Huston's brand and skateboarding culture. As city exploration is an integral part of street skateboarding, ROG also incorporated elements reminiscent of a city's concrete structures into the design.
Huston's logo is the centrepiece of the display lid. Designed to evoke the look and feel of a skate park, the logo is three-dimensional and has a textured finish. A "katana cut" RGB slash lights up behind it, complementing the illuminated ROG logo, while hidden accents are revealed with the included UV flashlight. A mesh-like, stainless steel version of the Strix SCAR series' modular Armor Cap decorates the rear-left corner of the machine, while a stainless-steel piece replaces one of the rubber anchors on the base, making the system easier to reposition with one hand.
Smoky translucent surfaces define the keyboard deck and the underside of the laptop, providing a glimpse at the hardware inside. These surfaces were inspired by the use of X-rays to check for broken bones after big falls in pro skateboarding. The optical-mechanical keyboard has received a unique treatment, starting with a custom font that also appears in inscriptions across the chassis. Its number keys tally scars from skateboarding practice, with the skull on the 0 key representing rebirth. ROG designers adjusted the level of transparency of the keycaps to allow for a circular backlighting effect on each key. And the numlock button on the touchpad was replaced with Huston's logo.
The design was also inspired by Huston's motto and attitude. His motto, "'Til Death," articulates his desire to brave obstacles and continue skateboarding as long as he can, while his attitude, "Mind over Matter," allows him to brave and overcome challenges in the pursuit of perfection.
ROG also bundled the laptop with more unique accessories. A custom version of the ROG Strix Impact II mouse features a unique skull pattern printed on the top and carved into the sides, and it comes in a specially designed bag embroidered with a skull pattern and Huston's motto. The embroidery is meant to evoke the scars that skateboarders earn like badges of honour. Also included in the packaging are a custom desk mat with an LED light strip that illuminates its edges, and a dual-mode UV flashlight that can be used to find the easter eggs on the laptop.
Availability
The ROG Strix Nyjah Huston Special Edition gaming laptop is a design concept created exclusively for Nyjah Huston and will not be available commercially.
However, ROG has released a custom Nyjah Huston wallpaper and a Nyjah Huston Instagram filter, which are available now from here. ROG fans are also encouraged to share their thoughts on the design concept by reaching out to ROG on social media.
This concept laptop is based on the ROG Strix SCAR series gaming laptops, which are available now.