Ubisoft has announced a new content update for Just Dance 2021, the latest instalment of the #1Â Music Video Game Franchise of All Time, to celebrate the upcoming season. This update offers Just Dance 2021 owners exclusive songs only accessible via Just Dance Unlimited, the dance-on-demand-streaming service, as well as free new content including premium songs available for a limited time and online contests.
The third season Festival! is a colourful season, all about fun and happiness. Summer vibes, blue sky and warm sun, all ideal conditions are gathered to connect to each other's and encourage self-expression. It's time to celebrate who you are and who you want to be. It's your turn to shine so get your best festival look and join the parade.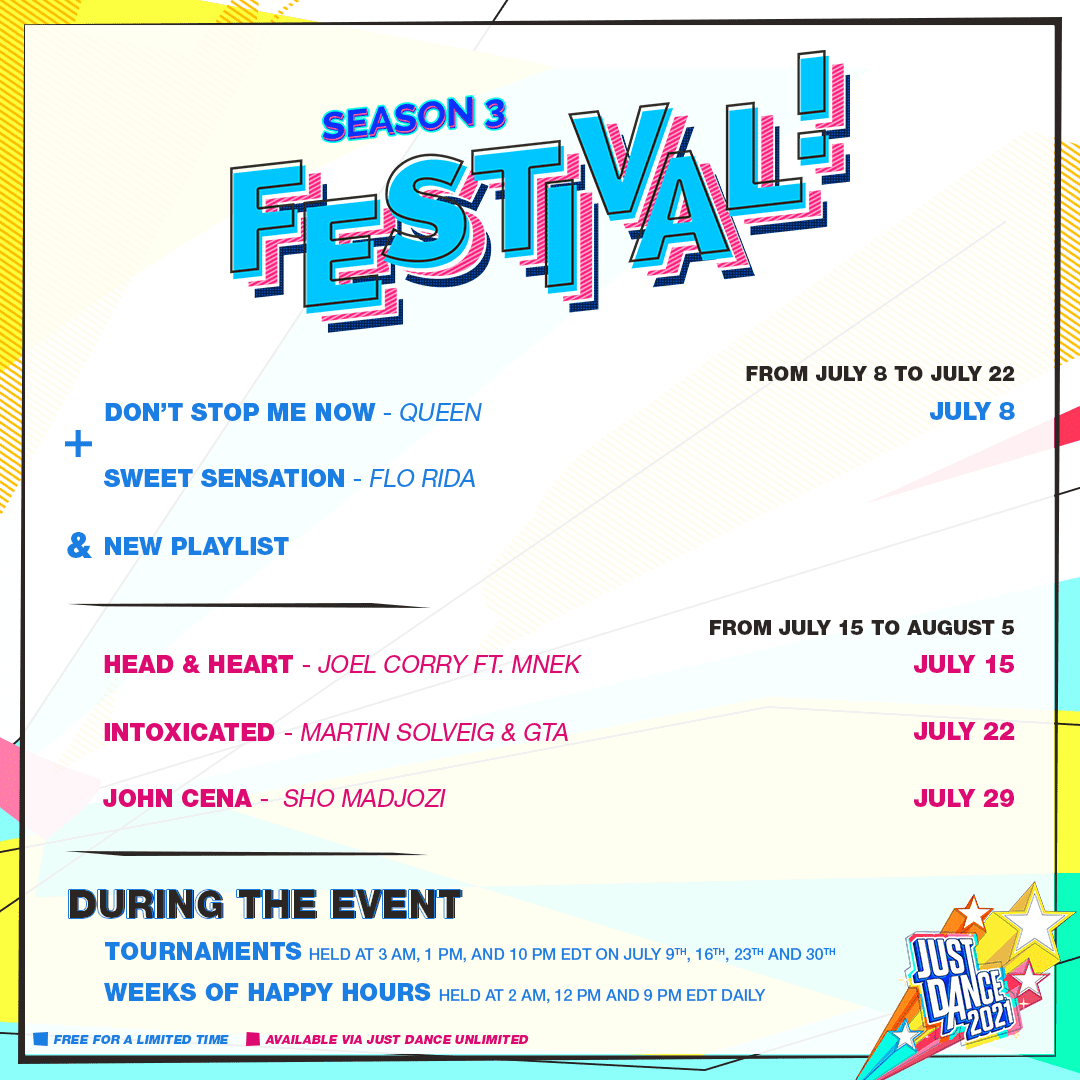 From 8 July to 22 July 2021, this third season will bring a new playlist and two iconic songs to Just Dance 2021, "Don't Stop Me Now" by Queen and "Sweet Sensation" by Flo Rida.
Then, from 15 July until 5 August 2021, Season 3 Festival! will reveal the three new exclusive songs accessible via Just Dance 2021 with an ongoing Just Dance Unlimited Subscription or an active trial period. Players will be able to celebrate their love for dance on these 3 favourite tracks:
"Head and Heart" by Joel Corry ft. Mnek, available on 15 July 2021.
"Intoxicated" by Martin Solveig & GTA, available on 22 July 2021.
"John Cena" by Sho Madjozi, available on 29 July 2021.
Along with the release of Festival!, happy hours and tournaments will be available in the Just Dance 2021 World Dance Floor, the online mode of Just Dance.
These events are available for all Just Dance 2021 owners on Nintendo Switch, the Xbox One family of devices including Xbox One X and Xbox Series S/X, PS4, and PS5.