Ni no Kuni: Crossworlds Breaks Past US$100 In Player Spending Faster Than Pokemon GO Did
The power of the Kuniverse is strong with this one.
Ni no Kuni: Cross Worlds from Netmarble seems to be a big hit 11 days after its online debut in Japan, Korea, Hong Kong, and Chinese iOS and Android platforms on June 10th. Player spending and microtransactions on the game has gone past the US$100 million mark based on Sensor Tower's stats for the App Store and Google Play pages.
This makes Ni no Kuni: Cross Worlds one of the fastest mobile games to reach US$100 million from player spending across the App Store and Google Play. For comparison, Pokémon GO from Niantic took 12 days to reach the milestone. Genshin Impact, meanwhile, took 13 days to hit $100 million, as did Lineage 2 Revolution from Netmarble back in 2016.
Other titles to garner quite a bit of spending in the month of June are two strong titles: one is Uma Musume Pretty Derby which is about horse girls racing and Fate: Grand Order. The former garnered US$36 million in player spending while the latter received US$35 million. Keep in mind that these two titles have been out for a while.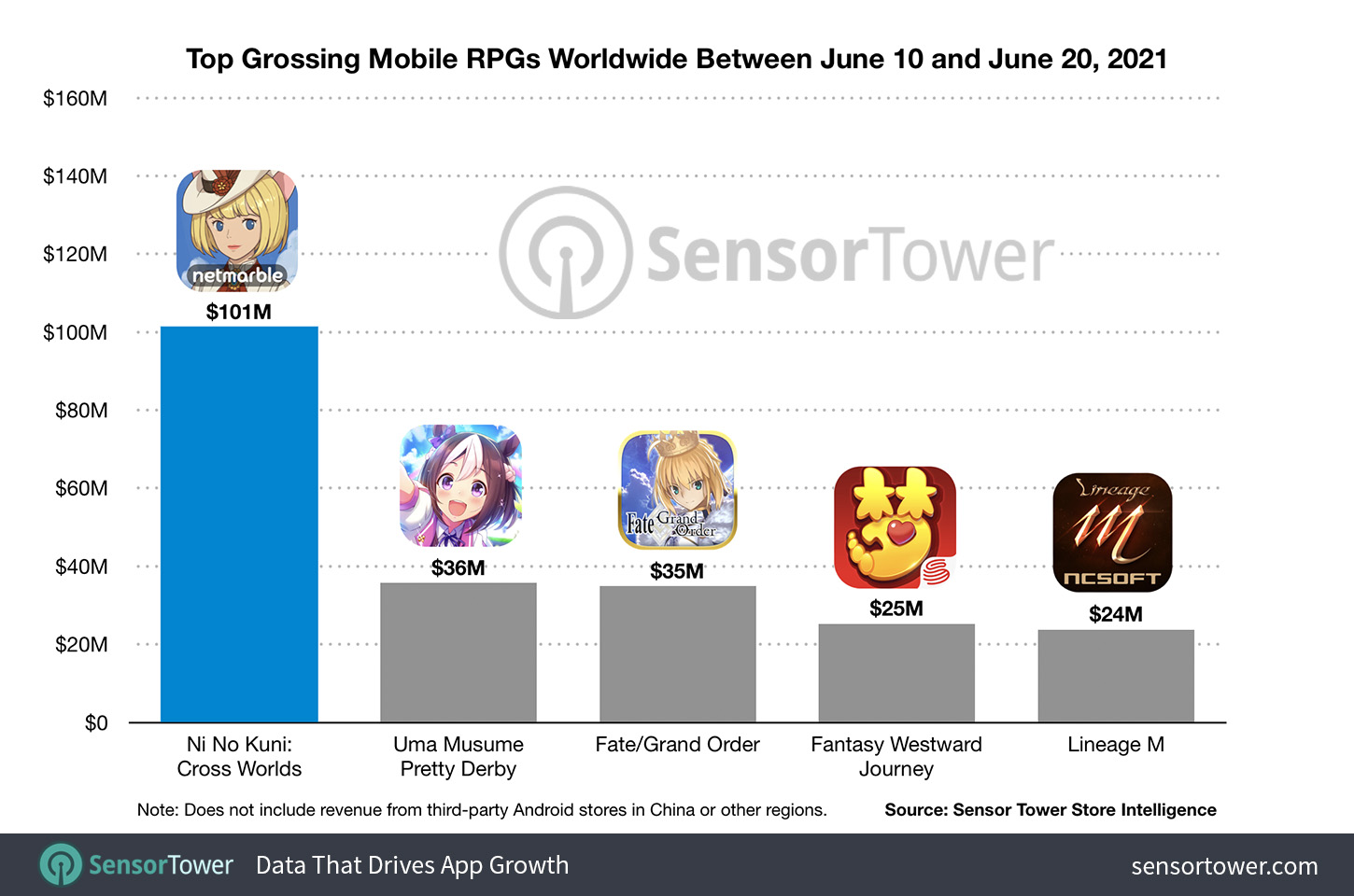 The top mobile game by player spending globally across the App Store and Google Play was Honor of Kings from Tencent, which picked up US$102.3 million during the same period, while PUBG Mobile, also from Tencent and localized as Game For Peace in China, ranked No. 3, generating US$80.2 million. Currently, Ni no Kuni: Cross Worlds is only available in five markets: Japan, South Korea, Taiwan, Hong Kong, and Macau. Outside of China, Netmarble's title was the highest revenue-generating mobile game globally since its launch.
So what makes Ni no Kuni: Cross Worlds this popular? We're guessing it's the anime art style that's basically using Studio Ghibli's work from the first Ni no Kuni RPG to the gacha mechanics of the game. This is obviously good news for developer Level-5 who is handling the title. This may also cement the fate of Ni No Kuni as being a mobile-only affair if the company is sticking to its business guns. Still, this will keep Level-5 out of the red.