Say goodbye to PES. It's no more. Well, in name, at least.
Just like how football clubs shuffle their players in order to gain that sliver of an edge over their rivals, so has Konami with the rebranding of their long-standing, annual football simulation release. In a story first broken by IGN, PES will henceforth be known as eFootball.
On top of that, it will become a fully digital, free-to-play game for the PS5, PS4, Xbox Series X/S, Xbox One and PC. Both iOS and Android versions will be released later although Konami didn't mention anything in regards to PES eFootball's Nintendo Switch version.
Konami also clarified that all versions of the game will feature cross-play with mobile players requiring controllers to play against their console and PC opponents.
This nomenclature shift is in line with Konami's move of ditching the FOX Engine to a custom-built new engine created using Unreal 4. With the game being made free-to-play, we are quite curious on how they aim to profit from it, moreover with their recent move of signing an exclusive player deal with Neymar.
Series producer Seitaro Kimura told IGN that eFootball is "aiming to take a 'platform' approach with regular updates – there will no longer be annual paid releases of eFootball, but the platform will get free, yearly updates for new seasons." With annual sports games being merely roster updates with minimal technological and gameplay advancement, we welcome this move as it allows the devs to create an ever-evolving title not-bogged by the shackles of an annual title release. Definitely a winning move ala Geggenpress while its main competitor, EA Sports' FIFA is still bogged down Route-One football.
Like most free-to-play titles, eFootball will launch with the bare minimum of exhibition matches mode with an initial list of 9 clubs to play with.  Konami has released a roadmap showing what other modes are coming down the road, which hopefully allows players to pick and choose which modes they want to play.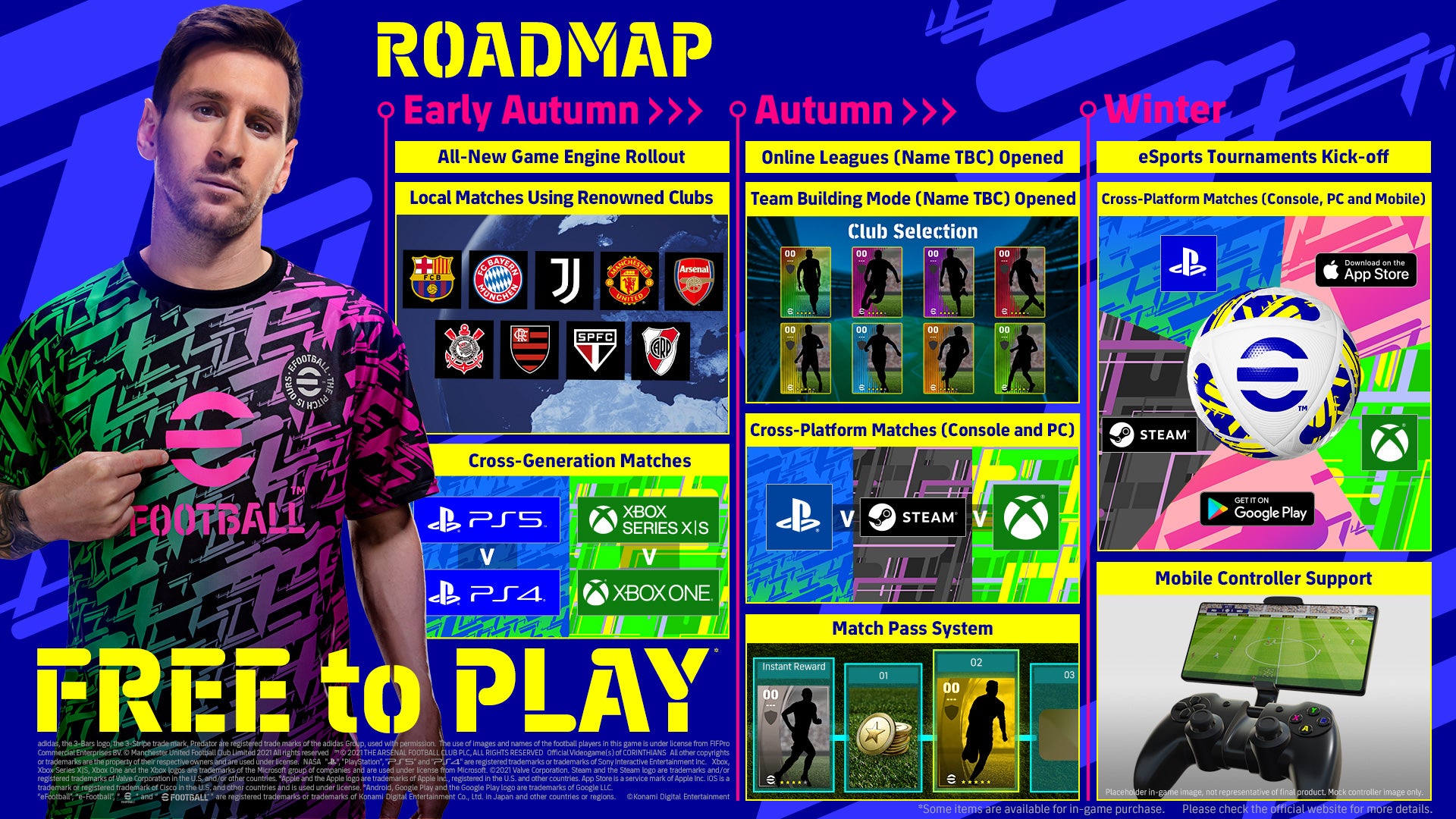 Having played all iterations of PES since its ISS Pro days, we welcome this move as it gives the power back to the consumer when it comes to keeping up-to-date with the game they love. No more starting everything from zero come a new installment and best of all, the ability to selectively purchase the modes they want to play. 1-0 to Konami here. Your move, EA Sports.