Netflix is officially launching its first-ever Anime Creators' Base located inside their new Tokyo office. This community space will host designers, writers, and Netflix team members working on bolstering our amazing anime lineup. From this space, we want to promote best practices and high production standards, to empower creators with the necessary tools and resources of anime production over time.
Netflix Anime Creators' Base consists of three areas:
Designers' Garage: This space seats up to 10 designers and artists. At launch, designers will focus on creating conceptual art at the early developmental stages of an anime series or film to ensure creative staff is aligned on the look and feel of a project.
Writers' Garage: This meeting room is designed to be a collaborative space for creatives working on anime shows, where teams will develop and edit scripts, and invite creators to discuss new projects (and of course, geek out a little on anime).
Lab: This multi-functional space is designed to be a versatile room for innovation, like testing out new creative technologies such as VR or playing around with the latest motion capture technologies.
At launch, Netflix Anime Creators' Base will focus on developing conceptual art to support creators and production studios during pre-production. Two designers, Namiko Ishidate and Saina Cisse, will be based here to help with this work.
Courtesy of Netflix Malaysia, we were lucky enough to be the only Malaysian media to participate in an exclusive interview with Netflix Anime Creative Director of Content Acquisition Taiki Sakurai. This interview has been edited for clarity.
1. Can you tell us more about the main objective of the Netflix Anime Creators' Base (NACB) and what it's about?
Usually, there are three main things when creating animation. The first is pre-production and then comes the main production, and then there's post-production. Our purpose of creating the Netflix Anime Creators' Base is to focus on something that comes even prior to the pre-production phase, so more upstream.
Our main focus, for now, is to create concept art and image boards, which are sometimes skipped during really busy TV anime production. So by focusing on the really upstream area and phase, we were hoping that we could be of help to the production studios that we're working together with.
2. What projects are the NACB currently working on?
One is still TBD, but it's a series based on Grimm fairy tales and we are working together with a very famous manga artist called CLAMP as character designers and the production house is Wit Studio. On this project, we have been providing some rough designs, image boards and concept art by having Netflix Anime Creators Base artists draw these things and provide them to the studio side.
This is helpful when creating a totally original project not based on existing manga, films or IP, to share the basic image of the project.
3. Is Netflix's focus moving forward more towards 2D or 3D animation?
I would say both. When hand-drawn 2D animation makes more sense for a specific title, we'd definitely choose 2D. On Other occasions when we think 3D CGI would be more appropriate for another different specific title then we will be using the 3D CGI technology.
4. Trese was an interesting Filipino-based anime project from Netflix. Is Netflix looking to make more anime from diverse studios from companies outside of Japan like Southeast Asia?
Sure, we are looking for talented partners who have a vision and passion around the world. If we think that a certain idea or a certain vision makes sense, we would definitely work together. Currently, we're working together with IGLOO Studio from Thailand, Studio Mir from Korea, CGCG from Taiwan, Studio 5 from Taiwan and more.
5. Do you think anime has broadened its definition in this day and age? For example, the recent The Witcher Nightmare Of The Wolf, would you consider that an anime?
Netflix has no house rule on what animation looks like, which gives us room to expand and push the boundaries of the art form. I think the term anime itself is changing over the years, as it always has been, to be honest. Even in Japan, what we refer to as anime has been changing. In the past, we used to call them manga movies, for instance. Anime is now referred to like this specific art form but currently, even in Japan, it's changing.
The younger Japanese generation uses anime when referring to animated series only. When it comes to anime movies, they don't put the word 'anime' at the front. They just call them movies. The definition of anime itself is definitely changing over the years even in Japan and of course, outside of Japan.
6. What are the challenges of making anime in the 2000s compared to before the existence of social media? Is it easier or harder now?
Social media gives us some kind of help and guidance on what the audience wants. I don't think it's becoming difficult. There is a really healthy synergy so we want to continue creating conversations around our titles and talent working on our shows.
7. What is Netflix's strategy to compete with rivals like Sony's Crunchyroll and others?
I think we've faced competition before and still facing it currently but I think that helps us grow better, make ourselves better. Especially in Japan, streaming is growing but still relatively still a minority. The fact that the streaming services are expanding is that we want to be positive about that.
And especially when it comes to talent in the anime industry, it is like a healthy environment for creators as well if they think this streaming area is really exciting and people are gathering on this platform, that would bring in more creators into the anime industry, which is a positive sign for us.
Also, what's unique about Netflix is that our shows have the potential to reach a wide audience so while we focus on pleasing existing fans, we can also expand with potential fans who may not have watched anime shows before.
We can reveal some figures. Two years ago, 100 million households watched at least one anime title and in the last year, 120 million did. It's an incredible job; we localise titles into 13 different languages, stream simultaneously in 190 countries, so I think this growth and expansion will continue over the next few years.
8. Netflix is adapting more video game IPs into anime, such as Dota Dragon's Blood, Resident Evil Infinite Darkness and Monster Hunter Legends Of The Guild. Do you have further plans for more?
Game IPs are very interesting and attractive to us because they have a really global fanbase. We are very open to creating additional opportunities by creating game adaptation IPs. I can't reveal the titles that we are producing right now but I can tell you that some of them are definitely coming on the way.
9. Do you think that modern anime has more limitations in telling a story while trying not to offend viewers?
I think it's not becoming difficult necessarily. I think those inputs are actually helpful to create new shows. Restrictions sometimes give the creators freedom how to think and what kind of story they want to navigate. I don't think it's a negative trend.
10. Do you have any personal favourite anime, and do you prefer modern or classic anime?
I watch many shows. I don't if you can call this traditional but I'm a very big fan of something like Cowboy Bebop. I myself worked on Evangelion, or Ghost In The Shell as a writer, and recently, an original anime called Eden that we launched globally. That (Eden) was created by my really old friend, Justin Leach, and that was sort of a long-time dream come true.
Some titles like The Way Of The Househusband, which we released several months ago. It's the story of a Yakuza husband who quits his Yakuza clan and becomes a househusband to support his wife. I thought it was a very domestic comedy and I imagined it'd do well in Japan, and it did, but it also did really well outside of Japan. Especially in the US, it did well, so it was kind of a surprise.
It's very exciting and interesting to see different types of anime working globally and I think we're entering a new era.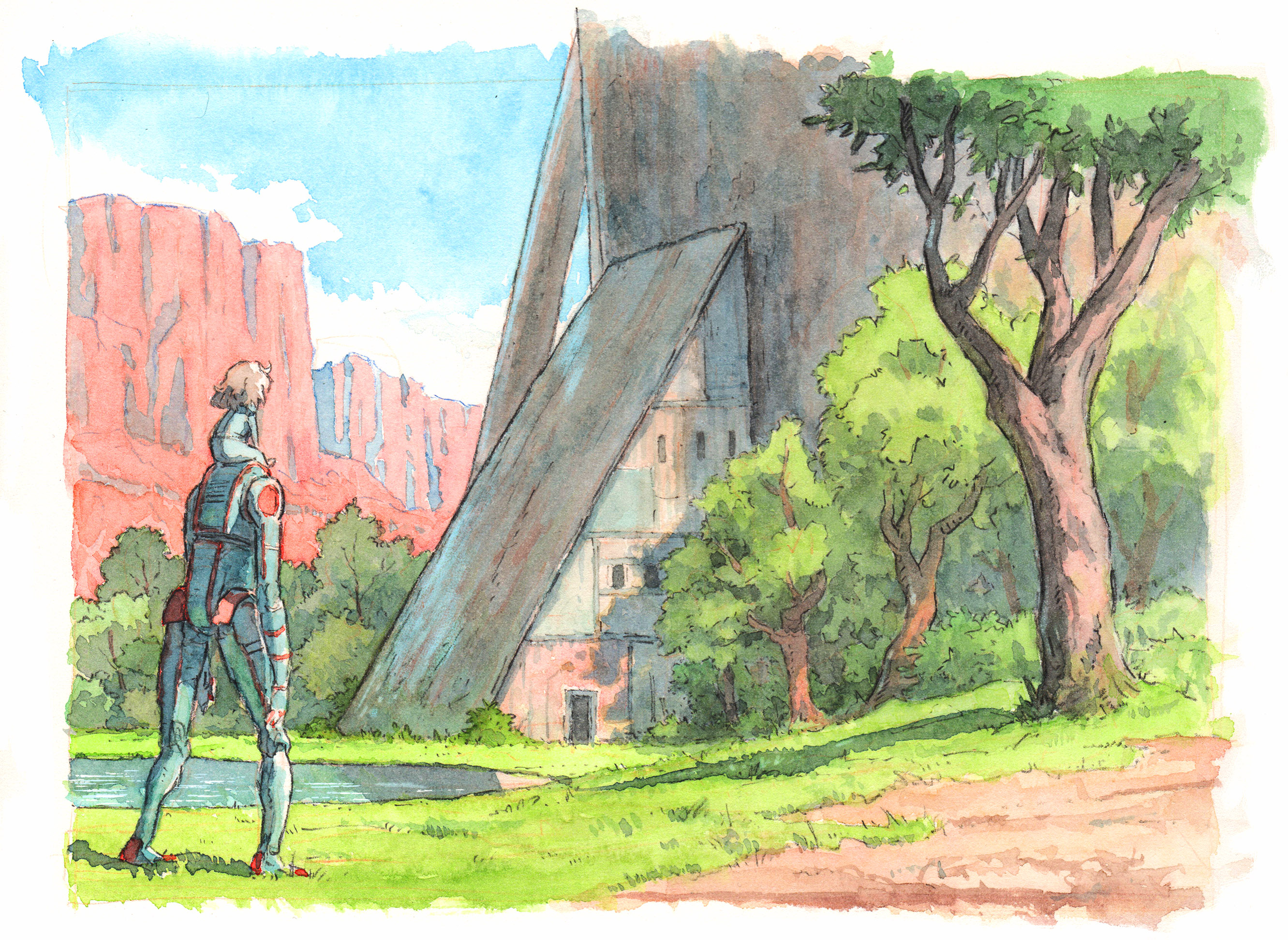 11. You spoke about Evangelion, Ghost In The Shell, and Eden. What do you think about sci-fi in anime?
I personally like sci-fi a lot and I think it resonates well with the anime art form because anime is literally a picture. You can just draw anything that comes up in your imagination. It's certainly easier to accomplish certain ideas through anime format than live-action, so it resonates well, I think.
Having said that, sci-fi is not the only genre that we are aiming for in the Netflix anime slate. We've got shonen stuff, fantasy. We're looking into shoujo shows too recently and fighting shows are always popular; Baki, Record Of Ragnarok, those do really well.
As a producer, it's a very exciting opportunity that you can produce many different types of shows simultaneously, which is something that I wasn't able to do while I was producing at a studio. I had to concentrate on one title every three or four years. So, it was like attending the Olympic Games.
We just had this discussion last night with our creative producer members, that we're so lucky to be able to produce so many different types of shows simultaneously and it all shows globally.
12. How do you try to promote anime to be more mainstream and attractive to viewers who still think of anime as a niche?
We're working on that together with our marketing team and our AMP team, but I think by using those media, I think we can slowly grow but at the same time, I think word of mouth is acting as a great role in making anime more mainstream. People actually are talking about anime more and more frequently.
I've observed the same kind of phenomenon in Japan too. Probably around 10 years ago when the first Attack On Titan series came out in Japan, I really noticed that people on trains or at school or cafeterias would talk about the anime. The ordinary people, not the otakus or cult fans, would regularly talk about anime titles or specific episodes or characters.
I think that was the timing of the breakthrough. I think there were several titles as good as those gate-openers, but I think the same kind of thing would happen on our service as well and open more gates for the newcomers.
Our product also has personalization. For example, we just announced that the live-action series for Cowboy Bebop and I think for people who watch live-action series, that version of Cowboy Bebop, we can recommend the anime version of it. These products can help create potential anime fans as well, by pushing normal viewers to watch our anime slate.
When we recommend something, I usually click on it, whether they're live-action or Korean movies or comedies or documentaries. I don't know how they do it, but those recommendations are usually very accurate. None of the recommendations misses my taste, so it's really amazing.
13. Do you have any more plans to adapt anime into live-action productions like the upcoming One Piece series? Are you involved with the One Piece live-action series?
I am involved, indirectly (laughs). When our live-action team based out of LA wants to reach out to Japanese creators or want to talk or discuss a certain adaptation, whether it's an animation or live-action, and if any of the teams in our company wants to reach out to them, because we're grounded in Tokyo, we will be the first point of contact to open up that path for other teams as well.
We can't reveal the titles or what kind of shows we're creating but yes, there are other titles that are in discussion.
14. Do you have any plans to expand the NACB to regions outside of Japan, like Malaysia?
I haven't thought about that at this point because we've just kicked off. We're a really small entity, we've really just started but in the future, I think anything is possible. It was only four years ago that I joined Netflix. Back then, I was the only person who was dedicated to anime. Now, we have like 40 or 50 people. It's a totally different team now and it happens over a very short period of time.
One year, two years, so even if I don't necessarily have a solid plan of expanding to Asian territories, who knows two or three years later we might be having multiple Asian Creators' Bases and I hope that would happen.