Even with the current flak it's getting, there's still some good that came out of military shooter Call of Duty: Vanguard. 
We're talking about new Call of Duty: Warzone content. Starting 8th December, the free-to-play online mode will be getting a new Warzone Pacific map called Caldera. The bad news? You can only access it if you actually bought Call of Duty: Vanguard. Everyone else will get it on 9th December.
The Warzone Pacific update will also feature all Operators and weapons from Vanguard, along with the following:
40 Weapons: The core 38 weapons from Vanguard's launch, plus two free functional weapons in the Season One Battle Pass. All of these can be personalized with unlocked camouflage, and every ballistics-based weapon can be further customized with up to 10 attachments through the Gunsmith.
Over a Dozen Operators: Each of the Operators from S.O.T.F. 002–005 are ready to drop in alongside Special Operations Task Force 006 arriving this season…
Calling Cards, Emblems, and More: Show off your progress in Vanguard since launch to everyone in Warzone.
Also, here's a peek at Caldera, the new map you'll be playing later in December.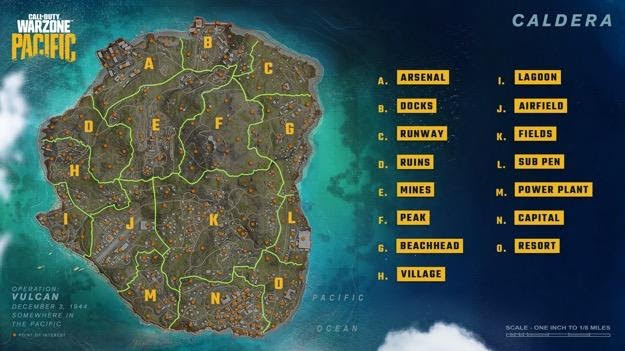 A – Arsenal
B – Docks
C – Runway
D- Ruins
E – Mines
F – Peak
G – Beachhead
H – Village
I – Lagoon
J – Airfield
K – Fields
L – Sub Pen
M – Power Plant
N – Capital
O – Resort
The map looks slightly smaller than past Warzone maps, and that's a good thing since it gets players to the fight faster and more streamlined. Developers Infinity Ward and Raven Software are looking to make sure players get in on the action quicker, so shaving off a few kilometers is a good start.
What Else?
The new update for Warzone will also feature a Vanguard Royale Season 1 playlist that puts fresh new vehicles and a streamlined weapon loadout for the new map. Here are the differences between the Vanguard Royale and the regular Battle Royale.
New Vehicles and Dogfighting. Fly fighter planes that rain down fire on foes or head for the AA guns or trucks to shoot them out of the skies. There are also other ground-based vehicles, including a Squad Transport all-terrain car that will help your squad cut through and around the island.
A Focus on Vanguard Weapons. Loadouts can only contain Vanguard weaponry, streamlining the meta for more accessibility and room for experimentation. Expect all weapons around the island to also be from Vanguard. Operator selection is also limited to Vanguard soldiers.
Circle Collapse Changes, In-Game Events, and More. The radii and times for Circle Collapses are altered to offer a different pace of play, especially with dogfighting overhead. Also, expect an in-game event at each Circle Collapse, Bombing Runs, and different items both within Caldera's overworld and contract rewards.
Both Call of Duty: Warzone and Call of Duty: Vanguard are out right now. I'm more of a Halo Infinite guy, but if this sort of twitch shooting thing sate your jollies, go ahead and dive right in.
Related