The next DLC for Far Cry 6 is out now, and it features Far Cry 4's most charismatic despot of Kyrat: Pagan Min.
In the DLC, you play as the titular tyrant who has to get out of his warped mind in roguelike shooter fashion. You can purchase permanent powerups (like more health, health syringes, and gadget slots) and get equipped with the best weapons, but if you die, you lose your currency (Respect) and your equipped weapons. Fortunately, the game only takes an hour or less to complete once you figure out the game's map and mission structure.
In fact, Far Cry 6: Pagan Min – Control is more or less the same as Far Cry 6: Vaas – Insanity except with a different story, a new map, and a focus on golden guns. Here are a few tips & tricks to get ahead. Do note that half the things you learned in Far Cry 6: Vaas – Insanity should work here.
You Can Start Out With Throwing Knives
Once you unlock Pagan Min's first gadget slot, you gain access to throwing knives. These are useful in taking down enemies from afar, provided you aim for the head.
Take Your Time
Once you get the hang of the controls and the structure of Pagan Min: Control's Hindu-influenced mind palace setting, you'll soon realize that dying means restarting your mission of collecting the three parts of the Pagan Min mask and losing all your Respect.
Don't stress out on completing the run first; all hotspots you find on the island (safehouses, fast travel doors, Challenge locations) will all be tracked and saved even if you die multiple times. Ditto your permanent powerups you get from the mirror and the weapons you unlocked from the Challenges; they're still with you. Though for weapons, you may need to repurchase them again.
Don't worry about the pistol; it's free.
Safe Houses Save Your Weapons & Temp Powerups
If you save and quit at a safe house, you'll save your weapon loadout and run cycle items. Your mission progress resets though.
Get The Permanent Upgrade That Lets You Keep Respect When You Die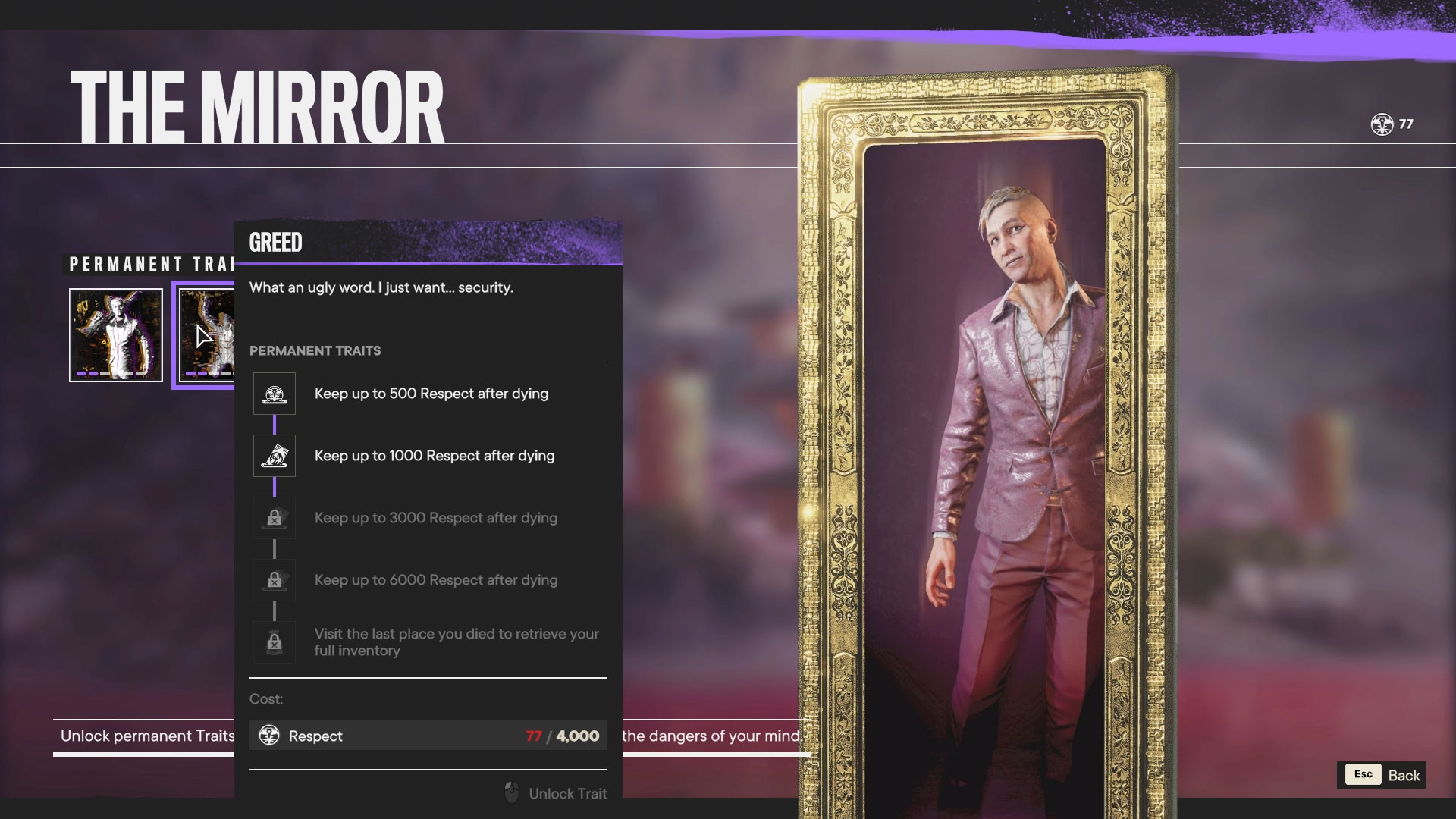 Early on, get the permanent mirror powerup that lets you keep up to a 1,000 Respect if you die. That way, you can purchase some good starter permanent powerups in case you made a mistake during your exploration period.
The First Syringe Replenishes Over Time
While you can get more Health Syringes over the course of the run and game, only the last one is replenishable. Keep that in mind as you're fighting hordes of enemies with guns, ghosts (that appear when you collected 2 masks), and magic wolves/boars. One good tactic is to duck and cover, or run around the fight spot and dodge enemy fire until one of your syringes is replenished before you use them again.
Take Part In Statue-Cleaning Trials To Gain Extra Lives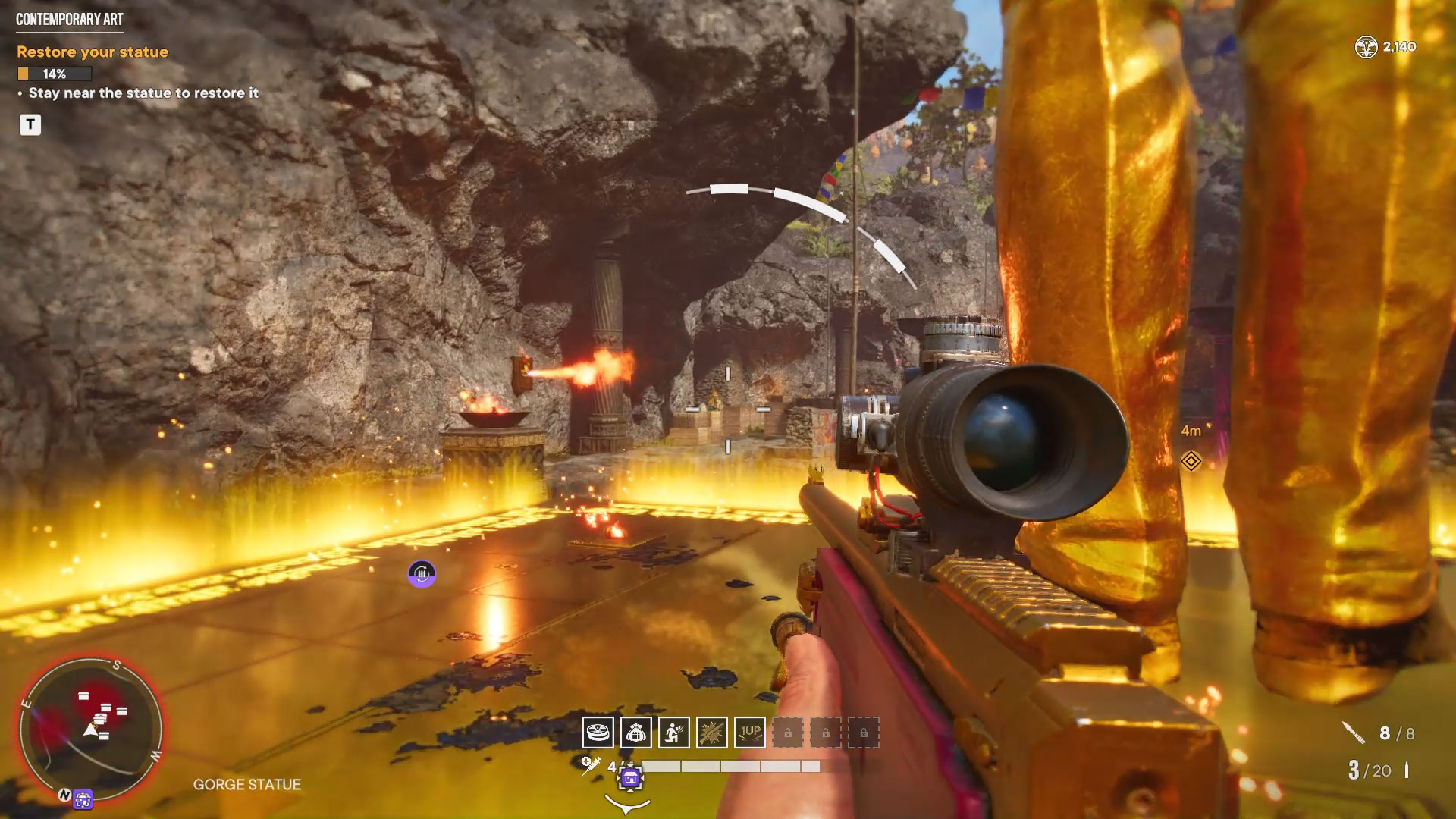 There's a 1-Up powerup you can get that can grant you an extra life if you die, but you'll have to play through the Pagan Min Statue trials. Basically, you need to stay close to the Pagan Min statue until it's clean; this takes time and enemies respawn infinitely including clones of high HP gun-toting Ajay Ghales.
The First Weapons You Should Get Are The Shotgun, SMG, And Sniper Rifle
The Shotgun deals good damage in enclosed spaces, while the SMG does good mid-ranged damage as long as you fire it in bursts. The Sniper is required for times you need to camp at a safe spot and deal with enemies atop rooftops and on floating pagoda roofs. Yes, that will happen in the game, so keep that in mind.
You Can Get The Grapplehook, Wingsuit, And Parachute Pretty Early
If you farm Respect a few times even at Mind Level 1, you should have enough to get the trifecta of the grapplehook/wingsuit/parachute pretty early. Since you can die from fall damage, having a parachute is handy when you just want to get to the ground without taking the stairs.
Here Is The Game's Full Map…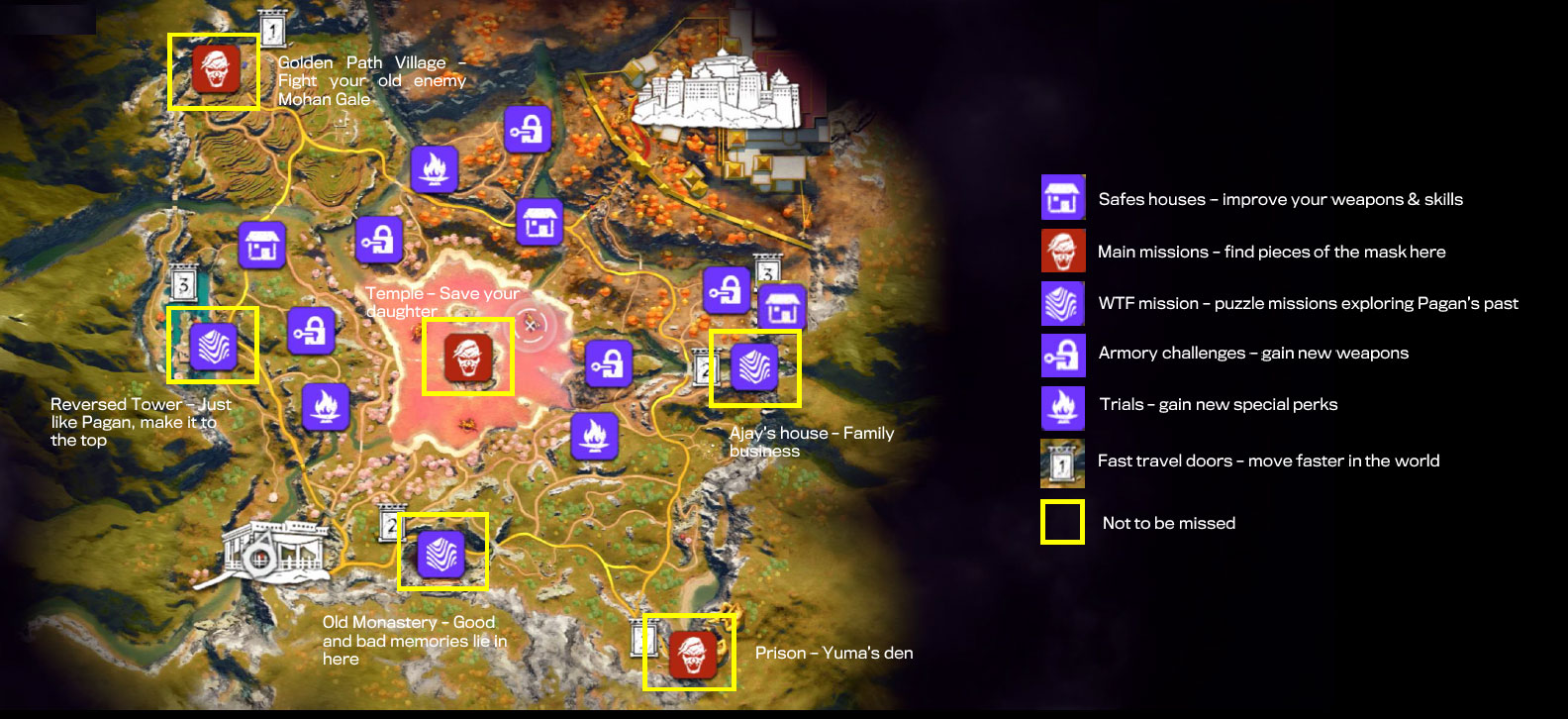 …And The Cutscenes If You're Curious About Pagan Min's Backstory
It's a doozy.
Related