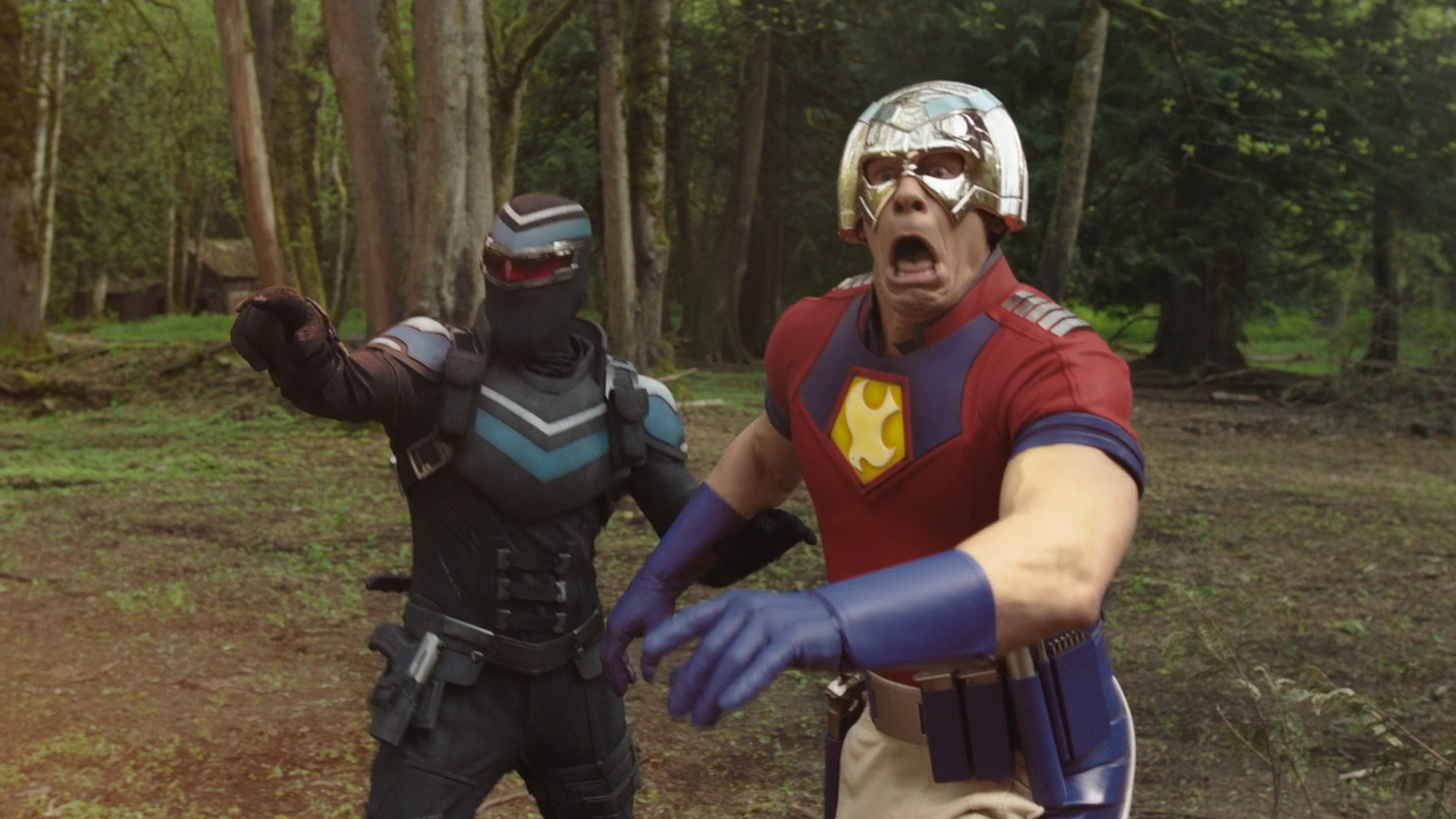 The eighth and final episode of Peacemaker Season 1 is now streaming on HBO GO and HBO Max. I'll be discussing heavy spoilers so if you haven't seen it or want to avoid spoilers, now's your chance to stop reading.
The series will explore the origins of the character that Cena first portrayed in James Gunn's 2021 film, The Suicide Squad, which is already currently available on HBO GO. Peacemaker is a compellingly vainglorious man who believes in peace at any cost, no matter how many people he has to kill to get it.
The series also stars Danielle Brooks as Adebayo, Freddie Stroma as Vigilante, Jennifer Holland as Harcourt, Steve Agee as Economos, Chukwudi Iwuji as Murn, and Robert Patrick as Auggie Smith.
In the meantime, you can check out my breakdown of the ending and easter eggs in The Suicide Squad by heading over here.
You can also check out my previous breakdowns of Peacemaker Episodes 1, 2 and 3 here, as well as Episode 4, Episode 5, Episode 6 and Episode 7 here.

Justice League Mention
Danielle Brooks' Leota Adebayo mentions it when she's calling Amanda Waller, her mother.
This is the first time that the Justice League has been mentioned in this series. In fact, this might be the first time that the term has ever been used in DCEU (DC Extended Universe). I could be wrong, but I don't think I've ever heard anyone in any of the DECU movies actually mention the Justice League.
Green Arrow Exists In The DCEU
Another superhero was mentioned and this time it's Green Arrow, which is interesting because we've never had a Green Arrow appear or mentioned in the DECU before, despite the appearance of Jurnee Smollett-Bell as Dinah Lance in 2020's Birds Of Prey movie. This confirms that he exists in the DCEU.
Kaiju Refers To Starro The Conqueror From 2021's The Suicide Squad
Steve Agee's John Economos runs from the aliens' "cow" after seeing its massive size. It looks like he's still traumatized by his experience in 2021's The Suicide Squad, in which they fought a giant alien starfish Starro The Conqueror. They commonly referred to Starro as a "kaiju" in that movie.
Probably A Dig At Captain America
Peacemaker doesn't normally use a shield, so it's probably intentional on James Gunn's part to let Peacemaker use a shield in this final battle. In the comics, Peacemaker is already similar to Marvel's US Agent in a way, who's willing to do almost anything for peace and freedom.
Vigilante & Harcourt Get Shot
Both Vigilante and Harcourt get shot, but Adebayo saves Harcourt from getting taken over by a butterfly.
The Butterflies Just Want To Save Humanity From Itself
Goff reveals that the butterflies never wanted to take over the Earth, but they were trying to save humanity by "making their choices for them" no matter how many lives they have to take.
The Justice League Shows Up
At the end of the battle after killing the butterflies' "cow", the Justice League shows up. Jason Momoa and Ezra Miller are the only ones who reprise their roles as Aquaman and The Flash, respectively. Henry Cavill and Gal Gadot didn't, so we only see silhouettes of Superman and Wonder Woman.
Aquaman even freaking says the F-word to The Flash. Thank you, James Gunn!
Adebayo Reveals the Existence of Task Force X And The Suicide Squad To The World
Now the whole world knows about Amanda Waller and Task Force X. This will bring huge ramifications to the DCEU moving forward.
Viola Davis Reprises Role As Amanda Waller
We catch a glimpse of Amanda Waller's reaction to the reveal of Task Force X to the world, with Viola Davis reprising her role.
Vigilante, Harcourt And Even Goff Are Still Alive
Both Vigilante and Harcourt are still alive, but surprisingly, even Goff is still alive as well.
Season 2 Already Confirmed
The ending of the Season 1 finale doesn't really tease anything about the future, but the series has already been renewed for Season 2, as announced by James Gunn yesterday.
It might be a while before Peacemaker Season 2 comes out though, considering that James Gunn is still busy with Marvel's Guardians Of The Galaxy Vol. 3 right now.
Until then, excelsior!