By Fitri Razif|April 5, 2022|
Concept art for Overwatch 2 gave us a brief look at what the main menu could look like, with hints of a possible battle pass, player guilds and a new "Boss Fight" mode.
With its closed beta approaching soon, new official concept art for Overwatch 2 has provided some new crumbs of info for the anticipated sequel. The concept art was shared on Artstation from Jayson Kirby, former Overwatch UI Designer, which showed off how the game's main menu could look like.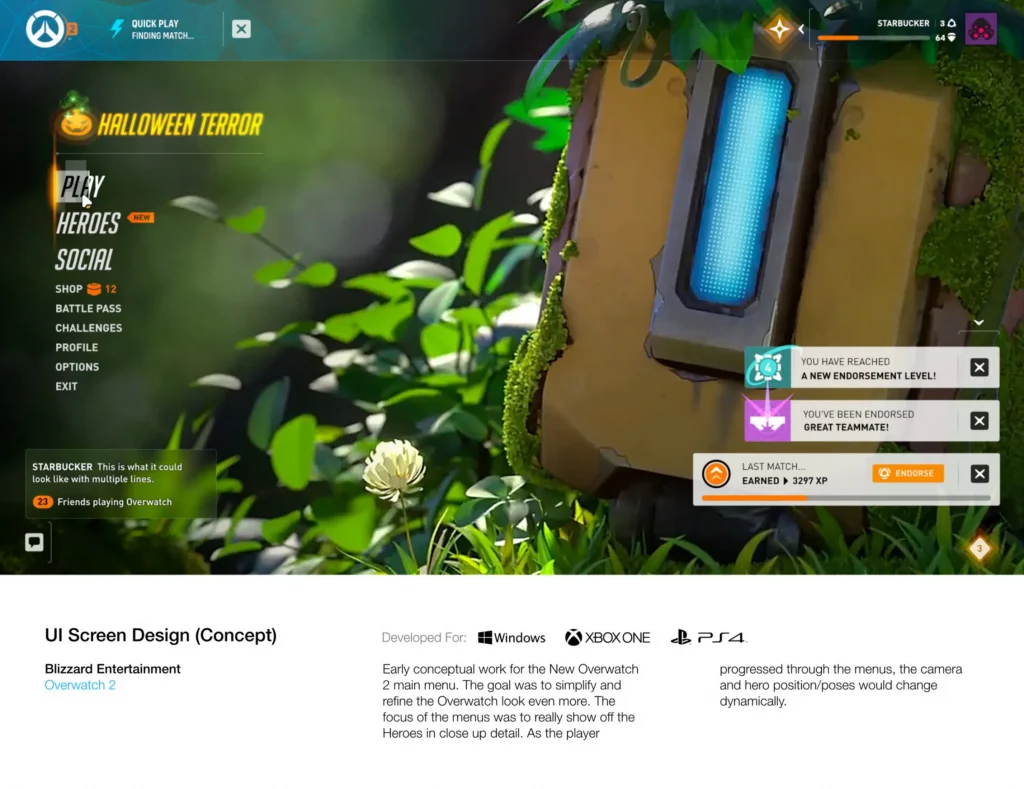 Eagle eyed fans noticed a battle pass tab at the bottom right corner of the menu, seemingly confirming the inclusion of the feature. This goes in line with former Overwatch game director, Jeff Kaplan's past comments hinting at a battle pass for the sequel.
In another post from Kirby's Artstation account, he shared a video of a possible guild card, with the guild named "Hanzo Mains". The video showed off the player receiving an invite to join the guild, with the guild card popping up on screen. It looks like players will be able to create their own communities along with the addition of guild cards which will presumably be a new item drop from loot boxes when the sequel releases. Do take this with a grain of salt though, as Kirby labelled the video as animation test for a fictional guild card.
The biggest piece of info from the concept art however is from an animated video from Kirby again where he showed the menu navigation, going through the many options available. Among the many modes we can see, one labeled Boss Fight seemed to stand out, hinting at a possible boss gauntlet style PVE mode. Although the name sounds pretty simple so it could just be a placeholder for the actual mode or just something to fill out the spaces.
Whether or not these features make it into the final build of the game remains to be seen as plans could change in development.
In other Overwatch 2 news, have a look at the sequel's new ping system revealed recently.