Platform(s): PC, Xbox Series, Xbox One, PS5, PS4
Genre: Sim game from ex-Theme Hospital developers
We all know that education is the foundation of any existing society. As a former college student myself, I always did wonder how a campus or university is run, but all that studying and getting distinctions got in the way.
Welp, with Two Point Campus, at least my general understanding of being an institute boss has been expanded somewhat, albeit in comedic and entertaining ways. While it may be similar to developer Two Point Studio's previous hospital care efforts, this successor has enough changes and upgrades to entice everyone who has an inkling for customizable sim games with some dry humour peppered here and there.
Undeclared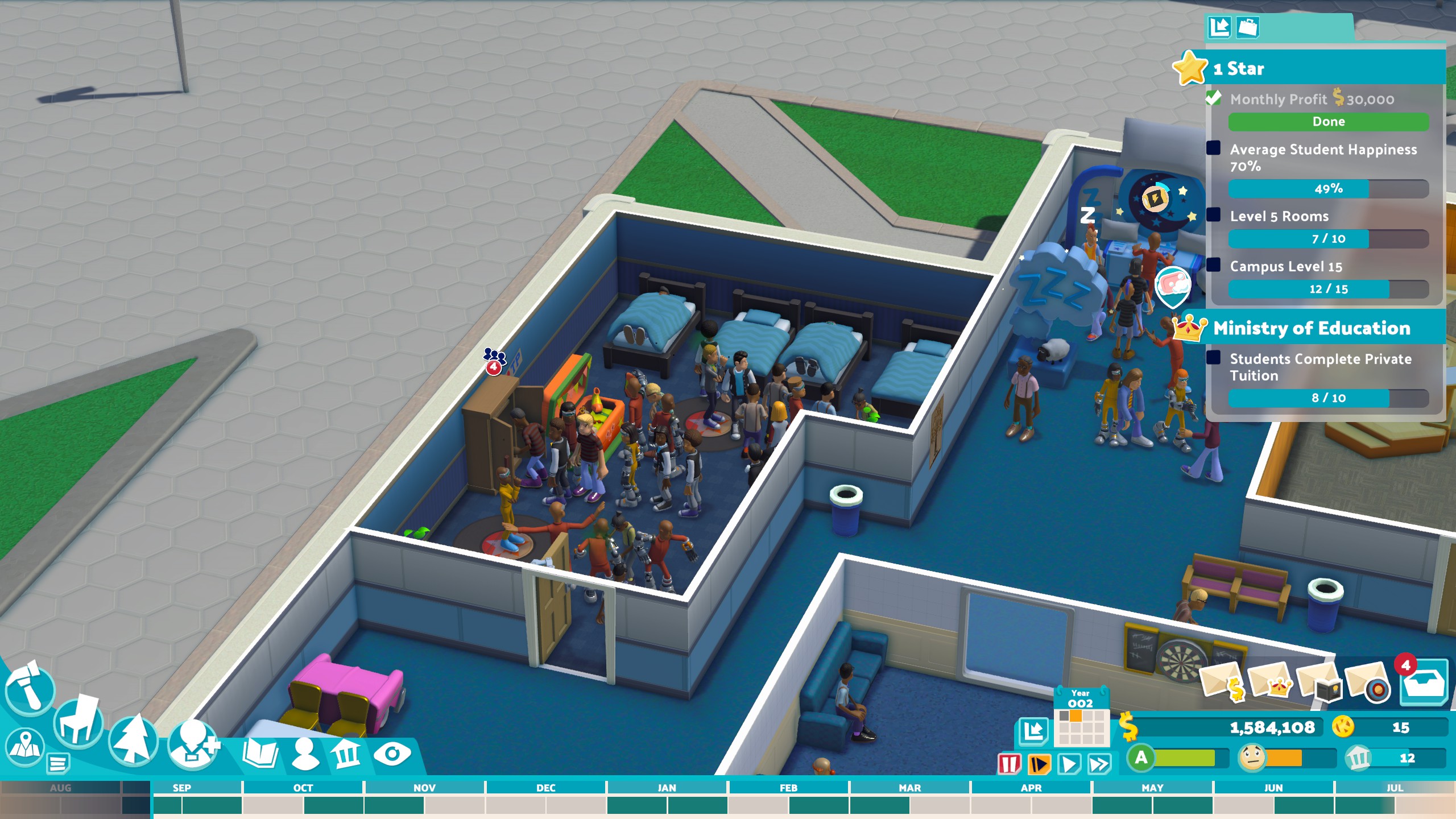 In this new simulation title from Two Point Studio (ex-Bullfrog devs who made the classic sims Theme Park and Theme Hospital), you play as a school administrator whose objective is to build the best education environment and campus with the given budget and objectives. You're given a budget and you can increase your campus pay by making the student pass level high, the syllabus you're given upgraded to a higher level (meaning more rooms & classes), and upgrading the campus grounds so that it's litter-free, looks proper and savvily decorated, and with happy students. Of course, keeping students happy means they're willing to pass courses, so you have to spend money on events and fulfilling random wish lists (like buying items to decorate the grounds). But if the students and campus levels up, you get bonus cash to go with your monthly income, which leads to more spending and upgrading, as well as beautifying your campus to higher heights.
Or you could just go to sandbox mode and bump up/down the settings so that you can either get super-creative -budget be damned- or challenge yourself with making the best out of a disaster-filled situation. Either way, you still need to fulfill random objectives to gain Kudosh points, which lets you upgrade more customization options and items like love seats, water coolers, fancy posters of made-up bands in the game world, and even club spots. Making more club spots and water cooler-like objects makes the students more friendlier and thus more eager to pay you more tuition fees. It's a helluva balancing act; sometimes you may need to overhire staff like teachers and janitors while also placating to the many, many demands from students. All this can cost a lot of money, possibly requiring loans you have to pay back with interest too. And then there are the random disasters like earthquakes that mess up your campus to rival invaders who require you to hire security-specialized janitors to weed them out.
And when you're given a scenario to manage a campus with little to no money, you will have to take out a loan that requires payment in the future with interest. Certain levels like the Performance Art and Party level require you to get money through a strict level-up system and keep your students/teachers happy. These stipulations and objectives do keep the game really fresh and variable since there are multiple ways to solve the cash flow crises in these stages. My personal favourite is the Archaelogy level where all the classes are outdoors, but you get bonuses if your students manage to uncover artefacts. You can either sell them or have them on display to increase the happiness level of the campus-goers. And then you also have to keep your students cool since this level is incredibly hot for them.
So what's different in this Two Point game apart from the setting, aesthetics, and that it's not set in a hospital? To be honest, just a few requested items. These include the aforementioned sandbox mode where you're free to do whatever campus you want, a copy-paste room feature so you can make clones of already-perfect rooms in a different campus, and a whole lot of customization for each different room ranging from decorations to even adjusting room sizes. It's all very painless once you've accustomed yourself to the UI in an hour or two via the key campus missions. I had no problems making my dream campus filled with nothing but robotics and science classes.
Speaking of missions, you're given a linear level tree until you're done with the knights Nobelstead campus grounds. You can choose between wizardry and sports campus, arts and archaeology, and a slew load more, with the final stage being one giant Two Point University plot of land where everything is interconnected. They're all fun to play and are challenging in their own right, be it trying to string up money from upgrades or just managing clean-up duties and happiness levels post-disaster. If I'm being frank, I'm only doing the campaigns if I'm feeling a bit more mellowed out by the free-and-easy nature of the game's sandbox mode. Try as I might to just push on through with the different levels and stipulations, I just fell back to seeing my figurative ant farm college simulation, pressing the fast forward button just to see plans (and disasters) in motion. Riveting stuff, really.
If you wish to challenge yourself, some of the later campuses can really wrack your brain and requires more thorough planning. One thing that irks me: you can't make multiple save states (in case your current trajectory in a mission goes downhill), which makes your decisions have more meaning since it's hard to backtrack. This may frustrate some who like to chart their progress.
Not-That-Bad Education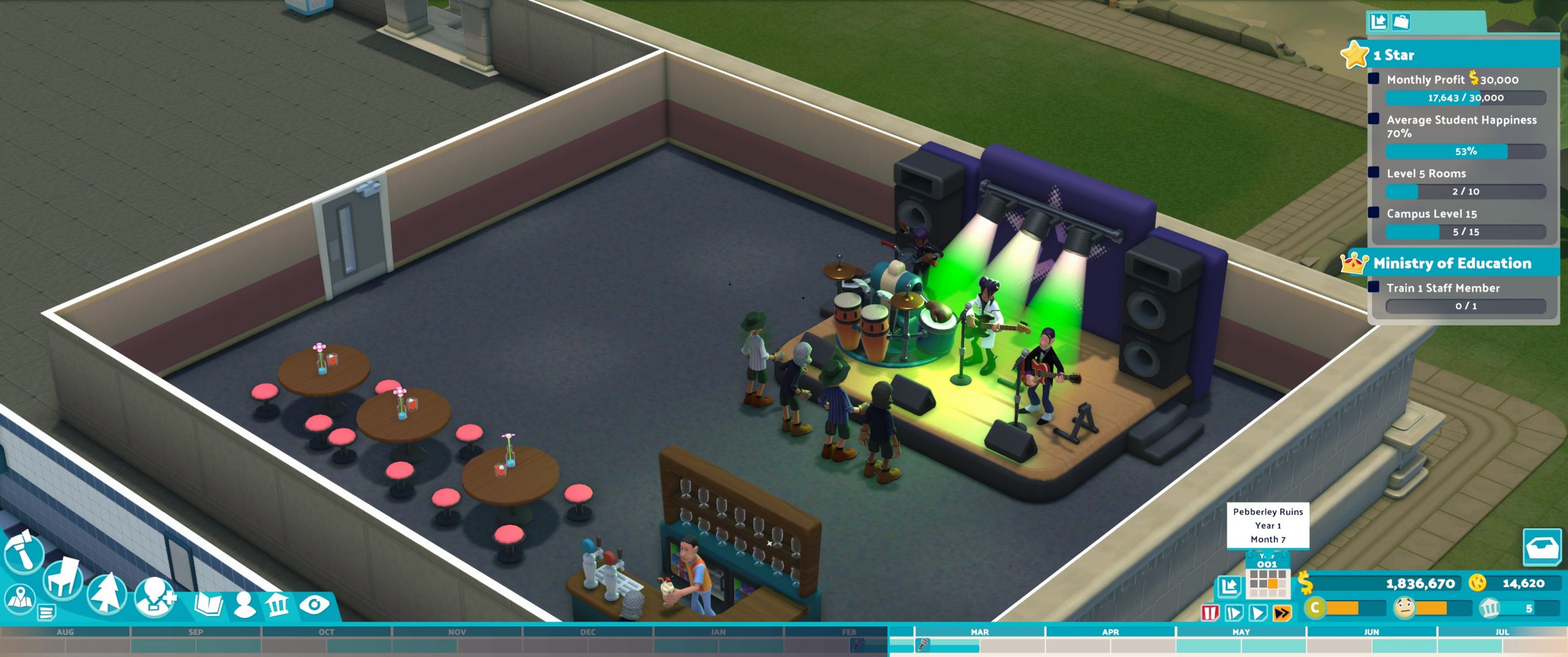 If you're feeling deja vu with your Two Point Campus experience, that's because the devs are just falling back on what they're very comfortable with: making sim games that are both free-and-easy and challenging depending on your mood. The game's interface, aesthetics, and school-sorting mechanics are really well put-together, and will make you a fan easily with its charm. It's not super-detailed like your spreadsheet sim games or anything from Paradox Interactive, but it isn't meant to be.
For what it's doing, Two Point Campus gets more than a passing grade for just being a fun sim that lets you tweak the experience how you see fit. True, you can spend 20 hours just completing each campus site and getting all the stars, but Two Point Studio's latest is a forever kind of experience, as long as you're not sick of being a campus despot, building toilets and dormitories far apart from one block to the other. And juggling between spy school syllabus' and literal clown college.
Pros
Campus theme & outlandish courses feel more lively & colourful.
Great simulation controls and user interface.
Loads of freedom when creating your dream campus.
A good amount of challenge in campaign mode.
Cons
Similar to the past Two Point game, if that's even a bad thing.
Incredibly tricky last few stages.
One save per stage; no multiple slots unless it's Sandbox mode.
Final Score: 80/100