Netflix's animation offering when it comes to adapting video games has been a 50/50 affair. For every home run like Arcane: League of Legends, you get middling and/or terrible fares like Dragon's Dogma, Dota: Dragon's Blood, and the recent Tekken: Bloodline show that's catered strictly for die-hards of the latter's plot.
Thankfully, the recent CD Projekt Red and Studio Trigger collaboration prequel anime series Cyberpunk: Edgerunners fall on the good half of that equation. Right from the get-go, you're mesmerized by some kid's "virtual reality movie" being played through his headset; this is the studio's way of saying "we're just getting warmed up".
And after 5 hours of binging through the series, I really do need a cigarette: it's quite an exhausting experience and rollercoaster ride.
Love Like Fire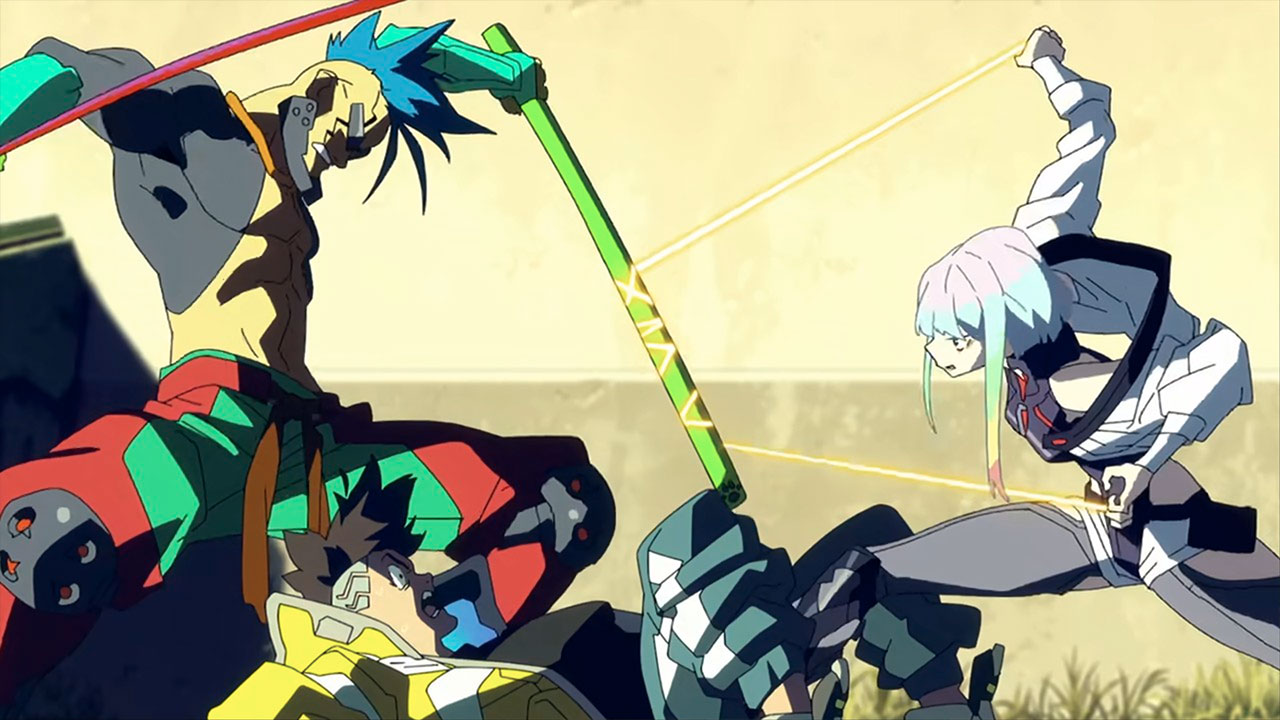 The 10-episode limited series' plot revolves around one David Martinez (Zach Aguilar), a young kid stuck in the glitzy-but-dangerous Night City who ends up in dire circumstances and ends up putting on a military-grade cyber-implant out of teen frustration. Eventually, he ends up becoming the titular Edgerunner – cyber-enhanced mercenaries in the Cyberpunk 2077 universe who take on dangerous missions for a lot of money. Data theft, bodyguard duty, hacking: you name it, Edgerunners will do it for a high price. And with high rewards comes high risks where death and betrayal are at any corner.
Cyberpunk: Edgerunners wastes no time loading all the lore and worldbuilding in a meticulous fashion: our main protagonist goes from naive to steadfast leader material to a person obsessed with the Edgerunner "go big or go home" lifestyle. His one driving force is that he's more tolerant of the pain of cyber implants compared to his pals and associates: they range from hacker-slash-partner-slash-love-interest Lucy (Emi Lo) to gruff teacher Maine (William Christopher Stephens).
Your side characters also have their standout moments from the loud-but-adorable Rebecca (Alex Cazares) to the dour hacker Kiwi (Stephanie Wong). Breaking Bad/Better Call Saul's Giancarlo Esposito also lends his voice as shady bossman client Faraday, though compared to the rest of the talented and expressive VOs, he comes off as stock and predictable. Every cast member gets their time to shine and no one feels sidelined at the least, with the top-tier work of Studio Trigger making everything visually splendorous. Personally, I would gravitate towards the English dub of the show more than the JP dub with English subtitles; so far most of the episode's close captioning isn't accurate to the lingo of the series and may confuse a lot of people.
From David's cyber-implant speed-based powers (silhouette trails and all) being portrayed in style to the fast cuts of detailed and overexaggerated violence, along with a good amount of skin and vistas, the renowned studio has gone all out with the 10 episodes they're handed while also balancing them out with slow moments. My personal favourite visual and emotional parts were ones involving two characters talking under the starry moonlight, and even in a simulation of space atop a moon at one point.
The show harshly reminds you that while being a gun-for-hire is all hunky dory, the cost and consequence of it all -cyber-implants will eventually turn its user insane and less human, for example- will wreck you emotionally. This starts after the second half of the series all the way to the rather gut-wrenching final few episodes.
Kudos to the writers for keeping the anime in line with the downward spiral tone of the source material, as well as slotting in cameos and guest stars that makes sense given the timeline of the anime series.
I Walk The Line
If anything, some folks might get lost with the terminology and going-on in the Cyberpunk 2077 universe. The show does explain this but in a drive-by "blink and you'll miss it unless you use Netflix' rewind feature" fashion.
Understand this: 2022's best Netflix series adaptation of a video game award should at least go to Cyberpunk: Edgerunners. It's beautiful, poetic, tragic, hyper to the nth degree, heartfelt, and incredibly violent. It's clearly for people with adult tastes in animation, and some terms and references might fly above casual observers.
Still, anyone who loves anime (tropes and all), Cyberpunk 2077, and in-between will want to see how far Studio Trigger can work with their technique and masterwork in the medium. So what are you waiting for? Hop to it, choom!
Final Score: 90/100