Genshin Impact Ver. 3.4 Guide & Walkthroughs
This guide is still in development…
Genshin Impact's 3.4 update is out right now, and features a new Desert Area in Sumeru and a new 5-star character to simp over.
Here's a guide on how to make the most out of the new Dendro sword-wielder Alhaitham, provided you gachaed him already.
Alhaitham Guide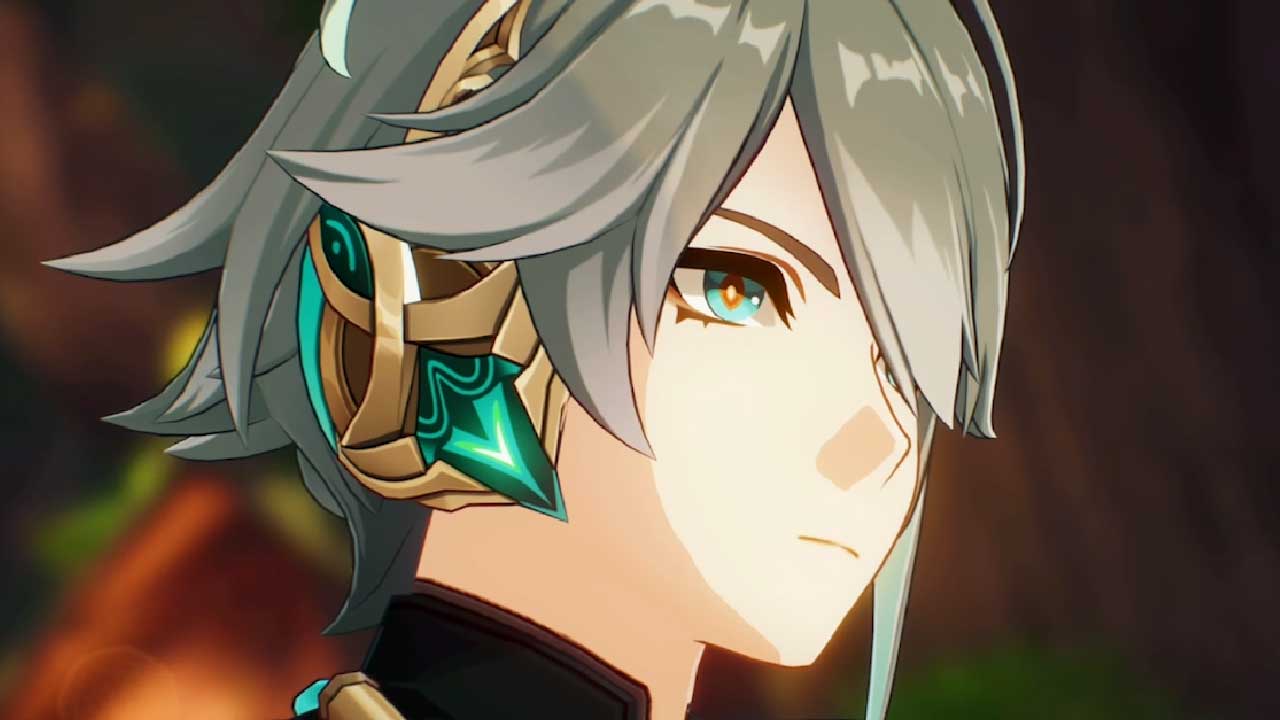 Alhaitham is a 5-Star Dendro Sword user. He excels at dealing high single and multi-target damage, can drive Dendro-related reactions on the field. Also, his Infusion cannot be overridden and isn't tied to his Burst. However, his moves have strict timings and rotations, making him a bit harder to master compared to other characters. Plus, he only benefits more from getting buffs to his offensive stats like ATK and DMG.
Best Weapon & Artifacts For Alhaitham
Weapon: Light of Foliar Incision, Primordial Jade Cutter, Toukabou Shigure
Artifacts: Gilded Dreams x4
Artifact Stats Main Focus: Elemental Mastery, Dendro DMG Bonus, CRIT Rate/CRIT DMG
Alhaitham excels at being a main DPS with Dendro activations & reactions. Thus, the weapons and Gilded Dreams artifact set will help
Alhaitham Story Quest
Desert Of Hadramaveth Guide
The Desert of Hadramaveth is a new area in the Sumeru region. To head there, teleport to the fast travel point north of the Dune of Carouses, and then head to the distant Statue of the Seven. Tagging it will reveal the entire desert area.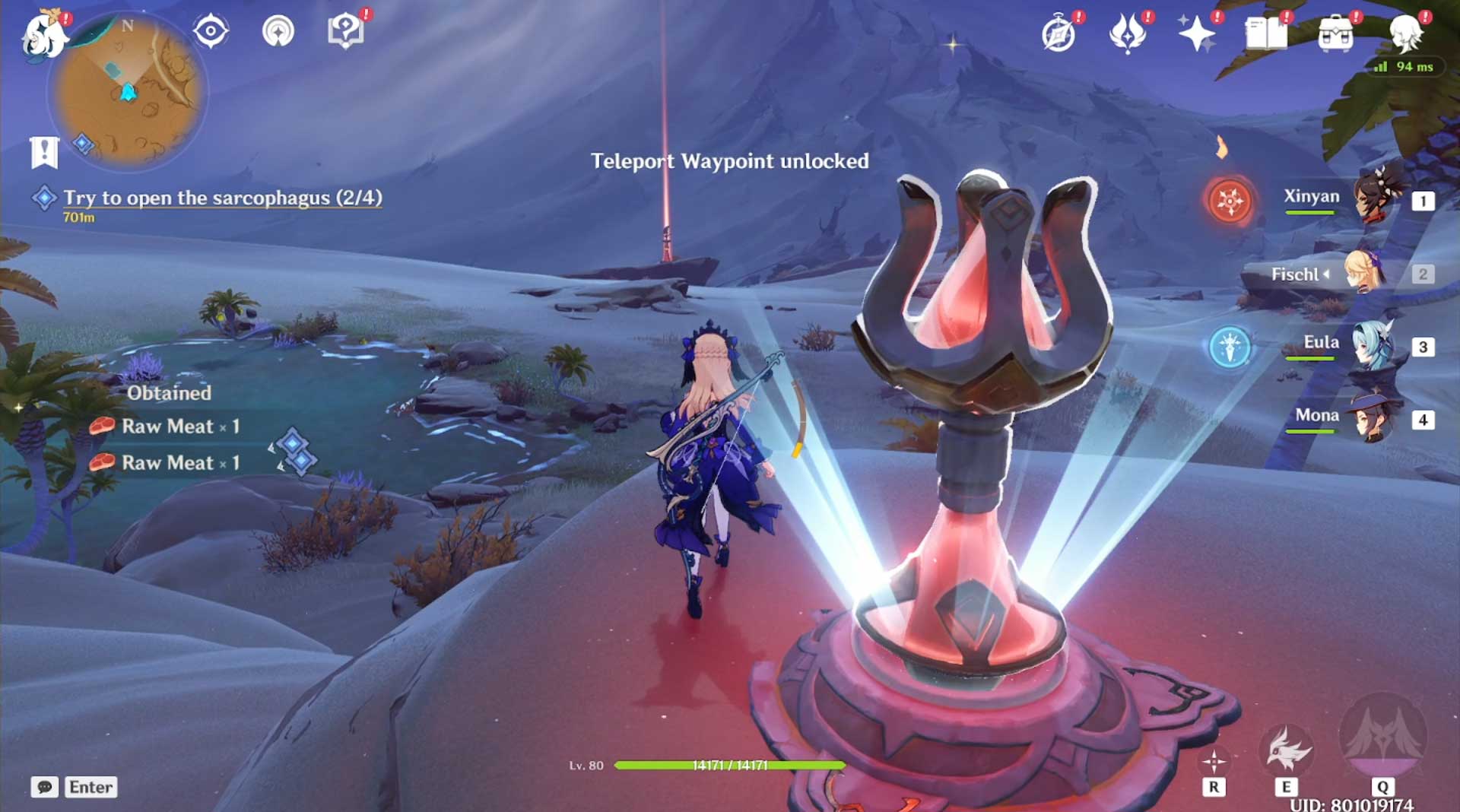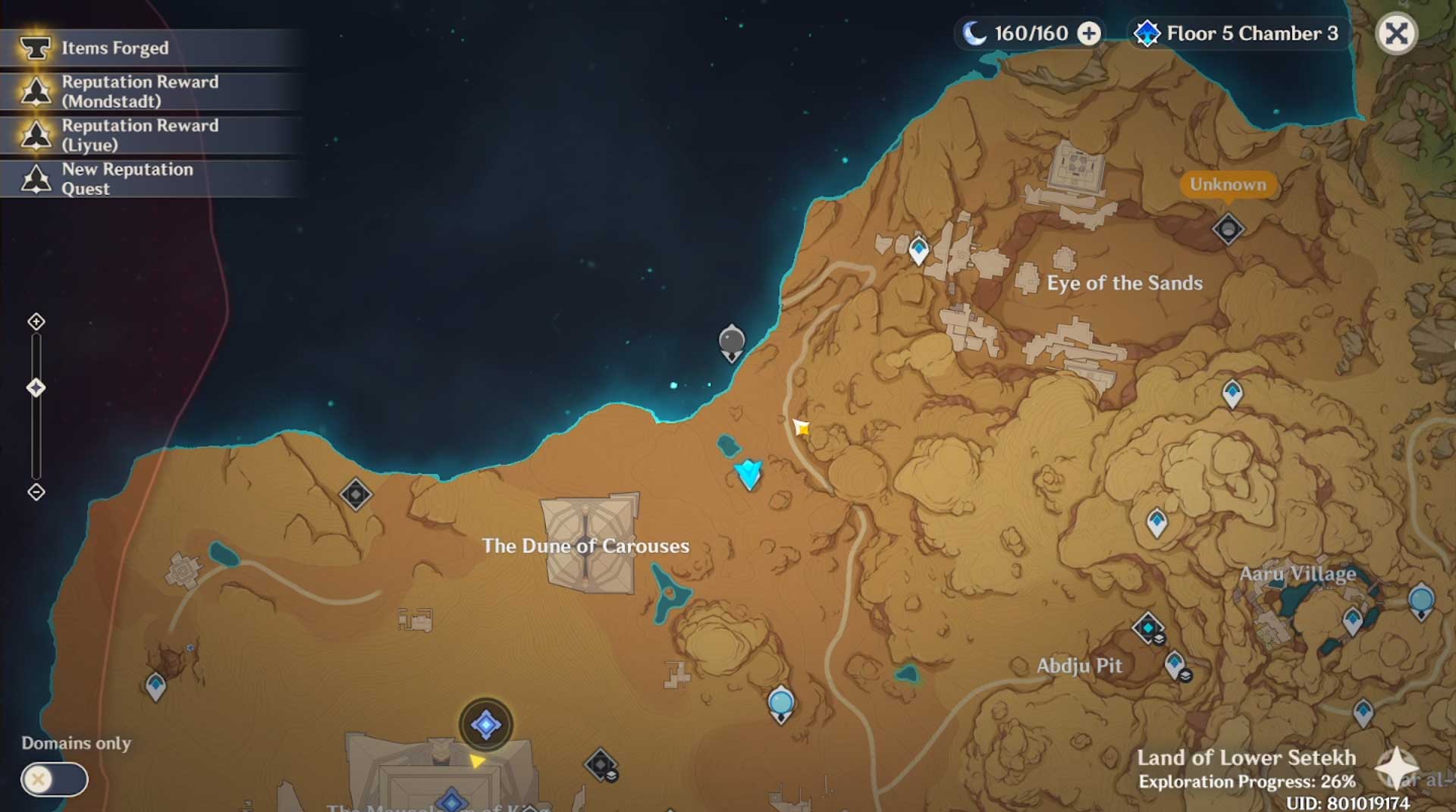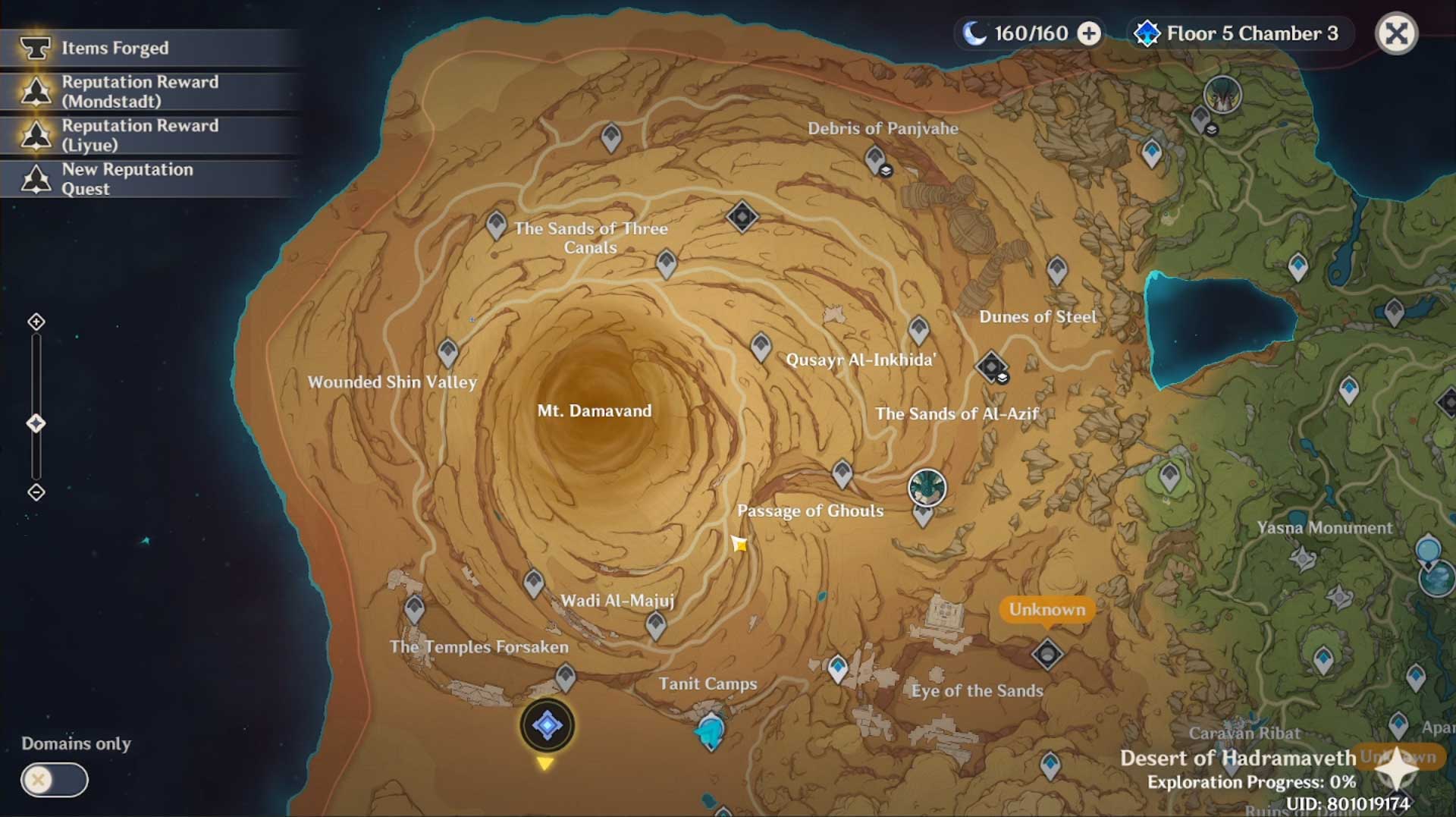 Here are some highlights:
If you have completed the Golden Slumber arc quest in Sumeru, you'll trigger the Dirge of Bilqis side story quest when you try the cross the gap at Tanit Camps.
The Setekh Wenut boss can be farmed for Ascension Materials.
Heading to Mt. Damavand means bigger sandstorms, meaning terrible visibility the closer you are to the center.
The City of the Deceased (West underground) and Fane of Panjvahe (North) are new Domains that need to be unlocked.
How To Beat Setekh Wenut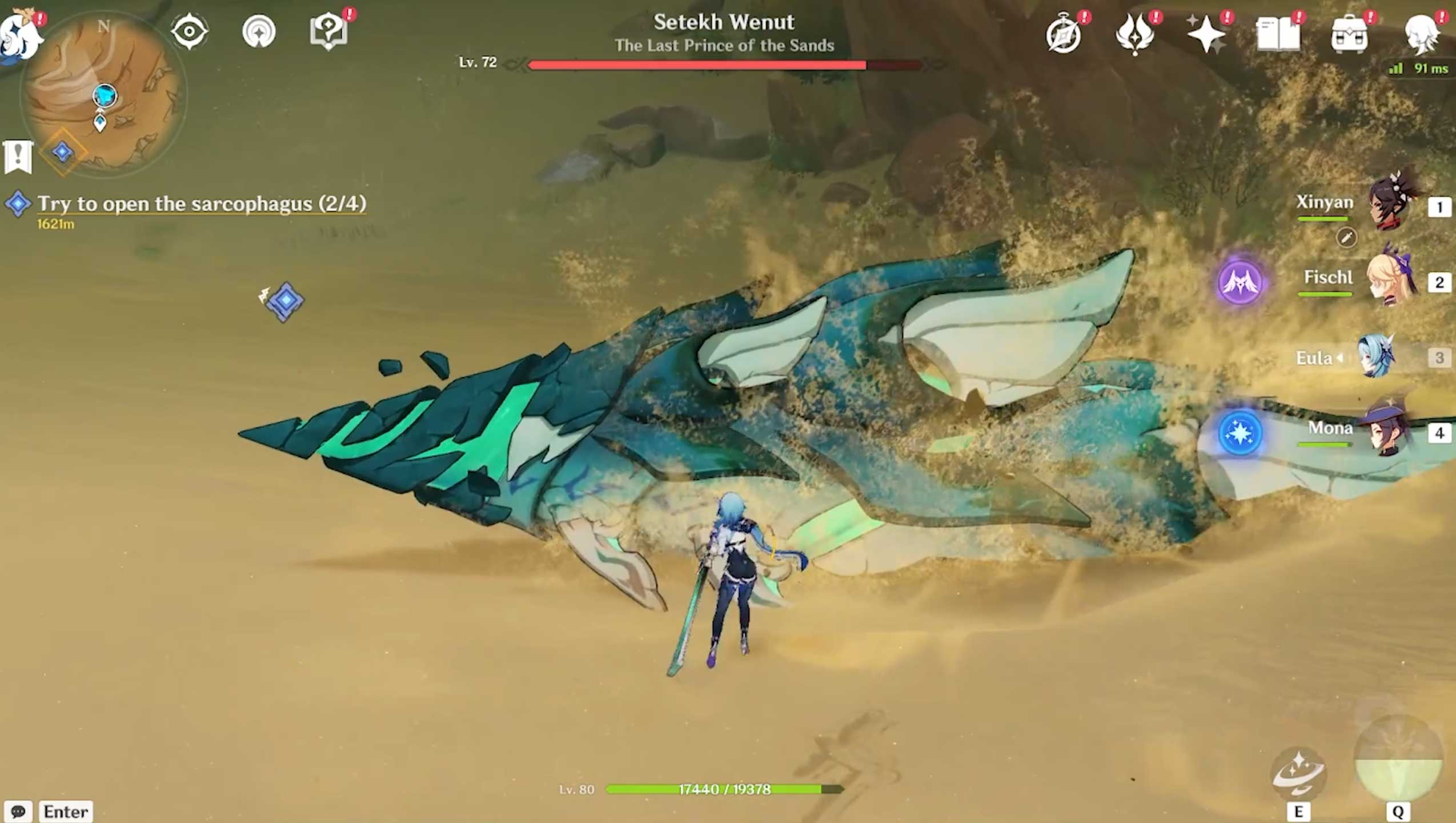 The Setekh Wenut is an Anemo-element giant sandworm who fights by diving at you and firing anemo projectiles in your face. It also can tail-swipe you and go for a major Anemo-powered bullet hell attack. Here are how you counter-attack its moves.
Burrowing Wenut: It burrows in the sand before emerging from the ground like an attack. Just avoid the telegraphed point of impact, and watch out for the second move that fires projectiles; just get the dodge button ready.
Beam Sweep: It fires a wide laser anemo beam in a sweeping arc. It takes a second before it fires, so you have some time to dodge out of the way.
Windbite Bullets: In this attack, the Wenut spawns a number of large orbs. If you leave them out in the open long enough, they explode into a ton of Winbite Bullets that are hard to evade. To avoid this, just destroy two of them by using charged bow shots that react to Anemo (Electro, Pyro, Hydro, Cryo) or charged catalyst shots.
Destroying the orbs will stun the Wenut temporarily, allowing you to deal a lot of damage to it.
Defeating the Setekh Wenut will drop Vayuda Turquoise (Anemo gems) and Pseudo-Stamens, along with other artifacts and loot. The Pseudo-Stamens are ascension materials meant for Alhaitham and possibly future Sumeru characters in 3.5 onward.
Related