The latest Call of Duty multiplayer mode -Modern Warfare II in this case- has Ranked Play, which will be out when the game's Season 2 starts, which should be tomorrow GMT+8.
The game's Rank system requires players to put in more weight and reward on winning matches, as well as tweak the Rank and Skill Divisions, adding in Skill Rating (SR) Forgiveness and Demotion Protection. To actually be in Ranked Play, you need to be at least Level 16. However, Ranked Play allows you to have unrestricted item access -including weapons and attachments- to ensure everyone is on the same competitive footing.
Ranked Play will take place on these maps:
Hardpoint
Al Bagra Fortress
Breenbergh Hotel
Embassy
Mercado Las Almas
Zarqwa Hydroelectric
Search & Destroy
Al Bagra Fortress
Breenbergh Hotel
El Asilo
Embassy
Mercado Las Almas
Control
Al Bagra Fortress
Breenbergh Hotel
El Asilo
Skill Rating
Playing matches grants Skill Rating, from Bronze to Top 250 complete with a skull emblem that's on par with a dudebro game like CoD.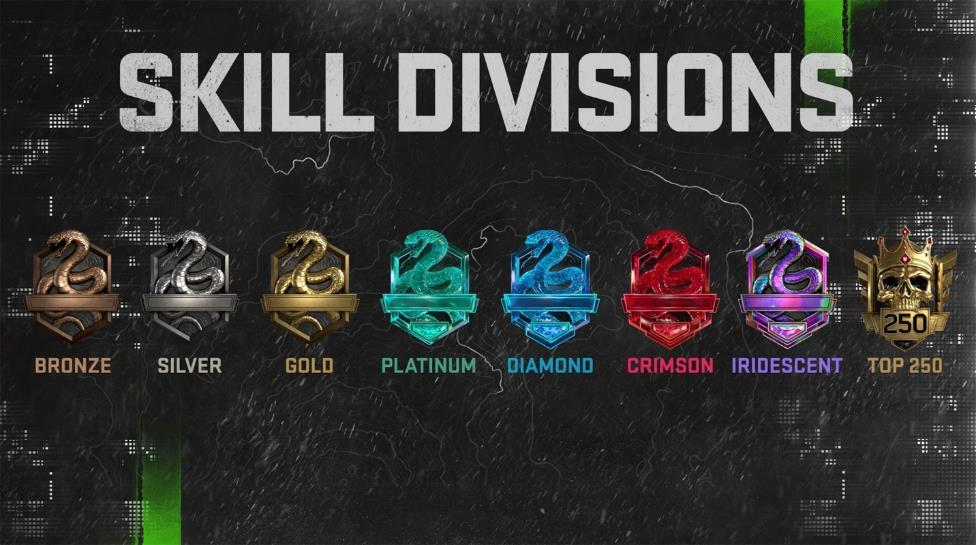 Bronze – 0-899 SR
Silver – 900-2,099 SR
Gold – 2,100-3,599 SR
Platinum – 3,600-5,399 SR
Diamond – 5,400-7,499 SR
Crimson – 7,500-9,999 SR
Iridescent – 10,000 SR minimum
Top 250 – 10,000+ SR (see below)
When the new Season starts, everyone starts out as Bronze Ranked players. You win matches, your rank goes up. In higher Skill Divisions, more emphasis will be put on team performance to ensure all winning playstyles are appropriately rewarded. Speaking of teaming up, here are some restrictions for squadding up in Ranked Play.
Bronze through Platinum players can party up with no restrictions.
Diamond and Crimson players can only form parties with and play against other players within two Skill Divisions.
Iridescent and Top 250 Players can only form parties with and play against other players within one Skill Division.
10,000 will be put on the Top 250 Leaderboards for all to see. This year, the Top 250 will be active at the beginning of each Season and start to fill as the best players climb above 10,000 SR and qualify.
Rank & Seasonal Win Challenges
Winning a Ranked Play match counts toward two additional systems: your Rank and Season Win Rewards.
Win cumulatively and you'll go through the numbered ranks as displayed on the pic above. One Ranked Play win equals one star: win 5 and you get the snake medal that appears in the colour of your Skill Division. Win more and you'll get wolves, gorillas, and the mighty dragon (50 stars) as your symbol next to your Ranked account. Each win also counts toward a Seasonal Win Challenge, which offers new rewards each Ranked Season. No matter your skill division, you will still win stuff.
Additional Features For Ranked Play
Ranked play matches will not start if teams are uneven. If a player disconnects or quits before a match begins, all remaining players will return to the lobby and the match will not count.
SR Forgiveness: if a player disconnects or quits in the middle of the match, all team members outside of that player's party will not lose ANY SR. Basically, if that 4v4 becomes a 3v4 due to a teammate quitting, SR can still be earned if you manage to overcome the disadvantage and win the match, but losing while shorthanded won't deduct any SR.
Penalties and suspensions can be given to those who quit, disconnect, sit idle, or commit friendly fire too often. Players who show repeated bad behavior will be handed more severe punishments. The system used to evaluate repeated bad behavior has been overhauled in Modern Warfare II to punish bad actors and avoid harsh punishments for players who consistently play the game the right way, or who change their ways after being penalized or suspended more consistently.
Demotion Protection: this new feature will help all players avoid immediate relegation after advancing to a new Skill Division. After advancing to a higher Skill Division, players will not lose any SR within the first three games in the new Division. Following that initial protection, if players do lose enough SR to risk relegation, players must lose two consecutive matches to be demoted out of their Skill Division. Demotion Protection also applies to the first three matches of every Season.
Two additional features of note are Hot Streak Flames, which rewards players who can rack up 3+ game win streaks over a 72-hour period, and the addition of Ranked Play Icons in Social Profiles, allowing you to show off that Skill Division and Rank across Modern Warfare II and Warzone 2.0, no matter what mode you play.
Ranked Play Rank Rewards
Rank 5: "Ranked Competitor" Operator Skin Pack, one "Home" version and one "Away" version awarded for both the Male and Female CDL Operators
Rank 15: Pro Issue Sidearm Blueprint, which has similar attachments to what is used at the highest level of competitive play.
Rank 30: New Gun Screen that tracks Ranked Play wins.
Rank 40: Pro Issue Combat Knife Blueprint, which is another popular competitive Secondary weapon.
Rank 50: "Ranked Veteran" Operator Skins (Home and Away) awarded to Male and Female CDL Operators, proof of your commitment to Ranked Play no matter your Skill Division.
This should be a good wake-up call for players who want to take their FPS CoD skills to a higher level. Ranked Play will be available tomorrow for PC and console versions of Call of Duty: Modern Warfare II.
Related