Ironmace, the developers of Dark and Darker, have recently come under fire due to allegations that their game uses stolen assets and code. However, the studio has since refuted these claims on Discord, stating that everything in their game was created from scratch, with some assets being bought from the Unreal marketplace or designed in-house.
These accusations originally surfaced on This is Game, a Korean website, which reported that Ironmace had hired former Nexon employees who had been let go for disciplinary reasons. Apparently, these ex-staffers were utilizing materials they had worked on while at Nexon to build Dark and Darker, with the project P3 prototype from Nexon being used as a template for the game. Some of the images from Project P3 seem to have similarities to Dark and Darker's design.
It's worth noting that in 2021, Nexon shifted gears and started working on a new project, P7, which was more of a contemporary survival adventure. Around the same time, Ironmace was founded, with some of its members being former Nexon employees. However, according to Ironmace's website, it doesn't seem like they left Nexon on good terms.
Their website states that they're "a merry band of veteran game developers disillusioned by the exploitative and greedy practices we once helped create." They claim to be experts who have worked on some of Korea's biggest hits, and have seen first-hand how companies "sell their soul for the easy payday." They go on to express their disappointment in corporate game companies that prioritize profits over bringing joy to gamers.
It's not uncommon for developers to leave big companies to pursue indie development, but the allegations of code and asset theft from Nexon definitely raises some eyebrows. The report also suggests that former Nexon employees who now work at Ironmace were caught attempting to steal code, resources, and development documents from the company.
Ironmace continues to deny all allegations of stolen assets and code, despite the recent reports. In a message on the Dark and Darker Discord, presumably written by CEO Terence Seung-ha, he stated that "ABSOLUTELY NO stolen assets or code were used to make our game." Seung-ha went on to clarify that their code was built from scratch, and most of their assets were purchased from the Unreal marketplace. He claims that all other assets and game design documents were created in-house and that this has been audited by an outside agency. Seung-ha also pointed out that game genres cannot be copyrighted.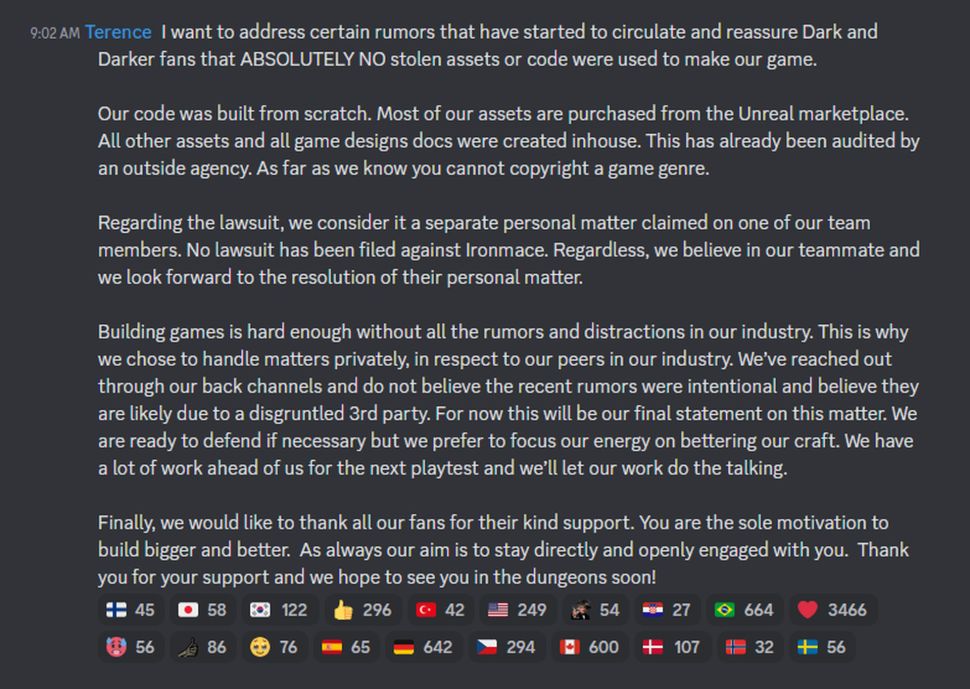 Furthermore, Seung-ha addressed a lawsuit mentioned in a separate This is Game report, stating that it is a "separate personal matter" filed against a single Ironmace employee and that no lawsuit has been filed against Ironmace.
However, the Korean news site YTN reports that Nexon did file a complaint against Dark and Darker under the "Unfair Competition & Trade Secrets Protection Act." They alleged that CEO Park Mo and other employees stole information about a game they were working on while at Nexon. According to game industry commentator PlayerIGN, this case was initially filed in August 2022, but Nexon has requested a "deeper investigation" as Dark and Darker continues to grow in popularity. It's unclear if this is the same action that Seung-ha was referring to.
Seung-ha speculated that the rumours of stolen assets and code were started by a "disgruntled third party," but he did not offer any information about who that might be or why they would be doing so. Ironmace is currently trying to handle the situation privately, but Seung-ha stated that they will defend themselves against any legal action if necessary. Nexon has not released any public statements regarding the matter.
Related