The LEGO Group celebrates diverse friendships in the modern world with eight new LEGO Friends characters from different backgrounds to enable more children to feel represented during play. From 15 to 26 February 2023, children can forge fresh friendships, inspired by these new LEGO Friends characters at Sunway Pyramid and take part in an exciting lineup of activities from video screenings and quizzes, to building activities with the new LEGO Friends sets. But the fun doesn't stop there, from 2 to 12 March 2023, children can also look forward to a series of exciting LEGO Friends activities at Sunway Velocity Mall.
Shoppers can expect new characters with multiple skin tones, cultures, physical and non-visible disabilities, and neurodiversity, including limb differences, Down Syndrome, anxiety, vitiligo, and a dog with a wheelchair. In addition, the re-imagined LEGO Friends Universe aims to help children become better friends with themselves and others by providing emotional and social development through play.
As part of its storyline, the characters will work to overcome modern challenges that they face, passions, obstacles, and differences, all while trying to create friendships.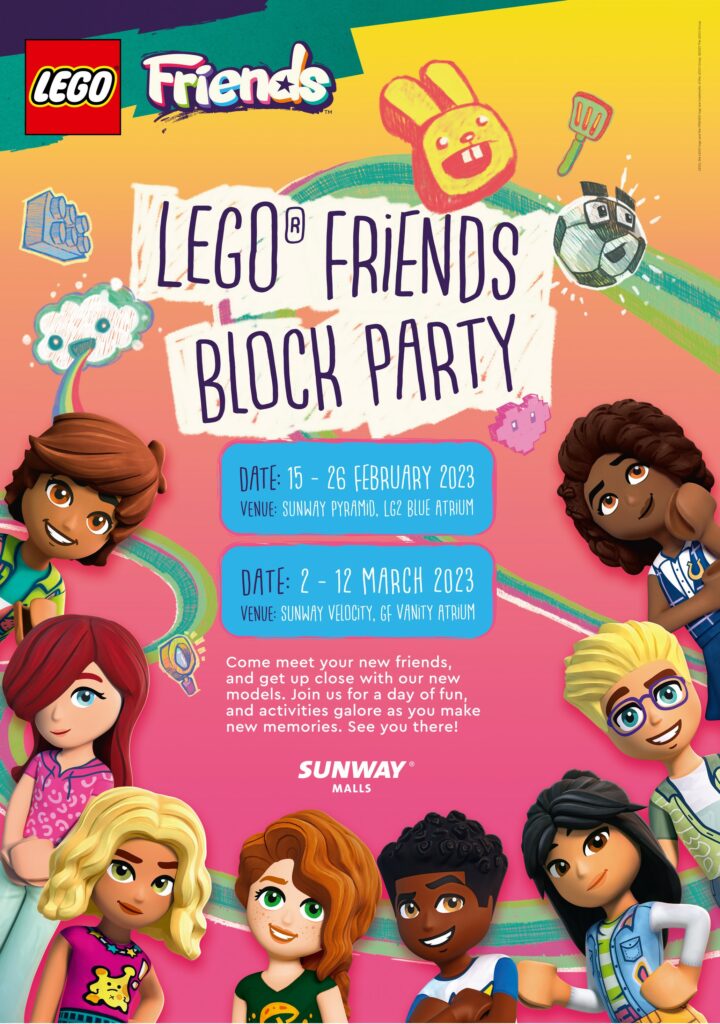 Kickstart the school holidays with a fun LEGO Friends playdate at the LEGO Friends Block Party at Sunway Pyramid from 15 to 26 February 2023 and Sunway Velocity Mall from 2 to 12 March 2023. Experience a day in the lives of the various new LEGO Friends characters and make new friends by stepping into bedrooms inspired by their passion points and the new LEGO Friends sets. Organised in partnership with Sunway Malls, children will get to enjoy arts and craft activities in Liann's bedroom, channel their inner chef in Leo's bedroom, take part in fun games in Nova's bedroom, and even catch an episode of the new LEGO Friends Video Series while forming new friendships along the way.
Find out which LEGO Friends character will be your best buddy by taking part in the fun LEGO Friends Characters Quiz and top off the LEGO Friends Block Party by capturing cool snaps with your favourite characters at the LEGO Friends photo booth. Upon completion of all activities, a LEGO polybag can be redeemed on-site while stocks last. If you are eager to find out your LEGO Friends match beforehand or would like to dress up as your LEGO Friends match during the LEGO Friends Block Party, an online LEGO Friends Characters Quiz will be available at www.discover-friendsen.com/quiz-qr from 10 February 2023 onwards.
Rohan Mathur, Marketing Director of LEGO Southeast Asia, said:
"Through the new additions into the LEGO Friends universe, we aim to not only inspire children to form diverse and deep friendships but also feel seen and heard through play. We are excited to see children interact and build long-lasting relationships with the new LEGO Friends characters, and hope this empowers them to form meaningful relationships in their daily lives too."
Loo Hoey Theen, General Manager of Marketing, Business Innovation & eMall at Sunway Malls said:
"Sunway Malls cater for the family with its many family-friendly infrastructure, services and offerings. The LEGO Group has been a supportive partner as a brand that can be found in our Sunway Malls all-year round as well as special events like this one. In today's high pace lifestyle, malls play an integral part to become a one-stop centre to get daily necessities, spend quality time together and bond as a family. Through this partnership, we are able to create this experience for our customers, and will be anticipating more this year and the years ahead."
The new LEGO Friends sets will be available across LEGO Certified Stores, LEGO Official Store on Lazada, Shopee, LEGOLAND, as well as major retailers and department stores in Malaysia, while a LEGO Friends Video Series was recently released.  Visitors can also redeem exclusive LEGO Stationery sets when they visit either mall during the campaign period.
From 15 to 26 February 2023, Sunway Pyramid shoppers who spend RM200 in a single receipt* are entitled to redeem the exclusive LEGO Stationery set. All they need to do is complete the activities at the LEGO Block Party to collect all 4 stamps and spend a minimum of RM200 in a single receipt. They will then need to download the Sunway Pyramid Mobile App and register, before heading over to Marrakesh Concierge at LG2 Blue Concourse to redeem the LEGO Stationery set by showing the completed activity card and receipt.
The promotions continue at Sunway Velocity Mall from 2 to 12 March 2023, or while stocks last. Shoppers who spend RM500 (RM400 for Sunway Velocity mobile app users) in a maximum of 2 receipts* are entitled to redeem the exclusive LEGO Stationery set at 1F, Concierge Counter.
Related