vivo officially launches the company's latest X series flagship smartphones, vivo X90 Series. Available in two variants, X90 and X90 Pro, the series delivers a whole new set of advanced camera features and all-around performance upgrades powered by a state-of-the-art dual flagship chip technology featuring a 1-inch main camera and vivo's exclusive V2 chip, in addition to the company's continuous collaboration with ZEISS in terms of imaging and camera system innovation, including optics, anti-reflective coating, software and system integrations.
Mike Xu, Chief Executive Officer of vivo Malaysia, said:
"The new vivo X90 Series combines our in-house innovation with some of the industry's leading imaging technologies to bring consumers a smartphone line-up equipped to tackle some of the most challenging scenarios, such as night photography and videography. I'm proud of our progress towards making the flagship X series the industry's go-to flagship line for all-around superb performance."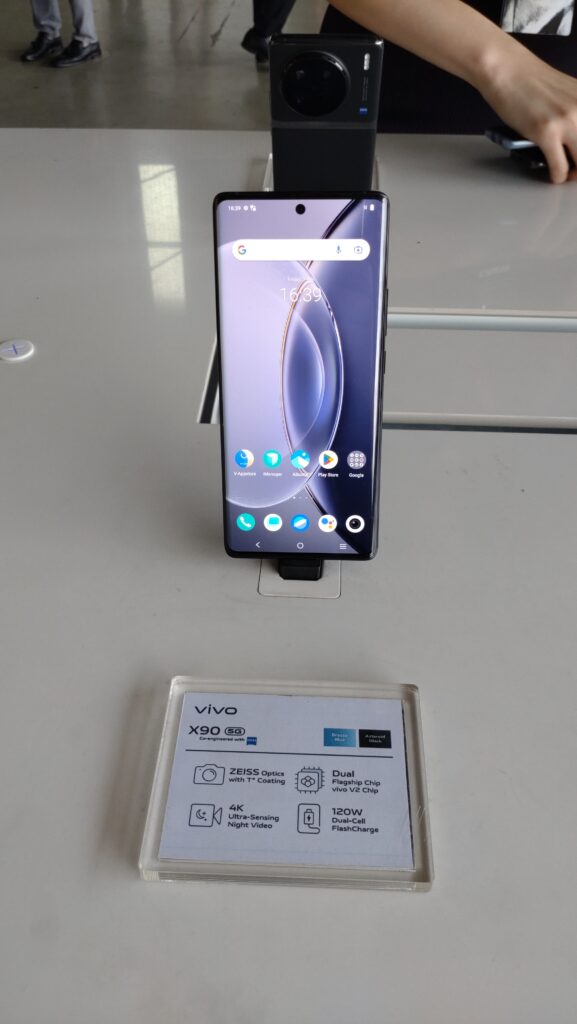 The new generation of the vivo ZEISS co-engineered imaging system brings a combination of hardware upgrades and software breakthroughs. It boasts improved light sensitivity, aperture, natural colour processing and stabilisation for an easy and intuitive point-and-shoot camera experience. The vivo X90 Series features a triple rear camera system, each with certified compliance with ZEISS T Coating.? 
vivo X90 Pro pushes the limits of smartphone imaging with a 50MP ZEISS 1-inch Main Camera, 50MP Portrait Camera with a Large Sensor and a 12MP Wide-Angle Camera. The main camera on the vivo X90 Pro uses a 1-inch IMX989 sensor, the industry's largest to date. The 50MP Portrait Camera features an ultra-sensing portrait lens, with an IMX758 sensor that helps to achieve an aperture of f/1.6. With the support of the stabilisation system, an exclusive large-aperture lens and 4-in-1 sensor technology, vivo X90 Pro delivers subtly detailed portraits, even in low light. 
vivo X90 Pro also introduces an independent optical image stabilisation (OIS) technology developed by vivo, allowing for more intelligent and precise stabilisation correction compared to standard OIS. It also supports Active Centring OIS System, significantly reducing smears between frames and motion blur.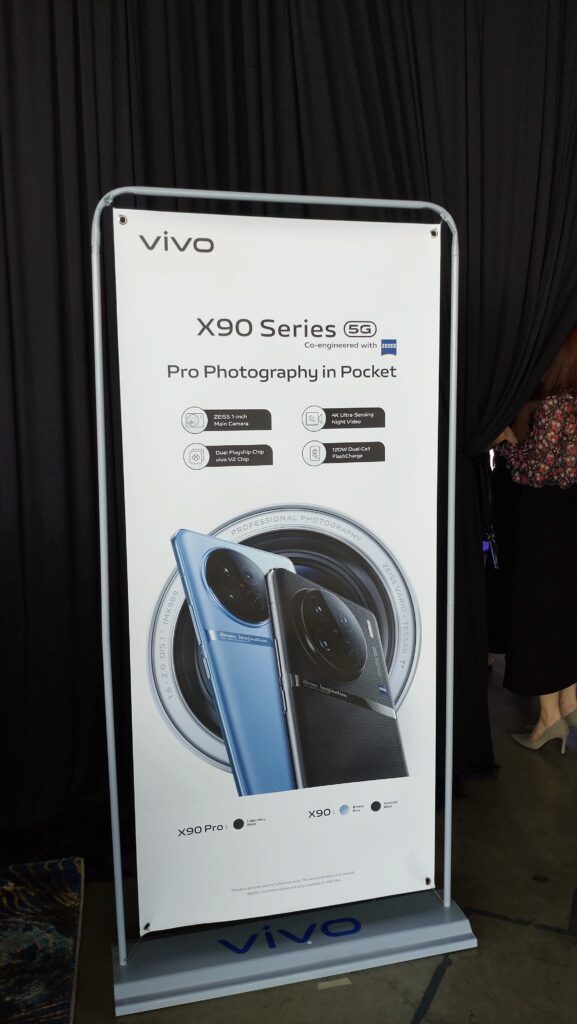 As for the vivo X90, it boasts a 50MP VCS True Colour Main Camera, a 12MP Professional Portrait Camera and a 12MP Wide-Angle Camera. The VCS True Colour Main Camera optimises the sensor spectrum to achieve the target RGB colours better, improving native image colours, ensuring colour consistency and lowering the noise level. 
The upgraded camera sensors, vivo's exclusive V2 imaging chip, the in-house developed AI algorithms and ZEISS Optics with T* Coating work together to further enhance the capability of night photography and astrophotography, making the new vivo X90 Series the perfect stargazing companion. New tools for unique and professional-grade content creation are also introduced. 
4K Ultra-Sensing Night Video is now made effortless with vivo's Super Night Video 3.0 algorithm, supporting exceptional photosensitivity in extremely dark environments. What's more, the V2 chip ensures clarity even at high ISO settings with its noise reduction algorithm. 
ZEISS Natural Color 2.0 in the new vivo X90 Series has been further calibrated to present colours with more authenticity and accuracy, bringing captured images closer to what is seen with the naked eye.  
For the first time, a new ZEISS Natural Color Display is now added to screen colour style settings, ensuring the captured colours are not affected by the display. Now every individual display of the vivo X90 and vivo X90 Pro gets calibrated to?guarantee that the colour rendition of the display is close to perfect.
The series also brings new creative effects jointly developed by vivo and ZEISS. The new ZEISS Cine-flare Portrait style simulates the flare effect seen in many classic films. Users can also capture unique miniature landscapes using the ZEISS Miniature Effect. This effect only keeps a small part of a landscape image sharp to generate the illusion of a miniature scene with no post-editing needed. 
Powerful Device for All-Around Performance and Gaming
vivo X90 Series features powerful processing capabilities, a large battery, fast charging technology and a stunning display, ideal for work or gaming. The dual-chip setup of the new vivo X90 Series includes MediaTek Dimensity 9200 and vivo V2 Chip. With the Dimensity 9200, both the vivo X90 Pro and vivo X90 have achieved a high AnTuTu Benchmark scores of 1.26 million and 1.22 million, respectively, representing a massive leap in performance. The vivo X90 Series comes with LPDDR5X for vivo X90 Pro and Enhanced LPDDR5 for vivo X90, Extended RAM 3.0, which adds up to 8GB of extended memory, as well as UFS 4.0 + MCQ and UFS Deep Defragmentation, offering smooth processing and supporting more active apps.  
The new vivo X90 Series supports 120W Dual-Cell FlashCharge technology, which improves the charging speed and battery life of the large 4870mAh battery on vivo X90 Pro and 4810mAh on the vivo X90 large battery. Additionally, vivo X90 Pro also supports 50W Wireless FlashCharge.  
The new vivo X90 Series offers two charging modes: fast charging mode and balanced mode. In fast charging mode, the vivo X90 Pro can be charged up to 50% in 8 minutes and 10 seconds, while vivo X90 can be charged up to 50% in only 8 minutes. The balanced mode is ideal for everyday charging, requiring only 29 minutes for both vivo X90 and vivo X90 Pro to get the battery charged to 100%.1 Moreover, the devices have a 24-Dimension Security Protection and TÜV Rheinland Safe Fast-Charge System Certification for guaranteed charging safety.  
The vivo X90 Pro has an Ultra Large Vapor Chamber Liquid Cooling System made with a 24-layer cooling structure, and the largest vapor chamber among the X Pro models covering an area of 4,002 mm², for more efficient heat dissipation and insulation. Additionally, an innovative frame design reduces the heat transfer from the CPU to the frame, thus allowing for key areas where the users' hands touch the phone when held horizontally to remain up to 2? cooler during heavy load usage.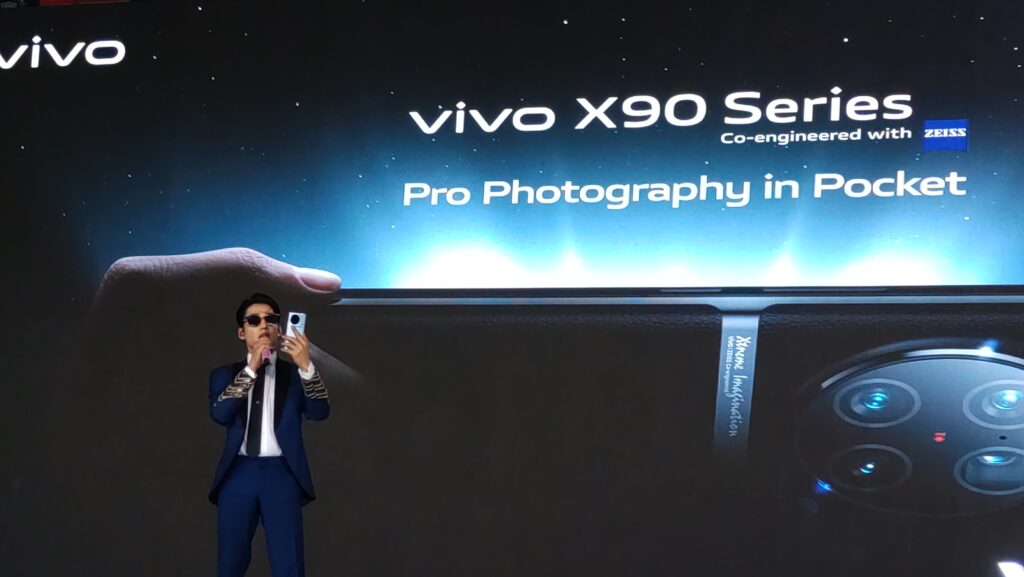 Both the vivo X90 and vivo X90 Pro have a 6.78-inch Ultra Vision Eye Protection Screen, bringing cinema-like display effects and professional-grade eye protection when viewing the display. The 3D curved screen features a larger viewing area, with 1.07 billion colours, and a 100% DCI-P3 wide colour gamut which deliver rich and natural colours for better viewing experience. The display also boasts HDR10+ and supports SGS low blue light, low motion blur, low flicker, AI low blue light certifications, as well as a refresh rate of up to 120 Hz, offering buttery smooth visuals ideal for gaming. 
The vivo X90 Series smartphones offer chip-level Smart Eye Protection Mode, developed by vivo and MediaTek to intelligently monitor and control the proportion of blue light in real-time while balancing the colours for added eye care. The display is made of a new Q9 luminescent material, which also effectively reduces blue light. High-frequency Pulse-width modulation (PWM) at a high frequency of up to 2,160Hz is used to reduce screen flickering, while 16,000-level smooth dimming helps adjust the screen brightness based on the light conditions, ensuring eye comfort.   
The X90 Series smartphones also boast a Dual Stereo Speaker and an X-Axis Linear Motor for a more immersive audio-visual experience and rich tactile feedback for top-notch mobile gaming. In the vivo X90 Pro, the Speaker Boost 4.0 algorithm expands the sound field and extends low-frequency range for a more immersive experience, while the X-Axis Linear Motor provides vibration feedback for over 200 different scenarios. It also supports 4D Game Vibration. 
Drawing on the design of professional cameras, the new vivo X90 Series integrates the three rear cameras into one "Big Eye" to create an integrated overall look, representing the powerful camera system inside. Coated with Corning's Gorilla Glass and an ultra-hard, anti-reflective coating on the surface, the overall hardness of the glass lens reaches 6 on the Mohs scale. It is tougher, resistant to drops and scratches and has higher light transmission. In addition, the Big Eye is enclosed within a decorative surgical-grade, stainless steel Halo Ring for lens protection. 
The vivo X90 Pro comes in a timeless Legend Black colour. The back is covered with luxurious pebbled vegan leather, which is environmentally friendly, stain-resistant, and durable. vivo X90 Pro has an IP rating of IP682 for water and dust resistance. As for the vivo X90, it comes in Breeze Blue and Asteroid Black, both featuring an exquisite fluorite AG glass back, which is smooth to the touch, and keeps fingerprints and dirt away.  
Pricing and Availability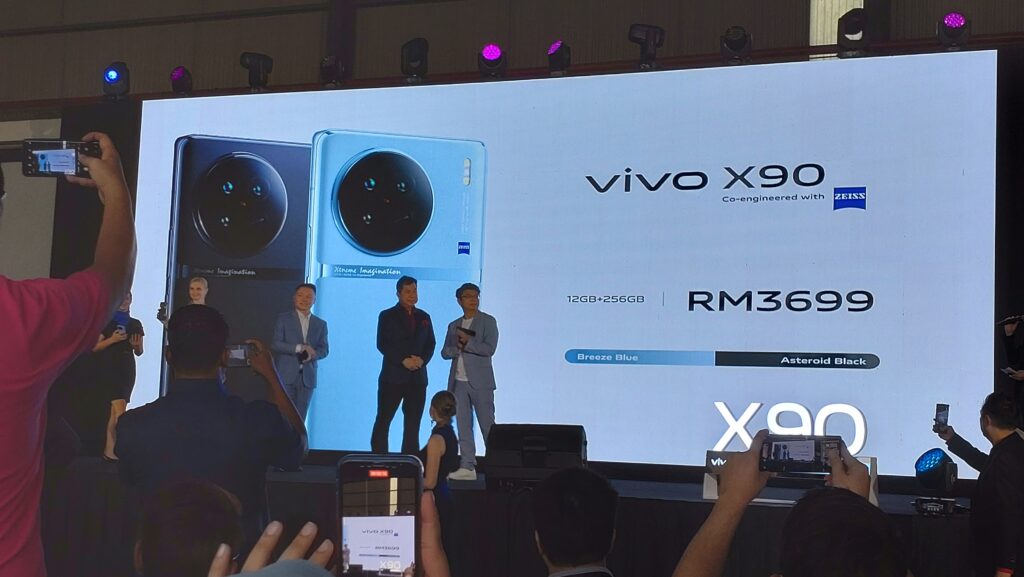 The vivo X90 Pro is now available at RM4,999 and the vivo X90 is available at RM3,699. The latest vivo X90 Series line-up are available at all vivo concept stores, authorised dealers, vivo Malaysia's official E-Store (X90) (X90 Pro), vivo Malaysia's official flagship stores on Shopee (X90) (X90 Pro), Lazada (X90) (X90 Pro) and TikTok (X90) (X90 Pro).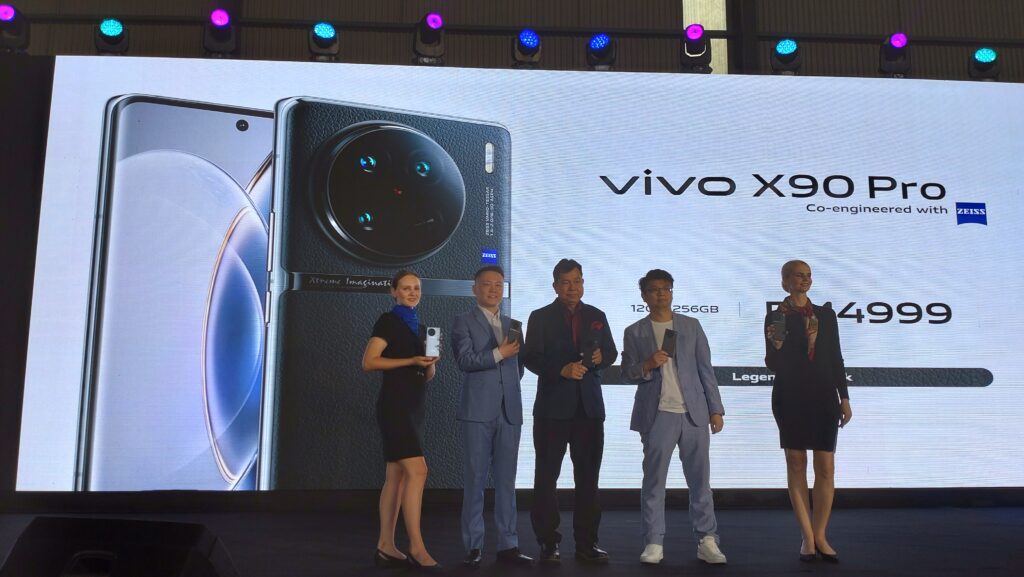 From 4 February 2023, customers who purchase the vivo X90 series at vivo Concept Store will receive exclusive gifts worth up to RM1,300, including a 1+1 year warranty, 1 year screen protection and 1 year battery warranty. In addition, customers will receive a vivo TWS Air worth RM179 for purchasing the vivo X90, and a Joyoung Electric Baking Pan worth RM399 for purchasing the vivo X90 Pro. 
For more information about vivo X90 Series, please visit vivo Malaysia's official website. 
Related