V Rising Is Getting Free Expansion Early This Year; Overhauls Magic & Jewel System
Action RPG survival game V Rising, where you play as vampires surviving against all odds, will be getting bigger in a few months. 
V Rising's major free expansion will be out earlier this year in May and will focus on a number of additions and alterations, according to developer Stunlock. This includes the jewels system, which will be tweaked to be less restrictive for players. Jewels will fit into each spell; while they're equipped, you won't drop them when you die. However, you only get to use one jewel per ability.
"[The original jewels system] discouraged vampires from being adaptive and from exploring all of the deadly possibilities afforded to them. It's important to us that this system offers more freedom in spell choice and variety to satisfy your dark desires."
Spells too will get a reworking, giving each of the five prime schools of magic a stronger subdivision identity and better cohesion. This is done by adding effects that stack with each other. Stunlock says it wishes to encourage leaning into individual magic archetypes without making it overly beneficial, thus encouraging players to mix and match spells.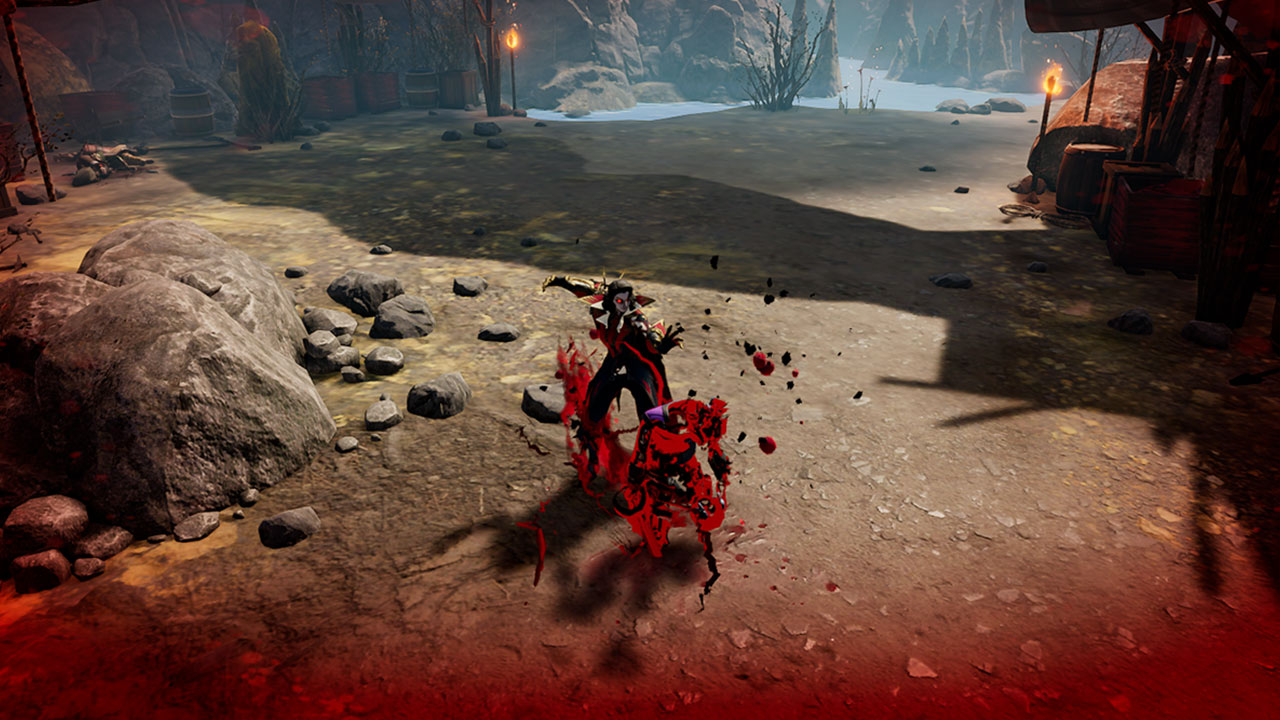 Stunlock is also upgrading blood magic with automatic leech effects; you are playing a vampire 100% of the time in V Rising, after all. The full magic rundown is below:
Blood Magic
Blood Magic has become the centre of vampiric healing and represents a Vampire controlling raw life essence. Blood spells now inflict a leech effect on your enemies, allowing you to attack an afflicted foe and replenish your life force much like, well, a leech. Blood has acquired a little gift from the Unholy branch. The "area of effect" spell Purgatory, which sets down an explosive magic circle to heal your allies and harm your enemies, is now exactly where it belongs.
Unholy Magic
We haven't forgotten about the necromancers, of which there are many. More ways to summon an army of the undead is a frequent request, and we're happy to deliver. The unique debuff for Unholy inflicts an effect that amplifies damage on the target but also has a ghoulish secondary effect. If an enemy dies under the effect of the Unholy amplify, a skeleton will rise from its corpse to aid you in battle for a short time. Unholy will be all about striking down bloodied enemies using their remains to serve you.
There will be other ways to get the most out of your undead army using the Jewel system, such as exploding skeletal minions or summoning up some of those aim-hacking skeletal mages.
Unholy emphasizes its summoning nature by conjuring up a trick from the Illusion school. Our favourite spinny fellow, the Spectral Assassin, has found a new home as the unholy Death Knight.
Chaos Magic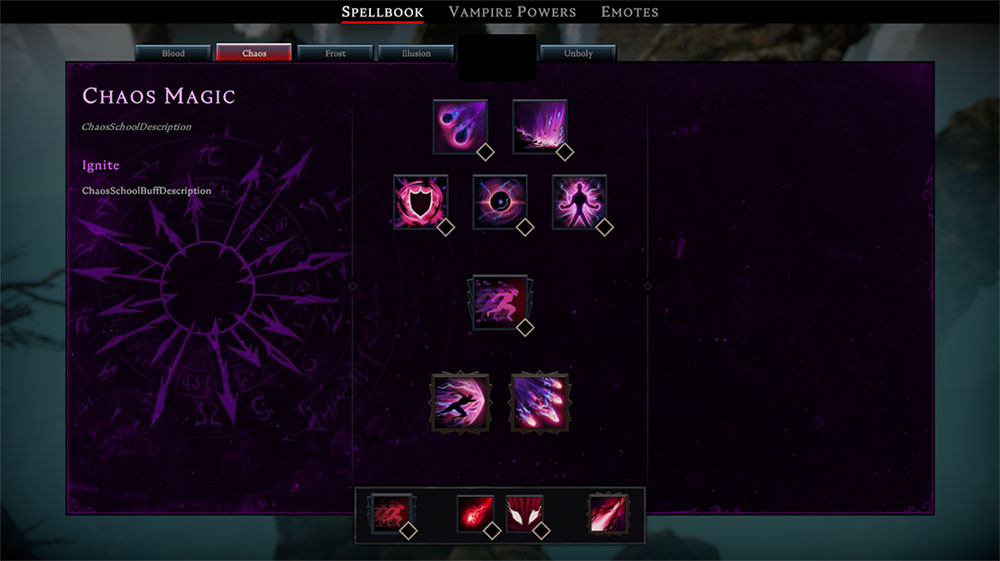 Where else would you expect to dish out colossal damage than the home of our beloved friend, the Chaos Bolt? Chaos magic will be all about aggression, damage, and wreckage. The familiar ignite debuff is making a comeback as a staple of this branch of arcana, and some of the more supportive spells are going to be tweaked to focus on offensive stats instead of defensive ones.
There will be more focus on causing damage to large groups and increasing your ability to put enemies in a position to take a hit. For example, the area of effect spell Void no longer pushes enemies away but instead draws them towards the centre.
Illusion Magic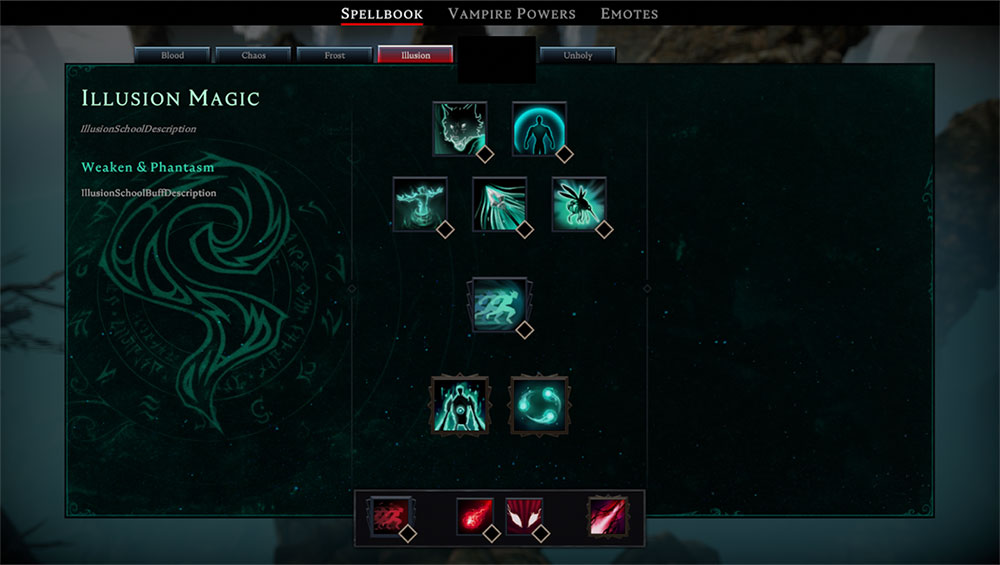 Illusions are more elusive than ever, being reimagined to let you fulfil your fantasy of being a slippery trickster. This is the magical technique of support and defence and the only spell type so far imbued with two unique mechanics. This speciality will inflict a weakening effect on foes, making them deal less damage with their attacks.
Casting an Illusion won't just cause a debuff. It will also provide a buff to the caster. The 'Phantasm' buff will stack with each cast. With each stack, it will increase your chance to bypass your standard spell cooldowns and give the user a free ability cast. This is similar to a benefit currently available from the scholar blood type. Upon getting this free cast, your Phantasm stacks will clear and begin the process again.
With Phantasm, your dedicated illusionist makes up for their defensive nature by casting more often, so don't think that you'll have it easy just because you've run into a "support" themed Vampire. There will also be some new crowd control abilities, like a fear effect to scramble and punish an overly aggressive opponent.
In addition to these changes, Illusion has proven its playful nature by stealing not one but two spells from other specialities. Unholy's Mosquito and Blood's Crimson Aegis have been reworked to fit their new shrouded siblings.
Frost Magic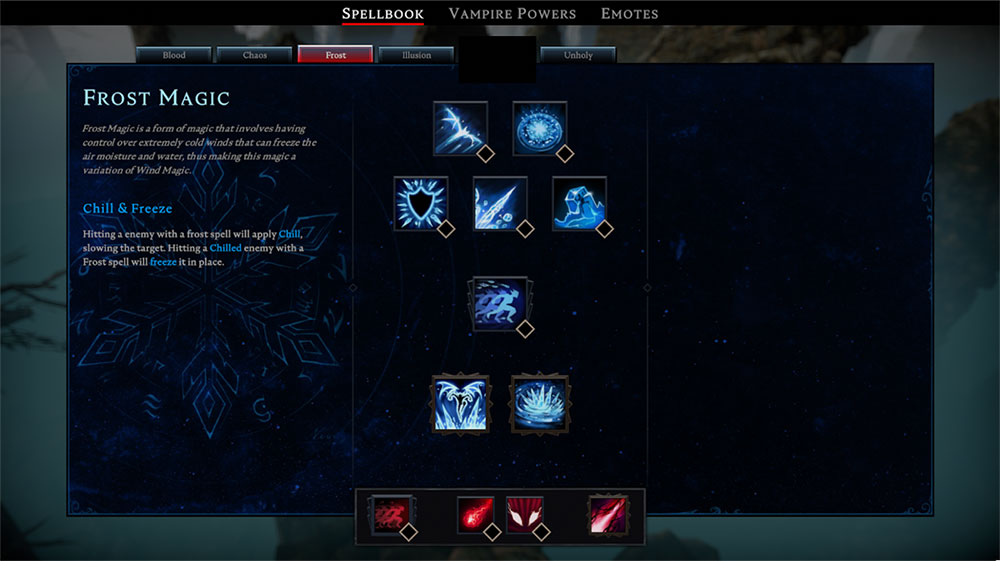 The spell school we all love to hate is being horrifically petrified by Frost Magic. There have been major changes to how the chilling debuff works, which no longer freezes outright. If you think you've escaped the freeze, think again! There will be methods of consuming the chilled debuff to freeze your foes; it will just require a bit of specialization with spell jewels.
Chill effects also now affect V Blood units, making the effect much stronger in boss fights.
V Rising will only be complete in 2024. You can play the Early Access version right now on Steam.
Related