Diablo 4's open beta has come and gone, and boy, did we have some fun with the majority of it.
While we're busy processing our thoughts about the action RPG in an upcoming feature, we figured we should share our custom characters and builds during the beta. After all, Diablo 4 is the first time players can go wild with how their create-an-avatar looks and dress up. It's always a plus to be fashionable in a dreary hellhole that is Sanctuary, so why not take that advantage and loot the world in style?
Check out our ensemble of characters below, starting with…
Alisha "alishxruss" Alix
Stealth and agility have always been my get-to class when it comes to open-world action RPG games and nothing beats the Rogue class when it comes to these two skills. The Rogue in Diablo 4 can wield both a melee and ranged weapon in addition to specializing in shadow damage.
My Rogue or as I named her "Oktavia" focused on two Basic Skills: Blade Shift and Forceful Arrow. As for the Core Skills, I tend to use Barrage for ranged attacks, Penetrating Shot that pierces all enemies in a line, and Twisting Blades which uses a dual-wield weapon. A versatile, highly mobile Rogue is capable of tackling both group and solo challenges.
Kenn Leandre
I only managed to jump into the Diablo IV Open Beta via Xbox last weekend and for my class, I went with what some may call, either the 'boring' option or the self-hating route. Anyways, I went with Rogue.
Built around the idea of picking off enemies from a distance, whittling them down with a crowd control kit and finishing off the stragglers with melee attacks, it comes as no surprise that my character, 'Erd' looks like your Shopee version of Kamen Rider.
He fires his bow like an assault rifle. He rains arrows from above. He ducks at the first sight of danger. I solo-ed the open beta the whole weekend, but I am pretty sure Erd would serve well in a party, taking the role of cleaning up stragglers from the comforts and safety of whoever happened to be in front of him.
Xandolls
Magic is my heart's true passion, the spark that ignites my soul, which is why in any game that I play, I tend to vibe with any class that has magical abilities. The Sorceress, well, she's a walking, talking inferno, well mine is. I had a ton of fun playing around with her outfits (RIP all the items I salvaged).
Originally, I went with a chain lightning build. The zap zap, and watching the lightning chain through multiple enemies was so satisfying. It did extremely well for crowd control, but for boss fights… well, it was useless. I struggled a lot in doing damage when I went up against Ashava the World Boss. Lightning build solo is a complete nono. Maybe I haven't found an optimum build, yet. Soon after, I went for a crit pyro build, which involved using an Enhanced Fireball build with the Hydras.
It did a pretty good amount of damage against bosses, and my hydras could burn the hell out of the ads. As for the ultimate, using Inferno was VERY fun. Too much fun honestly. I ran my Inferno with upgrades that would suck enemies in, so seeing them all get pulled in was kinda exhilarating!
Lewis "73wis" Larcombe
Being new to Diablo, I opted for the Barbarian build because whenever it's come to other RPGs like The Elder Scrolls V: Skyrim, I always opt for the warrior class. I named him "Lucian" because I wasn't exactly sure what was lore-friendly and the name Lucian gets thrown around in RPGs quite a bit so I wanted to go for a safe route.
Me being braindead, I put all my points into maxing out the auto-attack for the double weapons slot, quickly did I find out, it was far from optimal. After looking up some guides I went for Thorns build where I primarily used my two-handed slashing weapon along with Iron Skin and a couple of shouts to taunt enemies and increase movement speed. Playing this build in a party is really good as the taunt allows you to take aggro and tank the damage while your party members who are probably ranged characters deal the main DPS.
But after playing alone, I did realise that playing Barbarian solo just isn't worth it. The fact that you're a melee character is already a massive detriment which I found out the hard way.
Jonathan "Mr Toffee" Leo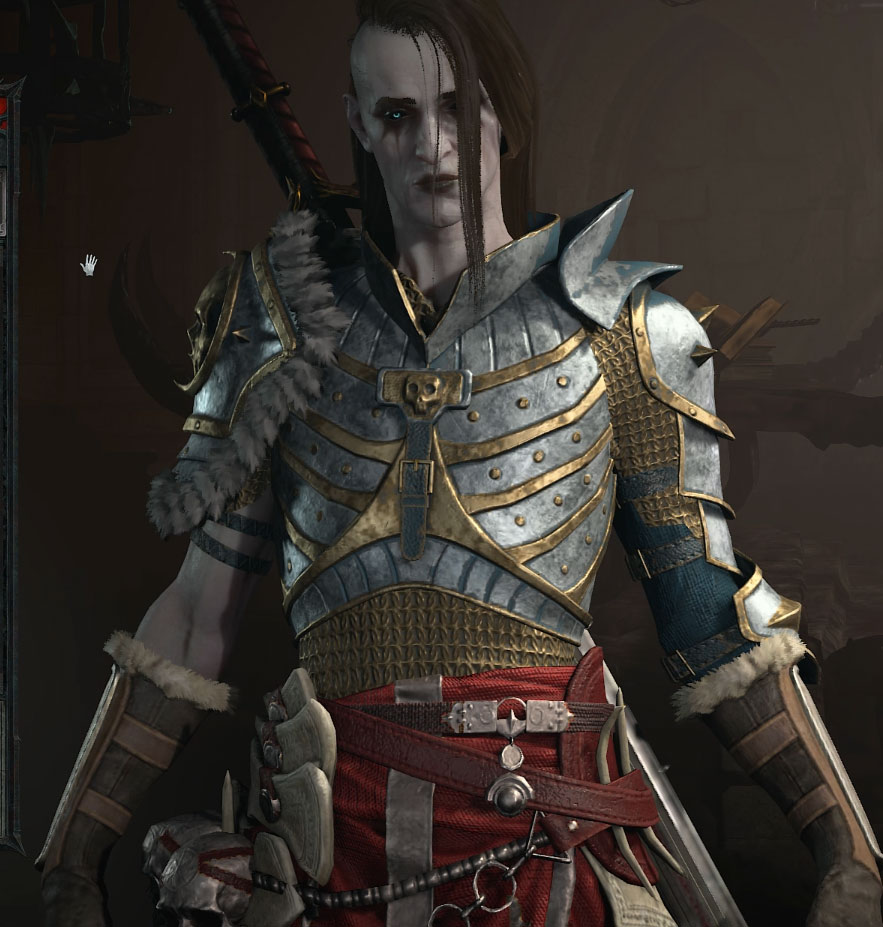 I see a class that lets me command a bunch of undead, I play it. My Necromancer is named and styled after a 90s has-been rock star who recently received domestic abuse charges.
In terms of builds, I've charted it on a previous guide. My Necromancer is focused on Bone skills: Bone Spear, Bone Spirit, regular Bone(r) attacks, and "Bone Hurricane", with my Skeleton Minions, Mages, and Golems doing all the heavy lifting.
True, I did play all the classes available up to max level throughout the weekends. But the Necromancer holds a special place in my heart because of how macabre and cool-looking his transmogs can get. I can't wait to deck my launch Necromancer out like a cross between Sauron from The Lord of the Rings Peter Jackson movies and Thor's The Destroyer.