The updates for 2023's surprise hit game Hi-Fi Rush just keeps on coming.
This time, players will get Hi-Fi Rush's Update 3, featuring new quality-of-life features and bug fixes. Most importantly, you can dress up main character Chai as Vandelay chief creep Kale, as well as gear up your pals in equally boss-like outfits. The cosmetic DLC called the Bossplay Costume Pack is available for purchase for PC and Xbox. Here are the costumes list and the characters who are wearing them:
Chai – Kale outfit
Peppermint – Rekka outfit
Macaron – Mimosa outfit
Korsica – Zanzo outfit
808 – Roquefort wolf form outfit
CNMN – Korsica outfit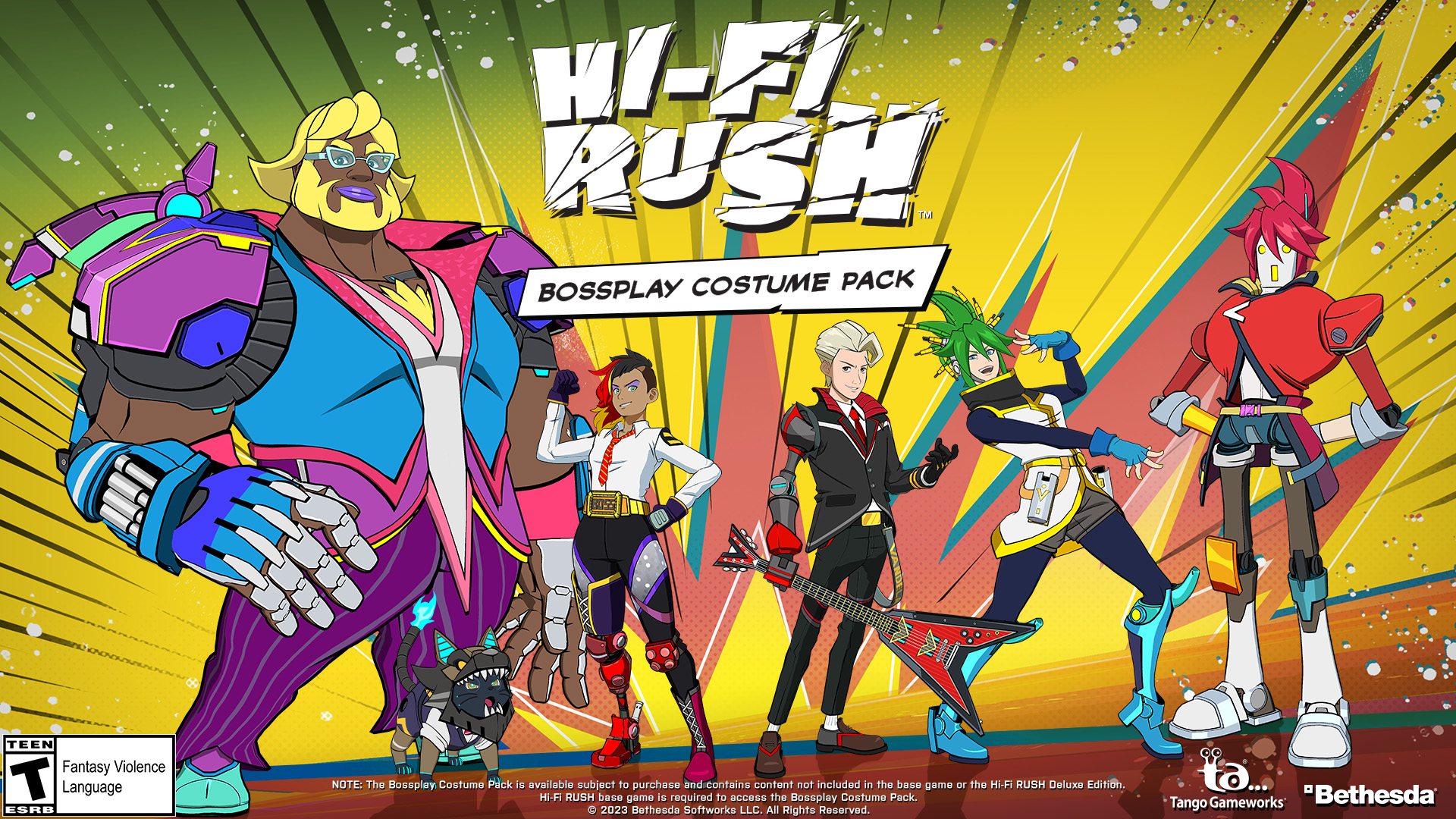 The DLC will cost you US$4.99/RM21.95.
The game's Update 3 is free and available right now; here's what you're getting:
---
Hi-Fi Rush Update 3 Quality Of Life Updates
2D Rhythm Game Assist (Located in the Accessibility Menu)
Available on Easy and Normal difficulty settings, this feature offers a wider window of success for timed inputs. Note that the frames added for successful inputs varies based on the BPM of the music playing during that Track.
Missing inputs will still allow players to complete the Rhythm Game (instead of instantly failing); players must input at least 70% of the correct inputs to succeed.
Events this feature applies to include:
Generators found in Track 01 and Track 03
Destroying the AR lens in Track 04
Activating the Data nodes in Track 05
Destroying the barrier in Track 11
Auto Rhythm Parry
Available on Easy and Normal difficulty settings, pressing and holding the button for the first action in a forced parry event (or dodge) will allow Chai to automatically parry or evade subsequent actions in the event.
Missing the initial action is okay, so long as players press and hold the input for the subsequent action. A player must still parry most attacks (approximately 70%) to 'succeed' in these game events.
In a Rhythm Parry Attack, players must still press attack or parry to the Beat Hit prompt to deal the finishing blow.
This action can be used on:
Rhythm Parry Attacks (regular enemies and bosses)
VU-REV's grab attacks that require dodging
Lasers that require parrying to destroy
Please note that 2D Rhythm Game Assist and Auto Rhythm Parry are only available on Easy and Normal difficulty modes.
Collectible Information
The stage select screen now displays how many collectibles you have found in each stage. If there are no collectibles of a certain type in a particular stage, it will display 0/0.
Completed collections in a level will display a green checkmark on the stage select screen.
Bug Fixes
During the second phase of the battle with Roquefort, an issue was fixed whereby certain actions would cause the user to fall into the abyss, making it impossible to progress.
An issue was fixed in Track 1 where the player could use the crusher obstacle to be pushed outside of the world.
Fixed an additional instance where a "UE4 Fatal Error" could occur.
Fixed an issue on Track 7 where if the player receives a Game Over exactly as when the final enemy of the fight is defeated, a magnet point will not be able to be grappled and prevents progress after reloading the game.
An instance where the achievement "Saw All Those Hits Coming" might not unlock for players who performed parries in training mode before completing them in a level has been fixed.
Pressing both light and heavy attacks together during the Rhythm Parry Attack on the Brut-1L in Track 3 will now correctly destroy it.
Fixed a bug that sometimes display offscreen enemy HP gauges after unpausing the game.
Fixed a bug where some enemies would not be defeated even when their HP gauge showed "0".
Minor bug fixes and adjustments to Photo Mode.
The SCR-UB unit's official paint color has been updated from Blue to Cyber Blue in hopes of increasing its "cool factor" among younger audiences.