When you think "PC" and "real-time strategy games", you think StarCraft, WarCraft, Dune, and Command & Conquer. When you think "consoles" and that genre, what immediately floods my mind are "half-assed ports of existing PC RTSs", "Brutal Legends", and "Halo Wars". The latter two points are what made the genre viable on a controller-based platform despite their flaws, though to be fair titles like Smite do prove that arguably better as well.
My two hours with publisher Mojang, and developers Xbox Game Studios and Blackbird Interactive's upcoming title Minecraft Legends prove that there is hope that the curse can be lifted. As mentioned by Mojang executive producer Dennis Ries, the one way to do this is to dub the game as an action strategy game, staying away from the real-time strategy moniker.
Voxel Vindication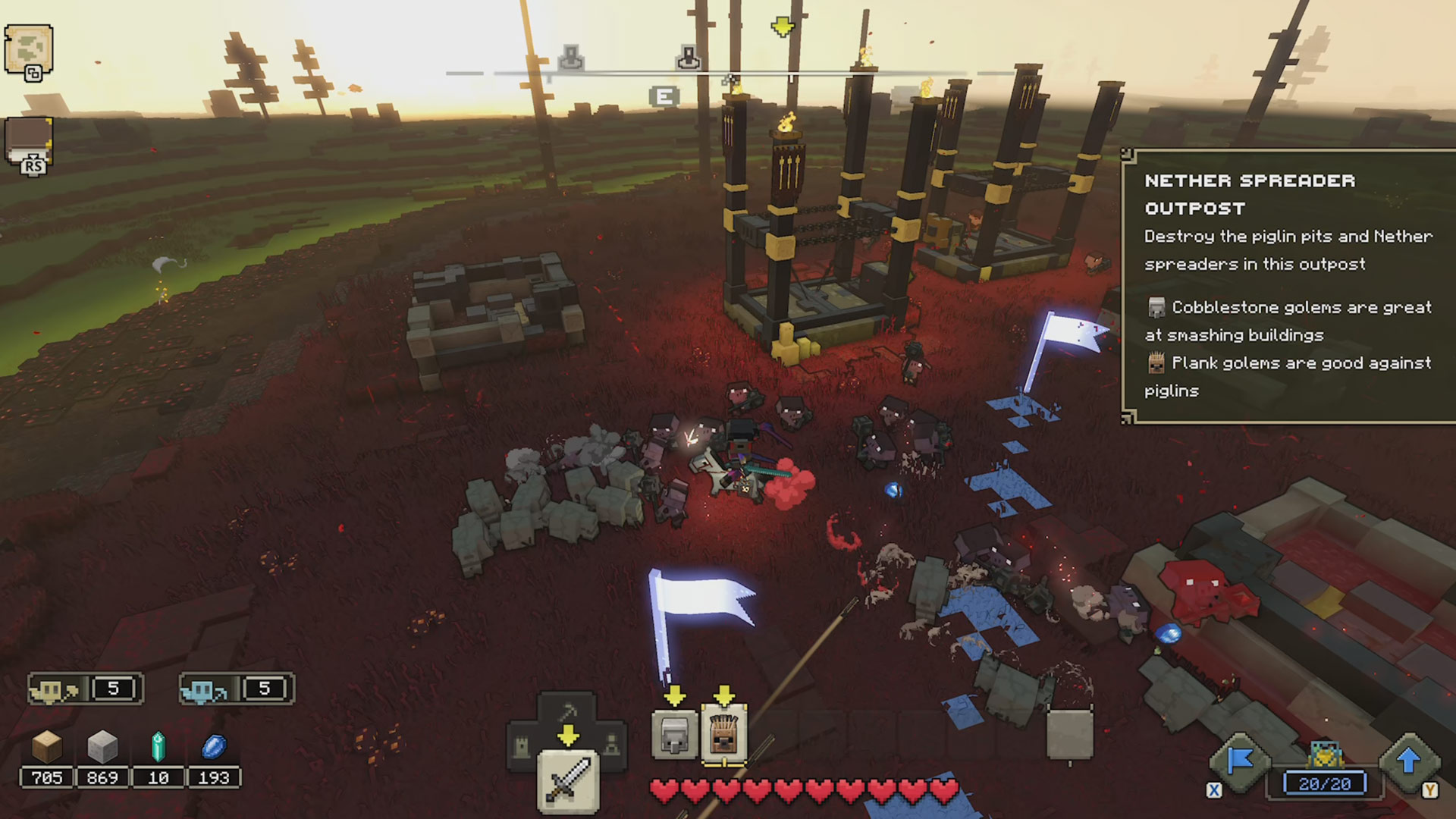 Yes, you still create units from spawn points, build things from scratch and gather resources with the power of singing and cutely playing your musical instrument (which also makes the Brutal Legend comparison kind of apt). However, your Minecraft Legends hero you control in a third-person perspective can defend themselves. And also explore a world with quests and missions in a procedurally-generated biome, following a cinematic story according to Ries.
"[Calling it an RTS] just doesn't feel the same. Part of that is that you really feel like you're in there with your troops. And you matter."
This is a friendlier approach to the whole genre when it comes to making it work on a console and controller setup. Yes, you can still play it with a keyboard and mouse setup, but the theme around Minecraft Legends' design is approachability. Much like Double Fine's efforts and aspects of Halo Wars, you have a point character to use and build things with Minecraft style from walls to gateways, to even archery towers and "pushback" towers for defense; standard for an RTS title. At the same time, you need to explore the land for major resources to build basic fortifications and spawning pools, as well as fend off Piglins and other enemies by yourself at times.
Starting from the lower "building tier", you start with wood and stone for base-level units. You can then move on with diamonds, iron, and other rare resources by building Improvement Hubs, which then require "attachment" structures around them to get more upgrades for yourself and your building prowess.
All this (along with other-needed Improvements) to create bigger and better armies, which is part and parcel of any strategy title involving tons of mass army conflicts. These include Warriors (with the trademark Minecraft villagers with axes) and Creepers who act as suicide bombers that work well against structures and barricades.
You'll also end up mining for redstone which leads to you being able to build redstone catapults that can throw ballistics from afar to enemy bases. This seems like a go-to tactic for some of us, especially in PvP mode which we'll talk about in a bit, but that requires a lot of pre-planning and hoping your enemies aren't quick on the uptake. Fighting against the Piglin horde in the game's Campaign, which involves saving villagers and destroying Piglin strongholds with your golem army and elite tower defense planning skills, is fun. But it isn't the same as fighting human opponents.
Face Off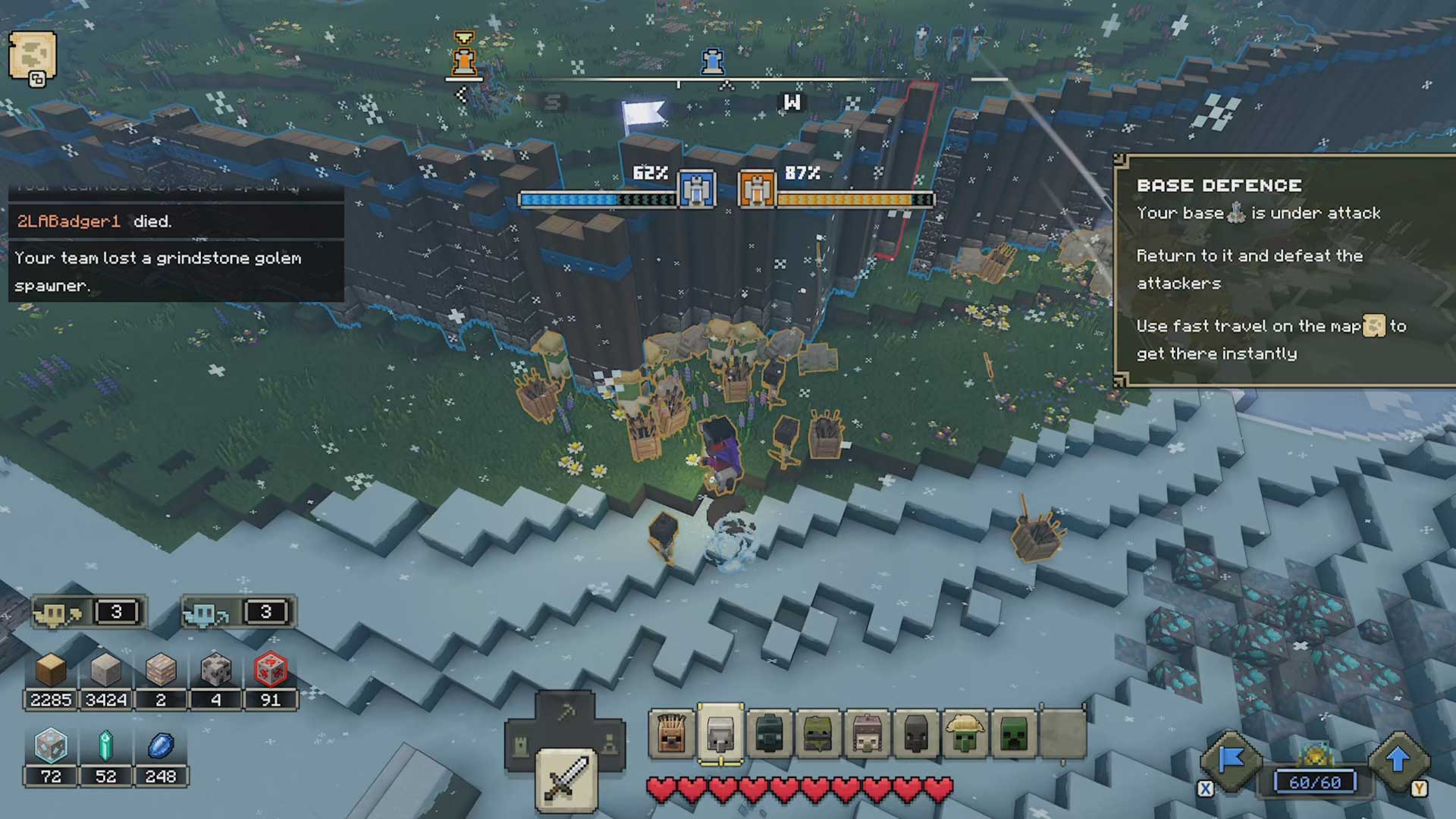 As with any action strategy title, PvP might be a crowd favourite. Mojang's Minecraft games haven't been a completely head-to-head affair, but Minecraft Legends might fill in that long-empty void. In the PvP mode we played, the objective is to destroy the enemy's main base. It's three players against three players, with each team sharing resources and also planning to divvy up duties. From our team's end during the play session, we split and switch up duties from gathering resources to building fortifications, to even harassing the enemy team with a makeshift army until the three of us went for the kill. At times, we even had to shift gathering duties around as some resources weren't available in certain spots on the map.
Unlike campaign mode, Ries said the PvP mode's procedurally generated map had to be smaller due to balance and time issues; there would be too much distance between players if the campaign map was used. He also encouraged everyone to play through the Campaign since it's meant to train people to eventually get to PvP mode.
"The core structure is in the campaign mode, and the way it teaches you like with how destroying Piglin structures generate Prisaline for upgrades is deliberate."
While both modes play pretty well, with spot-on controls for movement and commanding your army on the fly, there are some wrinkles to bring up. For one, it can be tough to properly place certain structures like extended walls until you get the hang of the analog stick movement and placement. Also, some hotkeys in your default building/gathering/spawn point menu at the bottom centre do not display everything despite some empty spaces.
You need to manually click the right stick to open up your Book of Song, then quickly add in the extra build options. Doing this on the fly isn't the most convenient way, but we're guessing you can set this up before an actual PvP match.
These minor gripes do not sour the fact that Minecraft Legends might be the one console strategy title that really makes use of its perspective shift to give new life to the classic real-time strategy genre; loads of potential in other words. It remains to be seen if the full game might warm the cold hearts of stout RTS enthusiasts, but Minecraft is meant to be a franchise that breaks down gatekeeping and barriers for all to play.
As to how the game will extend its lifespan post-launch, Ries said that there will be a marketplace like in other Minecraft games powered by its in-house engine Bedrock. There will also be a Lost Legends mode involving a multitude of challenges. One of them is Portal Pile, where it's a team of three players against a horde of Piglins and other enemies trying to destroy a village you're protecting. If you are successful against a certain number of waves, since it seems like an endless mode, you'll win exclusive hero skins.
"We're happy to support the game post-launch, as it's always been our plan. While we have don't have crossovers to talk about for now, we do have more in store."
Minecraft Legends will be out for PC, Xbox, Nintendo Switch, and PlayStation consoles on 18th of April. It'll also be out on Xbox and PC Game Pass on Day One.