Malaysia's most explosive cop action blockbuster franchise, Polis Evo, is coming back to complete its trilogy with Polis Evo 3, and it's set to be unleashed in cinemas nationwide in Malaysia, Singapore, and Brunei on 25 May. In commemoration of the movie's release Astro Shaw and PUBG MOBILE have joined forces to bring you an epic cross-branding event in the game!
You can now get special voice packs featuring the iconic voices of Inspector Khai and Inspector Sani from the movie Polis Evo 3. And guess what? These dialogues were personally recorded by the actors themselves!
You can also download the OST "AYUH" from the movie and enjoy it playing in the game's lobby. And to top it all off, the trailer for the official PUBG MOBILE x Polis Evo 3 event will be released soon on PUBG MOBILE's official social channels. Keep an eye out for it, and get ready to experience the ultimate gaming crossover event!
Polis Evo 3 brings back Malaysia's hottest buddy cop duo, Zizan Razak as Inspector Sani and Shaheizy Sam as Inspector Khai, as the mainstays of the Polis Evo franchise. And that's not all – the Polis Evo family is also expanding with big names such as Sharnaaz Ahmad, Nora Danish, Syafiq Kyle, Douglas Lim, Farali Khan, Fauzi Nawawi, Fezrul Khan, and Eyka Farhana in this film.
If that's not exciting enough, Polis Evo 3 also features special cameos by well-known local actors and personalities, including Michael Ang, Ben Amir, Wanna Ali, Zulin Aziz, Fauziah Gous, Ezzaty Abdullah, Iman Corrine Adrienne, Danial Zaini, Radin ERA, Kamaliah Mat Dom, Datin Fadilah Mansor, Daniel Cheang, Isha Norsham ERA, and social media influencer Zukieeeee, along with a short but thrilling appearance by Dato' Afdlin Shauki.
So, what's the scoop on Polis Evo 3? Well, this time around, Inspector Khai and Inspector Sani are back for a new mission, but this time they're joined by a special highly-skilled team including Inspector Dani, Inspector Julie, and Inspector Dell, who each bring their own expertise. However, things take an unexpected twist as the criminal's next potential target is Inspector Khai himself. Inspector Khai and Inspector Sani's friendship is put to the test when they realize the suspect's personal connection to Inspector Khai's dark past.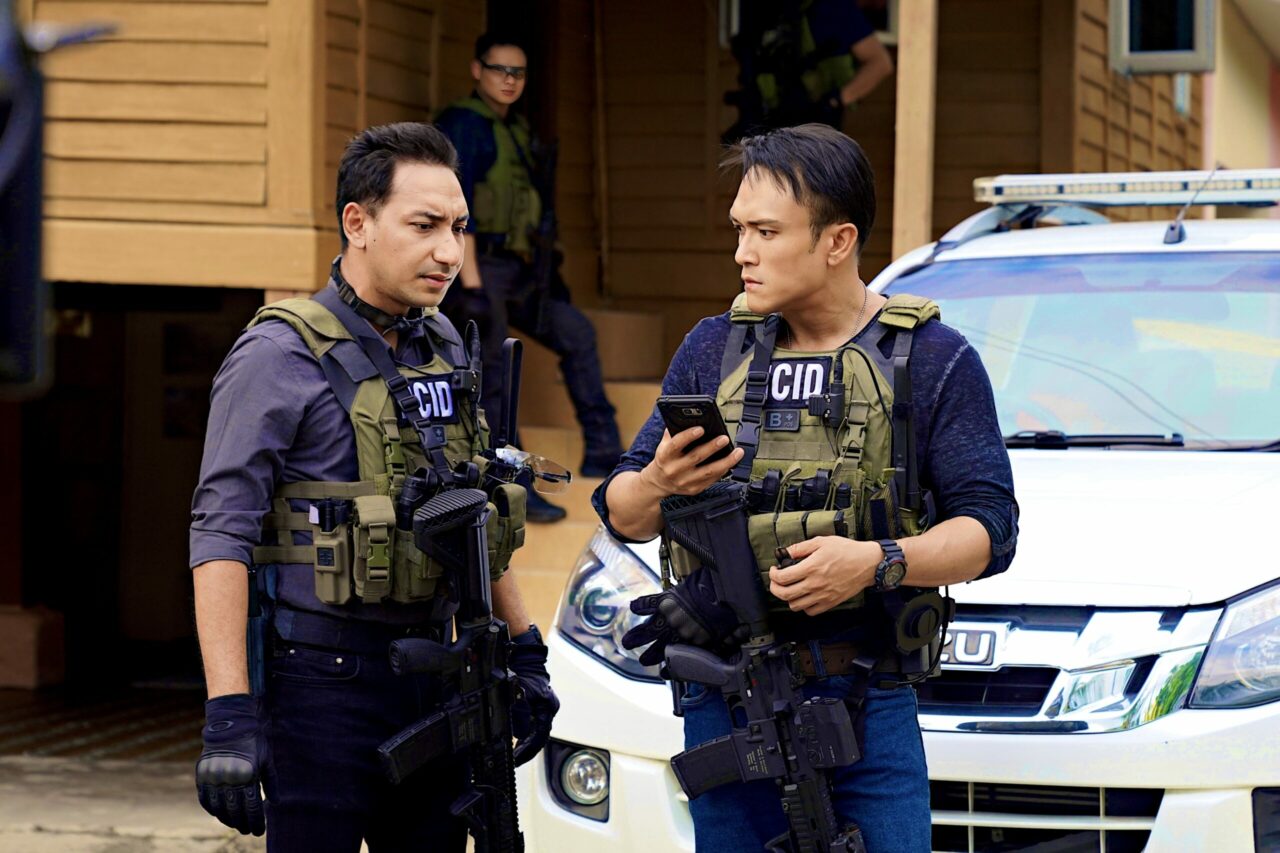 The Polis Evo franchise has showcased the abilities and unique direction of different directors, with the first Polis Evo film grossing RM18 million and Polis Evo 2 grossing RM25 million. And for the third instalment, breakout film director Syafiq Yusof takes on the task of directing yet another daring attempt in the action-comedy genre. Produced by BlackFlag, for the first time ever, the latest Polis Evo film sees the collaboration of three major Malaysian producers Astro Shaw, Skop Productions, and TGV Pictures.
According to Executive Producer of Polis Evo 3 and Vice President of the Malay Nusantara Business and Head of Astro Shaw, Raja Jastina Raja Arshad, "The highly anticipated third instalment of the box-office franchise Polis Evo is finally here. This time, Polis Evo 3 certainly offers more action, more drama, and more explosiveness, and it also features the expansion of the Polis Evo family through new characters who will join in the fun and complement the 'bromance' between Inspector Khai and Inspector Sani."
But that's not all! Polis Evo 3 is teaming up with brands such as PUBG MOBILE for a creative promotional campaign, along with a special short video featuring international social media influencer Sofyank. The film's exhibitor partners are also joining in on the fun with some creative initiatives.
The movie tickets for Polis Evo 3 will be available for purchase starting on 11 May, in cinemas nationwide. And if you're a die-hard fan, you can catch a 'sneak preview' on 24 May—one day earlier than the film's official release date.