Nintendo's Splatoon series is a clever way to make shooters accessible to everyone: instead of relying so much on killshots and frags, why not create a team objective focused on marking the most territory before time runs out?
With such an ingenious premise, it's surprising to not see as many clones of the concept out there. I'm bringing this up because Square Enix's upcoming 4v4 team-based player-versus-player shooter Foamstars is exuding that same energy, though with different goals in mind.
Soft & Wet
Foamstars has simple PvP objectives for its players: defeat as many opponents as possible until a "Star Player" pops up, then defeat that Star to win the game. To defeat foes, you need to fire foam onto them -pistols, shotguns, rifles, the works- then when they're trapped in a foam bubble, you dash into them (using the L2 trigger) to knock them out. Conversely, if your teammates are in an opponent's foam bubble, you can dash into them to "revive" them.
It's frag-heavy when compared to Splatoon, but your tools for covering the field with your "coloured foam" (which you can move faster on) vary from hero to hero, and are usually generous when it comes to covering ground.
The map we've played on for 30 minutes is Bath Vegas, a giant circle of a map with minimal obstacles blocking your path. It's essentially the best starter area to have a foam party battle. See, when you fire on the floor, you not only mark territory that lets you foam dash faster (via the L2 trigger), but can also build up elevation. You can climb up your foam to get a good vantage point for shooting, or just springboard your way out of trouble.
However, you and your foes can still see through the foam, and certain shots from characters can blast through them. Pretty soon, the first few battles become a clustermuck of foam and chaos, which in turn makes for a fun party game with fragging. I really dig the game's simple controls, and the fact that whatever you learned in Splatoon can be applied here: make pathways for yourself, dash around and flank the opposing team, splatter their pathway with your foam, then KO them with specials.
Taking a page from Overwatch, Foamstars has different heroes to suit different playstyles. You have 8 unique players with their own set of skills and weapon type. The beginner-friendly poster child of the game Soa is a pop idol with dual pistols; good range, fires fast, and has neat special skills like a set volley of foam and a "grenade" foam. Pen Gwyn the "penguin soldier" is best at mid-range with her assault rifle foam gun and keepaway skills like her tracking mine and turret mode skill where she plants herself on the field temporarily and rapid-fires foam for a short amount of time.
Other characters include Jet Justice with his chargeable shotgun foam and Mel T with her slow fire-rate tracking missile foam add more variety in playstyles. Personally, I mopped the competition with Pen Gwyn and Soa as their kit caters to first-person shooter players who like to take it old school with their gunplay.
Making A Splash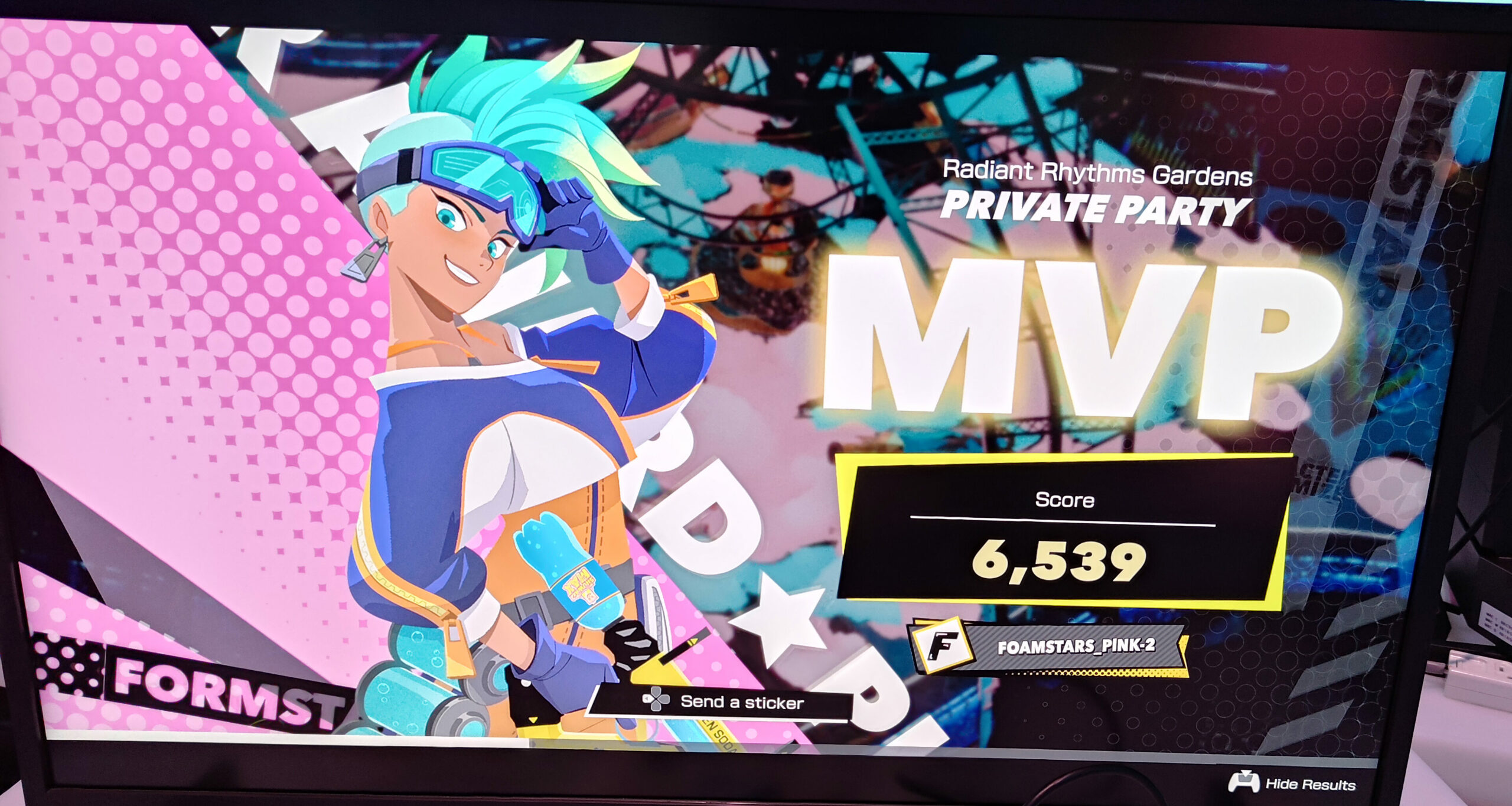 There's no two ways about it: Square Enix's Foamstars is basically a third-person team-based PvP shooter that emulates Splatoon's mechanics and drip with parts of Overwatch's hero-based composition. But my 30-minutes bout with live players at Tokyo Game Show 2023's setup has been nothing but fun, even if its hodge-podge of ideas make it feel like an assembled game based out of many Frankenstein's Monster parts. It's the controls, it's the familiar "splat territory but with foam" mechanic, the use of seeing-through foam to plan your moves and make matches go by fast, and the cast's special skills: all these combinations do work well with one another, though it remains to be seen if this game can go beyond its casual appeal.
Foamstars will be out for PlayStation 5 and PlayStation 4 this early 2024. The open beta is happening from 29th September to 1st October.