By Alleef Ashaari|November 7, 2023|
Spike Chunsoft, Inc. has released more details about the upcoming roguelike RPG Shiren The Wanderer The Mystery Dungeon Of Serpentcoil Island including new features, Live Display Mode, Rescue, and more. It comes to North America and Europe on 27 February 2024.
After receiving a vision of a mysterious girl held captive by a terrible monster, Shiren and Koppa make their way to Serpentcoil Island—a distant isle rumoured to be the lost stronghold of treasure-hoarding pirates. To brave the many dangers that await them, Shiren and Koppa must traverse complex dungeons filled with hostile monsters, hidden traps, and useful items. All the gear and experience Shiren accumulates will be lost if he collapses during exploration, so beware of rushing in unprepared! Rescue the mysterious girl and uncover the mystery that clouds Serpentcoil Island.
The forthcoming release for Nintendo Switch marks the series' latest mainline entry to come to the West since Shiren The Wanderer The Tower Of Fortune and The Dice Of Fate were released on PlayStation Vita in 2016 and then on Nintendo Switch in 2020.
For a smoother and more enjoyable experience, this latest instalment of Shiren the Wanderer provides a range of player-friendly features so players can fully immerse themselves in the game world. You can track your own steps on a mini-map, assign up to four projectiles and magic Staves to a Hotbar for easy access, and "Handy Dash" to move quickly and easily throughout the dungeon
The game's enhanced Live Display Mode neatly presents information, such as character stats and inventory, on a single screen—perfect for streaming gameplay. Players can see details like Runes on Weapons and Shields and the items stored in Pots. Choose from two screen options to best suit your needs: a standard view that displays all essential information, and a simplified view.
Live Display Mode Standard View
Play Time
Turns
Weapon Strength & Shield Strength
Equipped Weapons, Shields (Runes)
Strength
Next Level
Current Status
Inventory (Including Items Stored in Pots)
On the Floor
Live Display Mode Simplified View
Play Time
Turns
Weapon Strength & Shield Strength
Equipped Weapons, Shields (Runes)
Strength
Next Level
On the Floor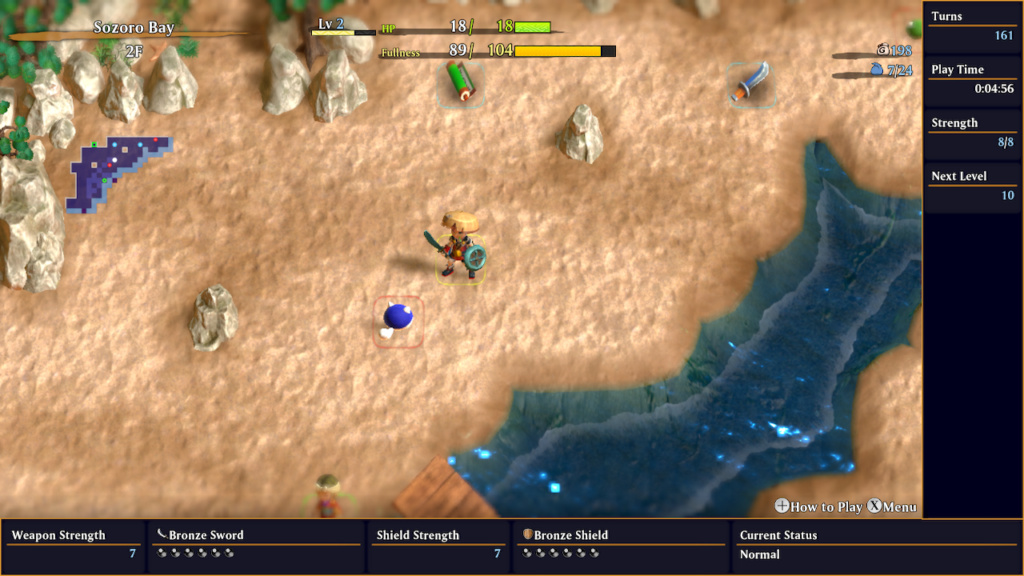 Should a player collapse in the middle of their dungeon adventure, they can call on other players for a Rescue to get them back on track. If successful, Rescued players can pick up right where they left off without losing any progress. Rescue can also be used while exploring dungeons in the story. Additional online features including details on "Parallel Play" will be announced at a later date.
Check out the trailer below: