Platforms: PC (version reviewed), PS4, PS5, Xbox One, Xbox Series X/S, Nintendo Switch
Genre: Platformer, Adventure, Action, Turn-Based Strategy, Atmospheric
In the ever-evolving realm of visually appealing platformer-like games, it is always refreshing to encounter a title that introduces innovative concepts and surprises players. Developed by Noname Studios, Worldless is a two-dimensional stylised platformer that introduces a unique turn-based combat system, and aims to shake things up for fans of this genre.
The 2D adventure platformer presents a serene and tranquil environment characterized by its vast network of platforms and ledges, luminous stars, and extraterrestrial plant life. It encourages players to freely explore at their own pace, making the experience all the more enjoyable. One of the key aspects of the gameplay lies in mastering the game's physics through careful deliberation with each leap and upward climb towards higher ground. The act of simply existing in this virtual world is truly captivating.
Then there's the combat. Initially, it presents a straightforward 1v1 turn-based format, but as the game progresses, it evolves into intricate rhythm routines that demand both quick thinking and lightning-fast reflexes. The question now arises: do these two distinct elements blend well to deliver enjoyable gameplay? Read on to find out.
An Illuminated Being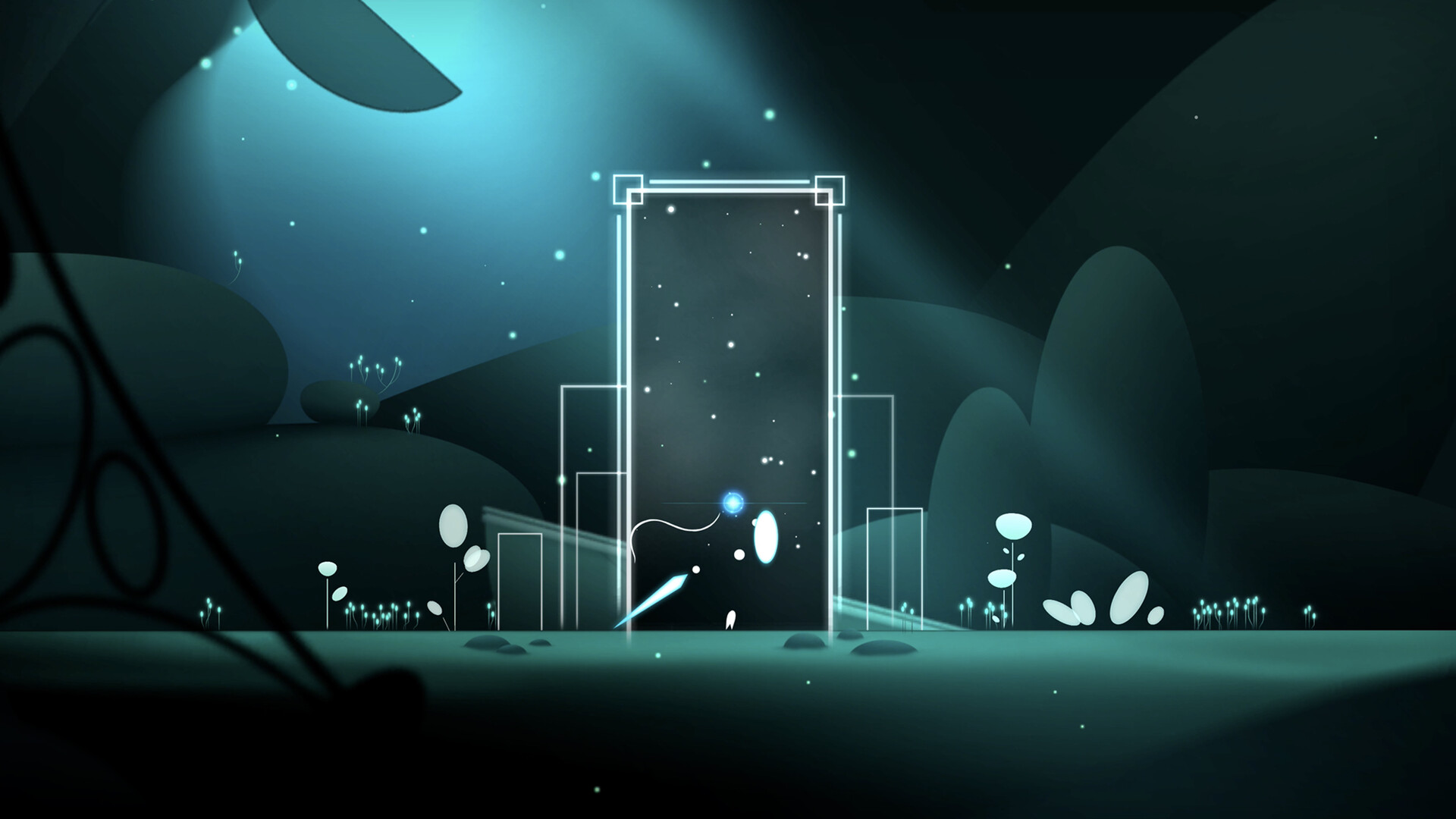 Worldless takes place within a newly created universe where two opposing entities are trapped in a never-ending state of conflict. While one side seeks to uncover the meaning behind their existence, the other yearns for an end to their being.
As the player, you take on the role of the protagonist, a unique entity resembling a glowing constellation. Your character is defined by its luminous head, floating midsection, spherical hands, and pointed feet. Your adventure will include encounters with two distinct realms: lifelike reality, teeming with alien plants, and the Void, where you will come across another large, wise being. Each encounter with the wise being will provide narratives that further enrich the overall storyline.
The visual and auditory aspects of Worldless are undeniably among the game's standout features. The immersive experience provided by the game's cosmic worlds is truly remarkable. The soundtracks, which seamlessly complement the luminescent backdrop, further enhance the sense of being transported to otherworldly portals. Throughout my traversal within the game, I never experienced a moment of boredom or exhaustion.
But it's the turn-based battles that are arguably the main event in Worldless. Engaging in a one-on-one showdown with an adversary from the opposite side of the world, both of you are adorned with distinct colour schemes – red and black versus your blue and white markings. Observe the various visual cues that serve as warnings of incoming attacks. For instance, horizontal flashes indicate an imminent physical assault, while vertical flashes signal the presence of a magical assault.
Moreover, if you manage to break the opponent's blocking capabilities by filling the absorption meter, you can unleash a devastating attack, dealing damage that is increased by an impressive x200% for a limited time. You will also have access to a skill tree to grow further skills and abilities to aid you in your quest for transcendence.
On the other hand, this situation implies that to counter each advancing enemy attack, the right block button must be pressed. If you witness a vertical flash, it is advisable to raise your shield. Conversely, if you spot a horizontal flash, ensure that your shield is oriented to the front. By timing your blocks accurately, you can minimize damage received each time an attack lands.
Although the instructions appear straightforward when presented individually, they become more difficult to follow during fast-paced battles against the timer, especially when new abilities and combination options are introduced throughout the game. You're putting your fast reflexes and critical thinking to the test. The plus side is that when you're defeated, you will be pushed back further. Once you come into contact with the enemy again, your health bar will fill back up.
Lost in Spaces
While gameplay is certainly king and the meat of the game, the narrative of Worldless can be a mixed bag. The narrative component of the game can be somewhat inconsistent. The story takes a relatively long time to develop, and it lacks the seamless flow that some players may desire. Moreover, certain aspects of the story can be lost in translation, particularly the absence of audio dialogue and relying solely on text-based interactions.
Furthermore, the narrative presents a significant drawback as there is no backstory provided for the protagonist. You are abruptly thrust into the world without any prior introduction, forcing you to piece together clues and unravel the truth behind the events unfolding. This can be particularly frustrating for players who do not possess the patience required to discover the underlying story. Occasionally, you may encounter entities that reveal certain points of what is going on, but sometimes their messages offer too little information to unravel.
To answer the above question, Worldless reigns supreme when it comes to blending two unique elements into an enjoyable experience, further enhanced by visually appealing aesthetics. However, the narrative aspect leaves something to be desired. Nevertheless, if you're seeking to try something new that pushes your reflexes and traverses cosmic realms of wonder, this game is just right up your alley.
PROS
Smooth controls.
Fast-paced combat.
Gorgeous 2D aesthetics.
Cons
The narrative can be tedious to follow.
Fully text-based dialogue.
Combat can be challenging at times.
FINAL SCORE: 70/100
Worldless was reviewed on PC based on a review copy provided by the publisher. It is slated to launch for PS4, PS5, Xbox One, Xbox Series X/S, Nintendo Switch and PC on 21 November 2023.