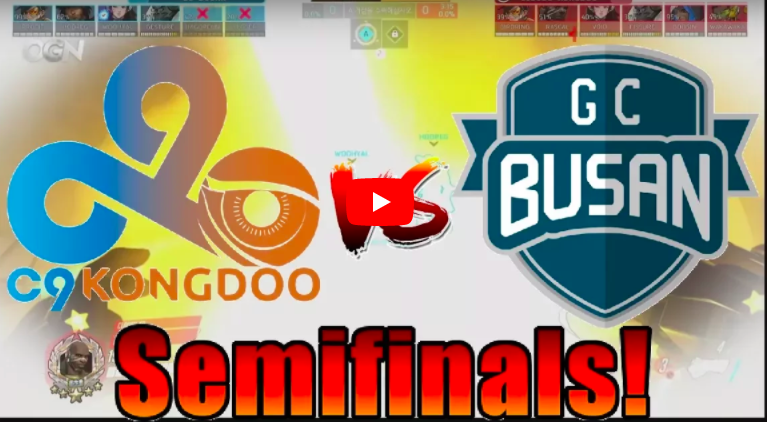 by in
If you thought GC Busan's evisceration of Lunatic-Hai on back-to-back matches in Group Stages #2 was the biggest upset of Overwatch APEX Season 4, think again. The most improved team in Season 4 destroyed last season's losing finalists, Cloud9 KongDoo 4-0 to march into the Overwatch APEX Season 4 finals to meet either RunAway or Nc Foxes.  Carrying an unbelieveable momentum of 6-0-ing Lunatic-Hai over two matches en route to the semis, many felt that their APEX S4 adventure to be finally derailed by favorites Cloud9 KongDoo. How wrong were they.
A bit of context; heading into the semis, the Cloud9 KongDoo team was on a high – On cloud nine literally, having signed with the C9 organization to represent London in the upcoming Overwatch League. Tournament-wise, their APEX S4 performance have been almost flawless, only dropping two points since Group Stage #1 and was everyone's favorites to win S4 following defending champions, Lunatic-Hai's elimination on Group Stage #2.
GC Busan on the other hand had a very contrasting route to the semis. After losing to LW Red in their opening match, they only secured their spot in Group Stage #2 after beating Afreeca Freecs in their final Stage #1 match. It was then people start to take notice and the attention for the team grew as they three-zeroed Lunatic Hai in their opening match of Group Stage #2.
Some called the result as an anomaly but they proved their doubters wrong once again as they repeated the feat, again three-zeroing Lunatic-Hai to send the defending champs packing for an early preparation for Overwatch League. GC Busan had a brief scare in between Lunatic-Hai matches as they lost a closely-contested match vs RunAway who may very well be their opponents in the final on 21st October 2017.
In their semis bout vs Cloud9 KongDoo, GC started with confidence on Oasis' Gardens but were caught off-guard by Rascal's Pharah. They regrouped well and after several capture point exchanges, saw off the OWL London representative with systematic focus fire and solid team play. On Oasis' University, they maintained focus and despite almost losing the the point as C9KD held it at 99% on overtime, managed to flip it thanks to Hooreg's clutch soldier play to lead the game at 1-0.
As teams moved to Hollywood next, many including the commentators predicted C9KD to bounce back but they couldn't be any more wrong. C9KD's quick capture of the payload was met with a very solid defense by GC Busan as the escort portion kicked in, which saw it stalling just after the first archway. So solid was the defense that GC Busan was spawncamping the team many (including yours truly) believed to be the second-best Overwatch team in the world. C9KD finally managed to get the payload moving come overtime but they were made to look amateurish as GC Busan stomped them just in front of the saloon to kill their push. On the reverse, GC Busan made quick work of C9KD's desperate defense with the phenomenal Profit on Tracer running freely disrupting C9KD's backline. With the impeccable Hooreg on Soldier ensuring no C9KD stragglers recover for a regroup, GC Busan wrapped up Hollywood with relative ease for a commanding 2-0 lead.
Down 0-2 in a position so foreign to them for a very long time, C9KD hit the panic button and had to regroup for a tactical pause before Match 3 starts. Many felt this would be the moment the tide of the tie to change but again were proven wrong by the boys from Busan. After struggling to capture the first point on Horizon, C9KD couldn't even manage a single tick on the second capture point. Hooreg's shift to Doomfist threw C9KD's plan out of the window and they had no answer as the surprise of APEX S4 season bossed them around. On the reverse, GC Busan almost pulled off a snowball cap to leave C9KD at the brink of elimination. The highlight of this round surely is Profit's Tracer who pulled off a quadruple kill thanks to a well-timed Pulse Bomb. In the end, C9KD's resistance proved to be futile as GC Busan carried on the momentum to leave C9KD shellshocked.
Score: GC Busan leads 3-0 and teams head to Route 66 which isn't C9KD's strongest map.
And not before long, the inevitable final score was at 4-0. Rascal & Co were in clear disarray as GC Busan, led by Hooreg and Profit on DPS made them look like absolute chumps. The commentators attributed C9KD's abysmal performance as 'The Overwatch League Curse', which was on course with Lunatic Hai's unprecedented collapse not long following the announcement of their participation in the OWL. While some C9KD fans could take solace in seeing their team getting extra time to focus on OWL, the Twitch chat was filled with suggestions that perhaps GC Busan should have been picked instead of the two teams they recently eliminated. Perhaps so, but for now, we cannot wait to see how GC Busan perform against whichever team come APEX S4 Final on October 21st.
GG boys.
The absence of Lunatic Hai, C9KongDoo and LW Blue teams from Season 5 leaves a void for fresh-faced teams to fill. Many feared the potential thinning of quality in the Korean Overwatch scene as these three juggernauts leave for supposedly greener, more lucrative pastures but if GC Busan's performance were taken into account, the Korean Overwatch scene is well alive and thriving.
---