This article was written by Victor Chan from AGRKix. Check out their awesome sneaker stories here. 
Retail Price: SG$179 / US$110
Video games and sneaker culture have more in common than you might think. They both have their rabid fans who would be willing to queue for hours to buy the latest releases. They both religiously check the calendar for release dates and wait impatiently for it to launch. Collectors will pay a ridiculous amount of money to hunt for the rare releases.
Some of them would even be completely loyal to a single company and would only buy their products. But almost all of them are completely passionate about their culture and defend them to the ends of the earth. That's why it's a no-brainer that one of Nike's biggest basketball stars, Paul George, would collaborate with Sony to release a sneaker that pays tribute to Paul's obsession with his Playstation.
This isn't the first time that Nike and Sony would collaborate on a sneaker. Back in 2006, Nike released a limited edition Air Force One x Playstation sneaker that also sold out immediately and is a very sought after sneaker that collectors would be willing to pay a high price for. But it's now 2018 and Nike has another winner on their hands with the latest PG2 X PS4 sneaker.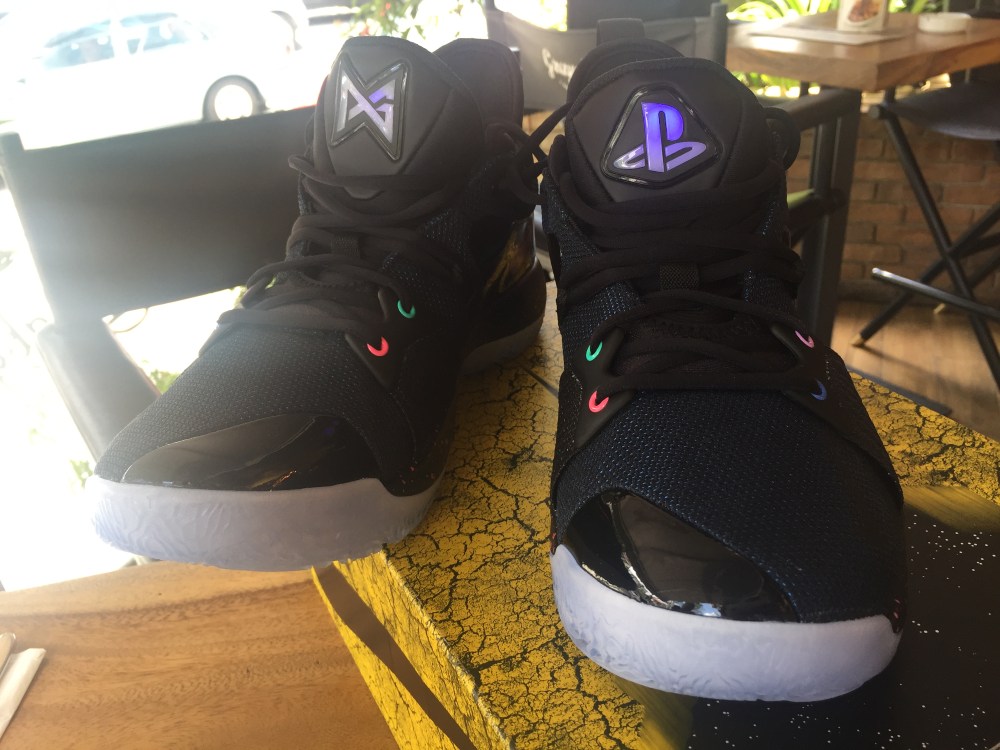 Using Paul George's latest PG2 silhouette as the base, the designers crafted the shoe that would honour the Sony Playstation with every detail on the sneaker.
The performance basketball sneaker features a redesigned lacing system from his original PG1 signature sneaker that provides the same "lockdown" without a Bootie fit and a strap, a bigger Zoom Air unit as the cushioning system to provide a more comfortable bounce and a much better grip with a redesigned sole.
As a player who is versatile on the court, Paul George needed his second shoe to be able to keep up with his playing style and enhances his performance at the same time. For his Playstation colorway though, it features a unique splatter pattern on the midsole that represents the PlayStation "galaxy" background, the four colors of the Dualshock Controller which is represented on the shoelace holes on the front, and a unique PSN code on the heels that you're able to use to redeem an exclusive Paul George galaxy dynamic theme.
The graphic of the galaxy dynamic theme on the insoles of the shoe. The biggest feature of them all, however, is the light-up logos of the PlayStation and Paul George on the tongue of the shoe.
I admit that I will probably never use it to play basketball, even though it's more than capable of being a great performance sneaker on the court. But this pair will turn heads once the lights are on.
It looks sleek and intimidating when it's on the feet and because of the patent leather on the heel, it will catch every single light and reflect it like it was a JJ Abrams movie. It's really comfy, thanks to its Zoom Air unit, and you would be in total comfort for long sessions.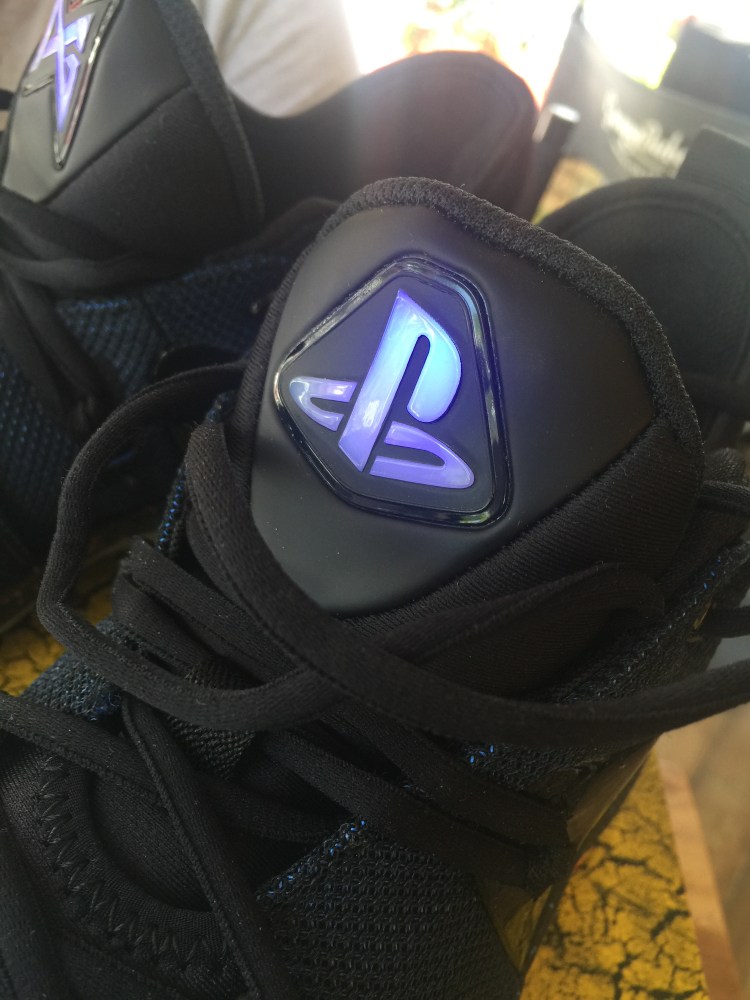 The only downside of this sneaker? There is no way to recharge the batteries that power the lights, although Nike claims it would last for a very long time with non-continuous use. So once the battery is dead, it will probably remain dead.
If you're looking to pick up a pair for yourself, you're probably out of luck at retail prices. They were sold out instantly and the only chance you can get to buy them is by paying ridiculous reseller prices that right now costs more than a PlayStation 4 Pro and a few games thrown in.
But at the end of the day, it's a sneaker to complement your gaming obsession and sneakerheads who are gamers or gamers who are sneakerheads would be willing to pay a pretty penny for these. Place it next to a Playstation 4 Pro or a DualShock controller and it totally looks like Sony themselves would sell it as an accessory to the system. There are totally unnecessary lights that would do nothing to improve your game, but they look absolutely cool.
So if you're a gamer who happens to be a sneakerhead or vice versa and are able to pay the reseller prices, buy these without fail. You will be able to finally have a statement piece that you can show off and say "Hey, I'm a gamer and I'm also a sneakerhead" and also look like you can dominate both fields. 
Related