To say that the world is currently lacking in pirate games, or games set during the Golden Age of Piracy, is an understatement. We have like, what, a couple of them that are worth our time & investment? Sid Meier's Pirates!, the 2004 reboot of the previous game, Assassin's Creed IV: Black Flag, the Monkey Island titles, and Sea of Thieves this year. The latter is still on its way to being a full game, mind you, so let's hope the latter half is kind to Microsoft and Rare on that front.
The alternative method to getting your swashbuckling fix is to wait until 2019 when Skull & Bones comes out. But it's not really a be-all-end-all simulation or a sequel to Black Flag with a new title. Well, it's half of the latter: Skull & Bones is a naval warfare game where you pilot a pirate ship, steal treasure, destroy other ships and forts, and get away rich. You have to take down AIs and online players in the game's dedicated server-powered Hunting Grounds mode, or even team up with the latter to take down bigger ships with bigger loot for score-keeping and leveling up. And then shoot them down to keep the spoils for yourself if you're not the sharing sort. In other words, an action RPG multiplayer hybrid involving pirate ships.
After a thorough Ubisoft Singapore Studio visit and gaming session, I'm pleased to report that this isn't turning out to be a half-baked experiment borne out of the Assassin's Creed cloth. I'm dishing out a bunch of key reasons why this ship-faring guns-ablazing adventure might be 2019's most-anticipated title.
At least until Ubisoft shoots themselves in the foot with some corporate money-grubbing nonsense. Pray that doesn't happen.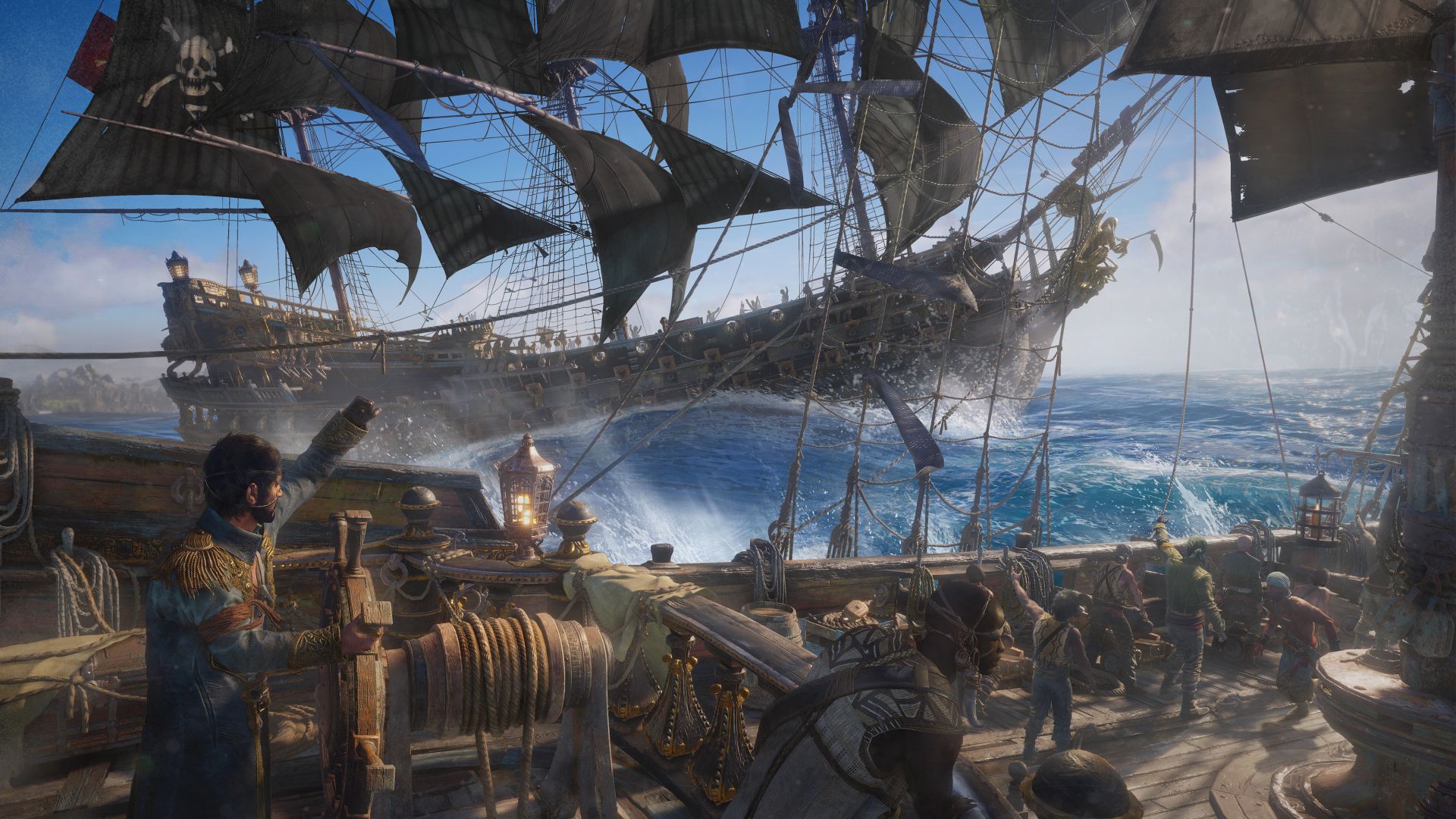 #1. The Ship-Sailing Plays Like A Dream
If you've played the aforementioned Black Flag and its naval combat bits a lot, you will love Skull & Bones because it's basically all of that. Only this time you have a few more indicators and extra user interface tidbits to highlight where you're going and whether you're sailing right. If you sail against the wind (jet propulsion wasn't invented yet), you'll know by the huge wind-splashing aesthetic indicator. The arrows that show where you're shooting starport or broadside are a bit more obvious yet do not get in the way.
The devs were smart in cutting out the walking bits and go straight to the heart of the game: the sailing, the shooting, and the strategy that comes with such fights and skirmishes. The tedious act of repairing, hiding treasure, boarding, and other miscellaneous bits are all really, REALLY short jump cuts that last a second and a half. Skull & Bones want you to just worry about your ship and your skills in navigation and cannoneering.
Is that even a word; "cannonneering"?
Speaking of which, the game has an action RPG hook to it. You still level up via looting, pillaging, and stuff. You gain active and passive skills that you carry with your acquired ships. You get different kinds of ships to pick from based on the situation. There are three types we played with: the all-rounder Black Ram, the front cannon-focused Jaeger, and my personal favourite, the big and slow Royal Fortune. In RPG terms, these are your all-rounders, DPS, and Tanks respectively.
#2. Your Ships Have Supers
Each ship has its own Super Skill that is triggered by clicking the right analog stick. The Black Horn will go full-speed ahead and ram whatever's in front it, regardless of wind speed.  The Jaeger fires eight cannonballs simultaneously from the front, making it the equivalent of Quad Damage in naval battle form. The Royal Fortune parks itself onto a spot and rapid fires unlimited cannons. Basically, like a video game tank's siege mode.
There were a few skirmishes where I just parked myself while waylaying onto enemy ships, AI and players, while they're duking it out until another player (a Ubisoft Singapore dev team member) used the much-faster Jaeger to skirt around and sink my battleship.
If you're fighting as a team, you need to plan when to pull off these Supers when dealing with a freighter 10 levels higher than you. Or you could save it and just backstab the crew you're temporarily teaming up with. Either way, your ship loadouts and your Supers determine your playstyle and sort out what kind of class you're attuned to.

#3. We're Getting At Least 5 Regions To Plunder In
You will have a plethora of regions to play pirate ship Player vs. Player vs. Enemy in. Eventually. When the game comes out, pirates and corsairs will be kicking booty (and stealing/burying it) in the African coast -specifically the Mozambique and Madagascar coastline.
Post-game content will then include other areas like the Arabian Coast, the Indian Coast, the Melaka Straits, and the Lagos Coast. Each of them will have different kinds of Fortunes (Skull & Bones' versions of modifiers when you start a session), different terrain & map design, and distinct tropical flavour. These areas will open up on a seasonal basis, along with new game modes.
Whether they'll be free or paid DLC is uncertain at this point in time, but at the very least players will be assured that Skull & Bones is in it for the long haul.
#4. Skull & Bones Might Be Going Competitive
Speaking of the long haul, there is a chance that Skull & Bones might be going the competitive and, of course, esports route. Based on the competitive PvP mode from last year's E3, that might be a given. But that is up to the community and not Ubisoft, according to Ubisoft Singapore creative director Justin Farren. But having said that, Skull & Bones will still be competitive and skill-based in nature.
"You're never alone in our world," Justin said, "and we want those [online] interactions to be possible when you're sailing. Whether you want to fight or ally is up to you. But our game is competitive in nature. You're competing in seasons, trying to earn the best treasure. At the end of the day, you only determine the outcome through skill. That's super-important to us as developers. When two pirates are fighting each other, it boils down to the better navigator and better combatant, and that's giving deep rich systems for players."
"That's the long-term investment we want our players to experience with our game. And when the game becomes esports, it's only because people are telling us that it's esports. The community will tell us eventually whether that's what they want out of our game. We will just respond and adapt to it."
#5. Justin Farren & His Team Love Their Pirates
A few minutes in the Ubisoft Singapore Skull & Bones' development side, and you can already feel the aura of hard work and dedication within. Justin and his team seem to run a tight ship with their water physics, game design, and the overall game. Heck, the Ubisoft engine team and level designers are making darn sure the terrain and trees and tropical bits on the islands are accurate and shows the sense of scale whenever a new player starts the region for the first time.
And then they have the whole Keepers of the Code team, a voluntary group whose sole purpose is to spread the word far and wide about Skull & Bones from a community perspective. They also provide feedback from the community and player's perspective so that the game grows beyond its launch and hopefully its shelf life.
Livestreams, workshops, community forums-maintenance & placating: a multiplayer game like Skull & Bones lives and dies by its community, and it's good that Ubisoft is putting community first.
Just don't go springing random pirate trivia onto Justin Farren. I heard he's pretty bad at it.
#6. They're Not Pulling Off A Launch Like For Honor
Maybe. I don't know. After playing through a few sessions and an hour's worth of the seafaring game, I feel pretty confident that this might be the unorthodox multiplayer hit that will dominate the gaming seas next year.
However, I did presume the same thing to happen with For Honor, a fun multiplayer game from Ubisoft that unfortunately flubbed its launch and first few months. For a game mimicking fighting game mechanics but with swords, non-dedicated servers and lag issues are the last things that should be popping up to win new players into the fray.
For Honor did make a turnaround lately, since it has that new expansion coming out subtitled Marching Fire. I do wonder if Skull & Bones might suffer the same fate or even get that windfall a year later after its 2019 release. In any case, the small serving I got was at least a good indicator that this pirate game knew its charted course better than what Rare did with its triple-A full price beta this year.
Related