Reminder: Animangaki Is This Weekend. Here's What You Can Do
Hey all; need a spot of anime fix and want to celebrate the awesomeness of anime and games? Well if you're down in Malaysia, head on down to the Sunway Pyramid Convention Centre this weekend -18 and 19 August- for this year's Animangaki event.
Here's what you can do.
Meet Special Guests like Donna Burke, Moriyama Daisuke, & Others
Donna Burke and the Ganime Jazz group will be playing their brand of songs from games & anime like "Sins of the Father" from Metal Gear Solid V and hopefully that super-catchy Outrun 2 song. Other than that, you have famed cosplayers like Serg Loki Mirage, and manga artists like Moriyama Daisuke. Fun!
Get Your Fighting Game Groove On
Check out the madness here, courtesy of the Infinite Carnage folks.
Cosplay Competition
This here contest is organized & sponsored by Warlord, Armageddon, and TokyoNinki. The best cosplayers will compete against other Malaysian cosplay champions at the annual Cosplay Invitational.
Animangaki Idol
Another popular anchor activity in which contestants show off their singing skills and compete in front of a judge panel and live audience. The longest of its kind in Malaysian ACG events, also jumpstarted the career of many local ACG singers. This year, we will be doing a Battle Royale in which previous winners of AniManGaki Idol from years 2010-2017 will return to stage and compete for the ultimate AniManGaki Idol Champion title. This activity is sponsored by Warlord and SonicGear.
Art Competitions Galore
You can show off your artistic chops in the Animangaki Art Competition (by Artisul) and the Doodle 4 AniManGaki Contest (by Sakura). The best budding artists can win themselves a drawing tablet and even prizes worth RM1,000 via Sakura.
See Kakuchopurei Talk About Video Games & Stuff
That's right: we have a panel this Saturday at 11am. What do we do? Well, we are going to host a roundtable talking about video games. Come join us if you want to expand your gaming knowledge by a tad. Or if you just want to chill with us; no pressure.
How much is the event? Well, it's RM30 for a one-day pass, RM55 for a two-day pass, and RM150 for an epic loot pass. The latter will net you a two-day pass, a Limited Edition Touch n Go pass, a lanyard, a drawstring bag, an exclusive poster, and a choice between a Light Stick and a T-Shirt. Choose wisely.
Here's the map of the expo.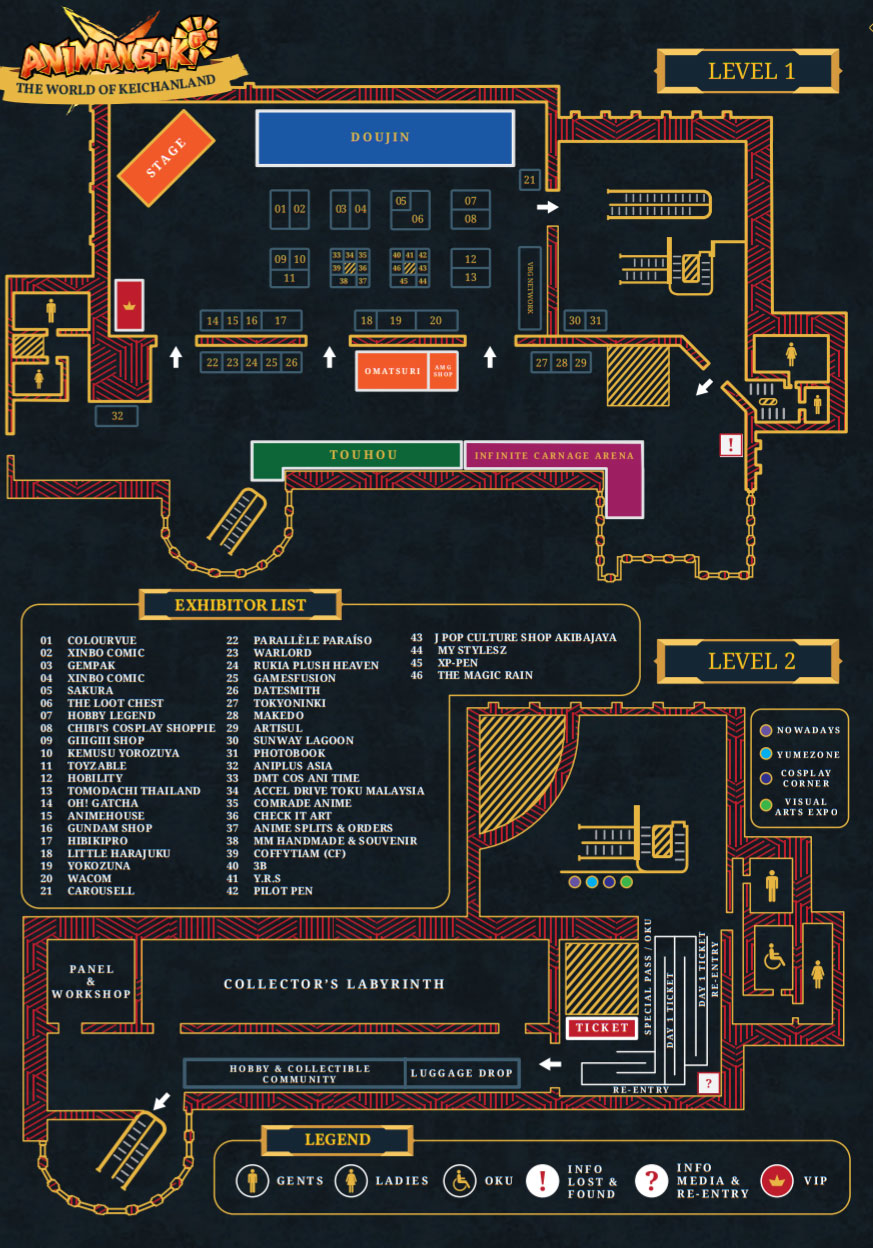 For more information, visit the expo's official website.