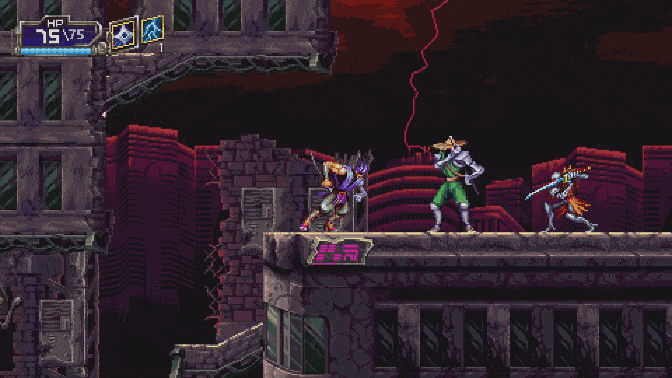 by in
It's no wonder a lot of indie developers go to Kickstarter to get their games funded; it's a veritable success and a guaranteed victory in fanfare and sales. I mean, we have retro-esque 2D games like Shovel Knight and…er…okay…Mighty No. 9 was bad… and Bloodstained, which is actually delayed to 2019.
Okay, hear me out: this upcoming action game Bushiden that's on Kickstarter right now does look promising. It's a 2D action platformer that revolves around cybernetic ninjas and the enemies that try to eliminate them. Our hero Reylee, who moves and slashes like a revamped Strider Hiryu, can climb walls, slide, throw lightning bolts, and can cast ninjutsu to clear the screen full of enemies.
Key features include:
Seven levels to explore plus a prologue area!
Survive epic boss fights to unlock new traversal and combat abilities!
Unique "crowd control" combat system gives the player powerful options for dispatching hordes of foes!
Revisit levels with upgraded abilities to unlock new areas and become more powerful!
Beautifully drawn and animated pixel art! They don't make games like this anymore!
Purchase upgrades and Chi Spell Attacks from the Tech Shop!
Soundtrack by Michael "Garoad" Kelly, who you may remember is the composer for the awesome VA-11 Hall-A OST.
The game is slated for PC and PS4. So far at this point in typing, the Kickstarter goal is at US$95,527 and it's currently at US$6,263. Hopefully, the following GIFs of the game's special moves and action beats can convince you to take a stab at this neo-retro title.
Me? I could use more games like Dead Souls and Chasm in my digital diet. What's one more, especially if it reminds me of old 2D action-heavy Megadrive classics like Shadow Blaster, Strider, Revenge of Shinobi, Mystic Defender, El Viento, and Alisia Dragoon?
God, I'm old.