Welcome to yet another entry of Kakuchopurei and Retro DNA's SNK 40th Anniversary retrospective celebration which will end in about 2 week's time. Check out the rest of the features here. 
So, it's the 20th anniversary of SNK's first and only portable system: the Neo Geo Pocket. In a long period of the 90s where the portable gaming scene was almost trashed by Tiger Electronics but was a revelation thanks to Nintendo and its monochrome pocket wonder – the Nintendo Game Boy.
The scene was also filled with potential heirs to the throne like Sega's Game Gear and Atari's Lynx. And then came the Neo Geo Pocket, considered an anomaly to many.
Why Was It So?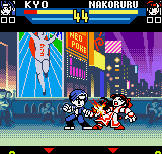 At the time, it made sense for other companies like Bandai Namco and NEC to make the brief jump to portable consoles just for that sweet niche money. We ended up with the Wonderswan from the former and TurboXpress from the latter. The Neo Geo Pocket may have stood out because of its legacy.
For context, the original Neo Geo MVS itself was an old-school Porsche: expensive, powerful for its time, and delivers a quality experience that can't be found elsewhere. So how can that legacy work in the portable gaming industry where low tech and long battery staying power are favoured over high-powered hardware?
Simple: SNK just said "screw it" and went the compacting route.
They took the framework of their high-quality fighting games and truncated the experience into a non-colour screen device with a d-pad and a few buttons. SNK worked with the platform's limitations, hence the different and simple "pint-sized" art style of NGP versions of your Fatal Fury and KOF games.
Even games like Magical Drop and Metal Slug had NGP version that kept to the source material's spirit. To make up for downscaled graphics, the developers added in extra options and expansive stages.
When Nintendo released the Game Boy Color back in 1998 to make most of the aforementioned competitor's devices obsolete, SNK were quick to react with an NGP Color 5 months after. It didn't do them any favours though: half of the NGP back catalogue could not work on the NGP Color since the device couldn't support monochrome mode for that half.
The Devil Is In The Details
While it didn't shake up the scene sales-wise, the NGP Color did amass a good number of supporters because its games looked good and played smoothly.
The NGP Color had a 16-bit processor and more RAM than the Game Boy Color, which meant more detailed graphics and better processing power.
It also helped that the wide horizontal format of the NGP is easier on the hands for most players. Imagine a revved-up version of the Game Gear but with a ton of lovely-looking cartoony fighting games.
Oh, and let's not forget the "click stick", the portable's control interface that socketed into eight directional grooves which just feels right and natural for a handheld. It's more responsive and accurate than most d-pad interfaces on other portables back in the day. And you need a responsive directional input for your fighting games, which the NGP had in spades.
Since the device only had two buttons, devs had to use software to make two additional inputs for their fighting games. To do Light attacks, you just press the button lightly, and to do Strong actions, just sustain your button presses. Easy peasy!
In fact, one could argue that without the "click stick", we won't be getting the PSP and 3DS analog sliders which are lesser versions of its source. Props for trying though.
A Sad Ending
A system of this calibre should succeed in theory, right? Unfortunately, any portable that dared to challenge Nintendo pre-smartphone era would be obliterated. SNK sold 2 million units of the NGP total during its one-year lifespan.
One. Year.
This was due to a bad combination of lacking software support and limited retail reach.
As great as the NGP's library was, there weren't that many studios willing to make games for it like they did for the Game Boy and Game Boy Color. The NGP couldn't sustain the frequency of releases the Game Boy had to compete.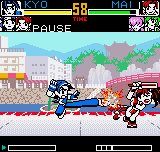 There also were a limited variety of games for the NGP: everyone eventually wanted more than just great pint-sized arcade ports. Sure, there were long-term games like Fasalei! and SNK Vs. Capcom: Card Fighters Clash, but it was too little, too late.
And here's the kicker: these games were hard to find worldwide. Sure, your Singapore and Malaysia mom-and-pop game shops (you know, the ones with the not-so-legal copies of CD games) had them in stock, but their prices are jacked up due to their rarity in the SEA region. At the very least, SNK had some level of retail presence though it's relatively minor compared to Sega and Nintendo's.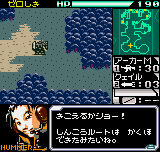 Speaking of Sega, SNK did partner up with Sega via cross-platform collusion with Sonic Pocket Adventure. Though this would have worked out better if the Sega Dreamcast at the time did not have its VMU memory cards with their built-in portable elements. And if it, of course, survived a tad longer than its 4-year lifespan.
And then there was that whole bit where SNK went bankrupt, came back as SNK Playmore, did a bunch of pachinko games and terrible KOF titles, and then teamed up with a China bigwig partner Leyou Technologies Holdings in recent years. But you already knew that, right?
In The End, Did It Matter?
Despite its 1-year lifespan, the NGP and NGPC had its place in retro-gaming and SNK history. It was a technological bridge between 8-bit to whatever-bits the Game Boy Advance was.
It had better technology than the Game Boy while it still maintained its compact design and games library. Its ergonomics and controls inspired other companies to do the same with its then-future platforms.
Most importantly, the games have that "same but different" feel to them. Titles like SNK vs Capcom Card Fighters Clash, SNK vs Capcom, Metal Slug: 2nd Mission, and the other games I mentioned above are awesome titles unique to the NGP Color. Even after 20 years, Gals Fighters is a superior title than SNK Heroines: Tag Team Frenzy. It just doesn't look as robust & as 3D.
Here's to you, Neo Geo Pocket. You'll at least be a remembered-if-niche footnote in portable gaming history.