Platform: Nintendo Switch
Genre: JRPG, Anime
Last year's Xenoblade Chronicles 2 came out on the tail end of 2017 and ended up becoming quite a gem of a JRPG. It's kinda old-school but has a lot of nuances to make the 100+ hour slog bearable, it gets better after the 20-hour mark, its combat system is fun, and its heroes & villains are endearing if a tad shonen anime stock.
And yeah, the music is incredible. But really, the last thing I expected from this year's E3 2018 was an announcement of a prequel. Everything in XC2 was wrapped up tight, so it only made sense to go back to the beginning, specifically 500 years before all this Aegis mess came about.
Xenoblade Chronicles 2: Torna ~ The Golden Age makes a few new and welcome changes in the original while also preserving some of its quirks, which you may like or hate depending on whether you enjoyed XC2 for what it is. However, if you choose to forgo the 100 hours you spent on XC2 and jump right into the prequel, you won't get much out of it. I'll point out why.
Relatable Characters, Even If They're Shonen Supermen
The prequel pits you in the shoes the duo Lorna and Jin as they sort out a crisis happening in their country of Torna. Keep in mind that this is a world where sentient beings of servitude called Blades exist, who usually serve a humanoid owner dubbed a Driver. Oh, and a rogue Blade named Malos is going around wreaking havoc.
Of course, if you've finished Xenoblade Chronicles 2 last year or earlier this year, you know that Torna is just a faction of a few disgruntled Blades. And that Jin is a bad guy. And you'll see a ton of familiar faces, Lorna including. And also see how certain events in this prequel hold significance in XC2.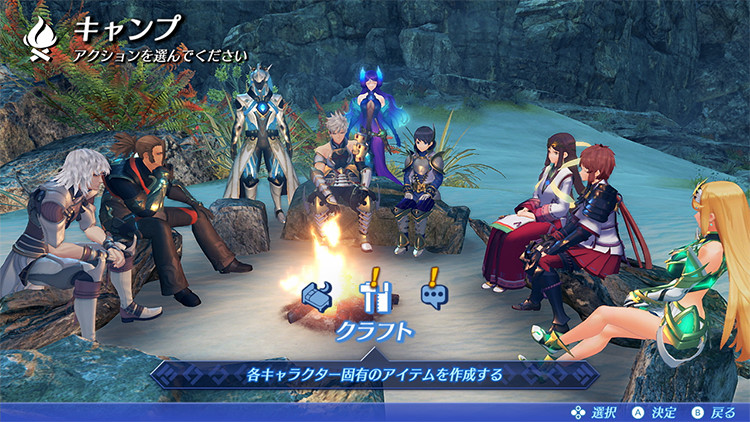 Here, you get to find out how all that went down; how a guy whose goal was to protect his Driver Lorna ended up on a dark path.
Lorna herself is a heartfelt individual, who makes it out of life with conviction and drive despite coming out from a broken home. Your other compatriots Prince Adam and Emperor Hugo also have their own emotional pieces of baggage that resonate with most people. For people with so much power, they are trapped with their obligations and responsibilities and just want to go back to the good old days of adventuring.
Long story short: XC2 veterans will get a kick out of how these characters and their ancestors fared.
Combat Is Still Fun
The basic MMO-esque combo-driven combat is still just as fun as ever. Here's a refresher course courtesy of Reddit.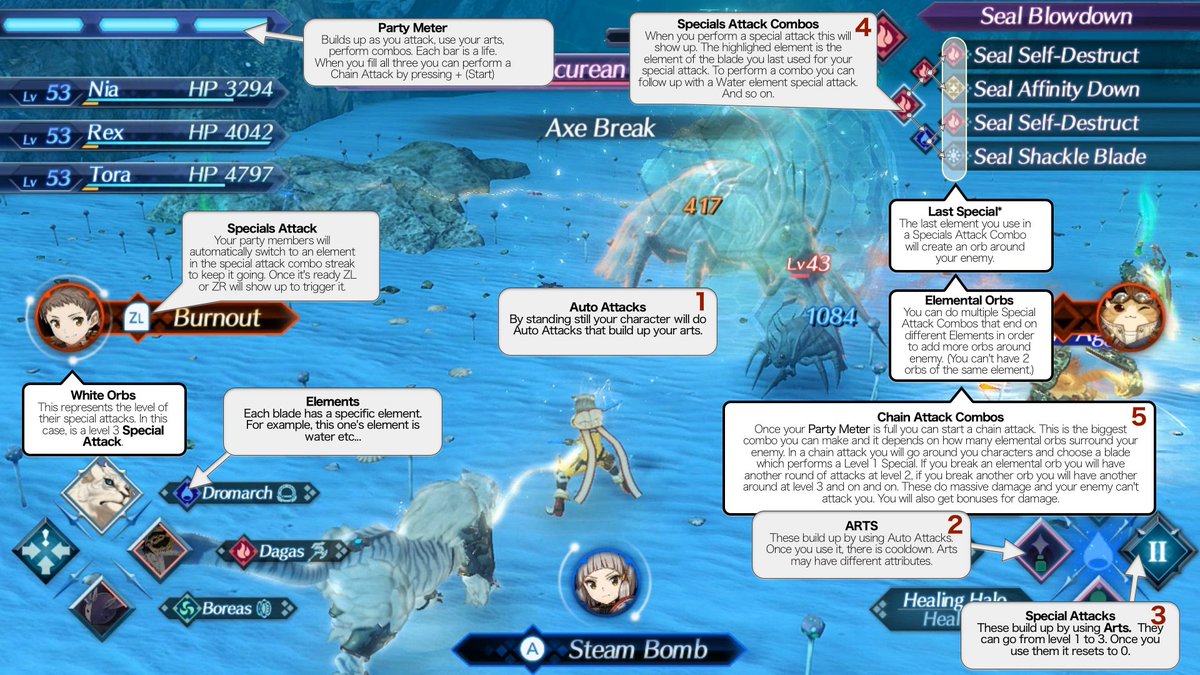 Now it comes with one cool feature: tag-team switching. When you fight, you still have your Driver and Blade fighting, with the Driver taking point. To make things a lot more engaging, your Driver and Blade can switch between vanguard and rear positions, which means you can see your Blade taking point in combat.
While this adds a lot more visual flair to the chaotic-yet-fun nature of the game's combat, it's also a tactic worth noting. See, after you tag in your partner, he or she comes in with a special tag assist attack -with status attacks like Topple and  Knockback- and with fully-ready Arts. The catch is it takes a few seconds before you can tag your pals in again. Also, your previous partner can recover red life instantaneously, which is the possible amount you can recover if you're damaged.
With XC2's existing Chain Combo system -now looking less messy and more streamlined- this tag team feature slightly improves what already worked in the last game. Monsters you fight will still grind you to a pulp if you're still not sure about how combat works, but at least you have a large playground like the map of Gormott and Alette to level up and get the hang of it. You'll have loads of fun experimenting with different Blade combinations and unlocking different skills and abilities via the Character screen, just for the sake of making your team broken AF.
Veterans will appreciate the changes here, in other words. All the fights end up being faster, frenetic, and more exhilarating as a result. 
It's About 20 Hours Long
It's rather surprising, jarring even, to see the game start off with bright colours and a jazz number as a combat theme as you control the duo fighting bears and wolves. And in the thick of things. Part of why this is welcome is because of the original XC2's worldbuilding and lore-explaining; once that is out of the way the game is smooth sailing from there.
The prequel follows this and as a result, we have a much leaner game where we can fill in the blanks and sort it out. 
The Soundtrack Is Still Ace
True, the prequel is using bits and pieces of music from XC2, but the new battle theme is just so cheery and energetic.
There's Still A Ton Of Non-Combat Busywork
As you travel with your crew, you meet up with a ton of people from Torna, Gormott, and other countries who have problems you need solving. Now, you can sorta keep a checklist of quest-givers and townsfolks via the Community feature, which is just a fancier-looking Excel task sheet. You finish a quest for them, you get the reward, and you add them in your Community circle.
You also get to craft and cook up items and recipes to add to your character's pouches for combat-boosting properties. You also have the same menus from XC2 to wade through if you want to make the most of your party. Going through the fast travel menu still requires you to go through a couple of screens and button taps. Sigh.
All in all, the prequel doesn't shake up much for veterans so that they don't feel alienated.
Should You Buy It?
It's only RM153+ so far, and you're getting a good 20 hours of gameplay levelling up, fighting, exploring, and completing sidequests from many villagers and townsfolks. And that's only if you played XC2 until your eyes bled. You will appreciate the tag-team system and little changes here and there and will get a kick out of seeing XC2's world before it became a wasteland of clouds.
While it's worthy of a standalone purchase, you'll need to at least invest some time in the original game to fully appreciate Monolith Soft's throwback. I love what this prequel has done, but I can't speak for everyone who have yet to wade through the 50-100 hours of last year's JRPG gem.
I'll say this though: the prequel still maintains the top tier Scottish and Welsh accents from the past game.
Pros
-Great combat made more fun with the tag-team system.
-Lovely story with protagonists you can relate to.
-Awesome aesthetics.
-20 hours long.
-Welsh cat people.
Cons
-Requires Xenoblade Chronicles 2 context to be fully appreciated.
-Menus are still cumbersome to wade through.
Final Rating: 6/10