After initially announcing The Division 2 Private Beta several weeks ago, Ubisoft has revealed what kind of content players can expect next week. Players will actually be able to take part in not only early game content but also a taste of the endgame content of The Division 2.
The Division 2 Private Beta will begin at 10am CET on 7 February 2019 (5pm GMT+8 on 7 February 2019) and end 10am CET on 11 February 2019 (5pm GMT+8 on 11 February 2019).
Players will begin The Division 2 Private Beta by venturing into the ruins of Washington D.C. to unlock new skills and abilities until they reach the established level cap of 7. the eastern part of the game's open world will be available to explore, including the following content:
Two main missions, available in Story, Normal and Hard Mode
Five side missions and additional activities in the open world
Unique PvPvE gameplay in one of the three new Dark Zones
Organized PvP gameplay in one Conflict mode, Skirmish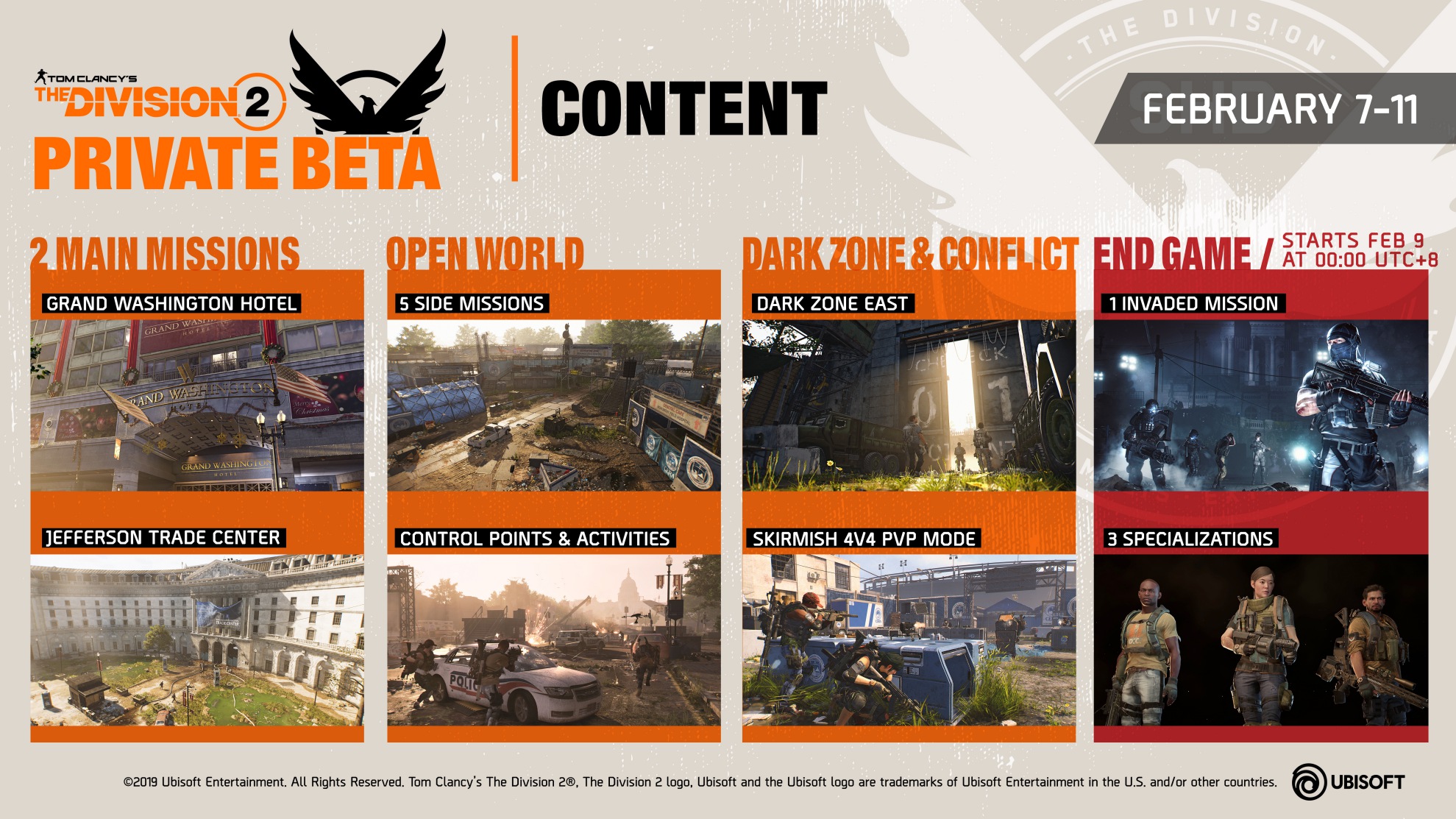 That's only the early game content. Starting from the second day of The Division 2 Private Beta at 5pm CET on 8 February 2019 (12am GMT+8 on 9 February 2019), players will be able to take part in the endgame content Invaded mission. This will come with a level cap of 30 and unlock brand new Survivalist, Sharpshooter, or Demolitionist specializations.
According to Ubisoft, these are the official descriptions for the 3 enemy factions in The Division 2:
True Sons:
A paramilitary force that relies on combat expertise and overwhelming firepower to dominate their enemies and expand their territory.
Smart and organized,
Led by a former JTF officer whose ruthlessness and cunning make him a dangerous adversary.
Hyenas:
A loosely organized gang of opportunistic raiders that prey on struggling civilian encampments through violence and intimidation.
These hedonistic scavengers take everything they can steal and destroy everything else to deprive their enemies of valuable resources.
Led by a council of the strongest pack leaders.
Outcasts:
Bitter survivors of a forced quarantine bent on revenge against those who brutally imprisoned them and the society that stood by and let it happen.
Their charismatic, bloodthirsty leader believes everyone is complicit and urges her followers to punish the guilty by spreading sickness and murdering indiscriminately.
Ubisoft also recently announced that the PC version of The Division 2 will exclusively be available on the new Epic Games Store and its own platform, Uplay. It will no longer be sold on Valve's Steam store.
In the meantime, check out The Division 2 Private Beta trailer below.
[youtube https://www.youtube.com/watch?v=RmIFt6WqFgU&w=560&h=315]
---