The Mobile Legends Professional League MY/SG (MPL-MY/SG) Season 3 will begin with 1000 teams registered. After two weeks of intense qualifier matches, 4 teams managed to secure spots in the MPL Regular Season.
The teams are:
Team ICON MY
Mysterious Assassins (MYA)
Xpax X-Assins
NARA Esports
The first three from the list are Malaysian teams while NARA Esports is a Singaporean team which just debuted in MPL. They will join the 6 invited teams in the Regular Season which kicks off on the 1st March.
Who Made The Cut?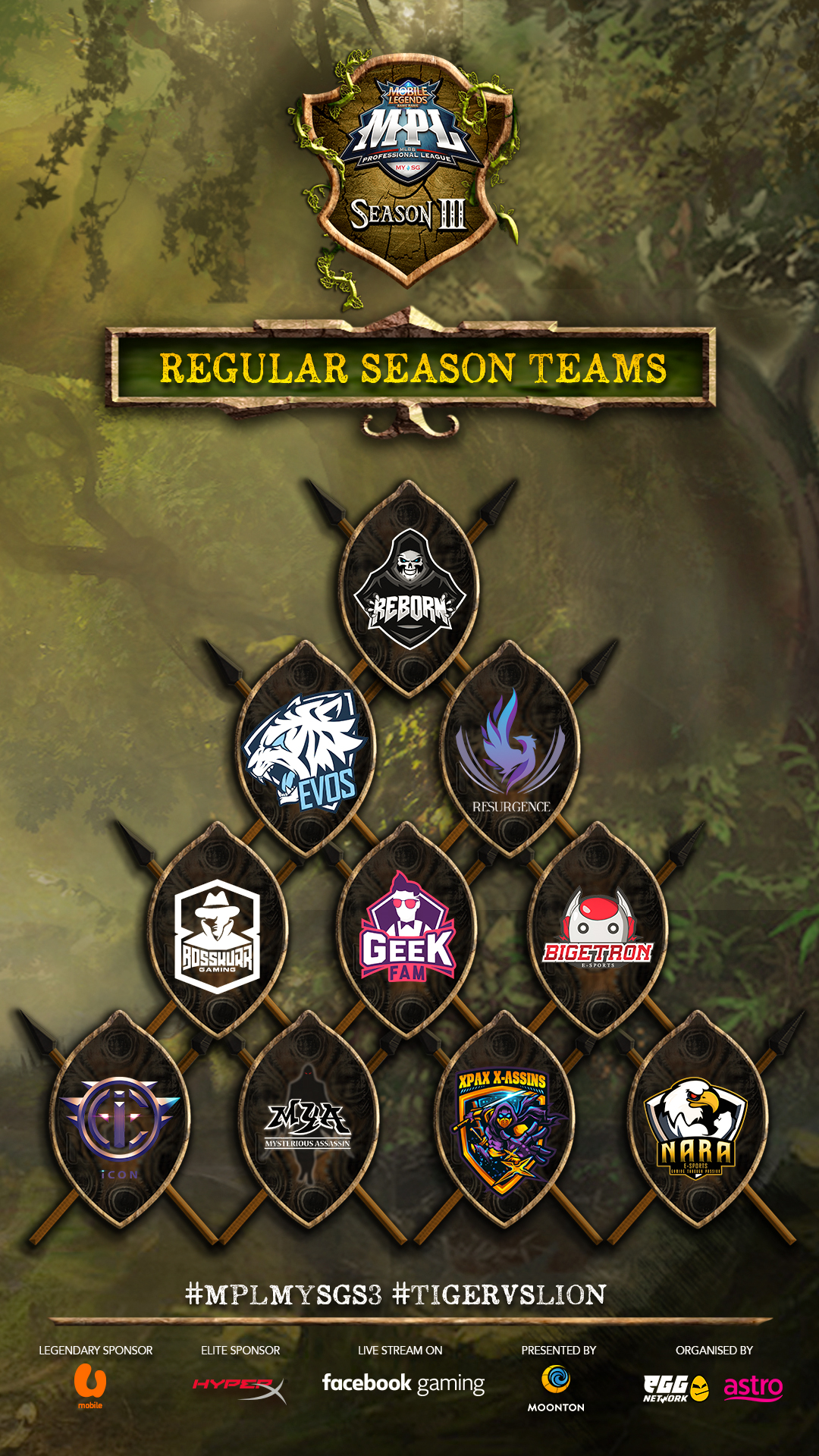 Team MYA returned on a high note after Season 1 where they finished third. A major roster change made them ineligible for a direct invite into Season 2, and a poor showing in the qualifiers saw their run end prematurely. However, MYA is back this season with the likes of Shadow, Flint, and Kucing Gebu in their line-up.
Meanwhile, ICON MY effortlessly qualified for all MPL-MY/SG seasons so far. ICON MY's line-up features familiar faces like veterans Cometopapa and Unta, while newcomers Xpax X-Assins feature the formidable Ax on their roster. Ax was previously known as Jinn from MPL-MY/SG Season 2 champions, Saiyan Reborn.
The Singaporean team and MPL debutants, NARA Esports, is a formidable team, having their first qualification for the Regular Season after coming on top after a 2-1 comeback against Jasper & Friends at the Singapore Qualifier. Players to pay attention to include Fenrir (previously a competitive player in Indonesia) and Kolia (former captain of Evos Esports SG).
The four qualifying teams will clash with the six invited teams from Season 2: Reborn (Defending Champions, formerly called Saiyan Reborn), Bigetron SG (Season 1 Champions), Bosskurr Gaming (formerly AirAsia Saiyan), Evos Esports SG, Resurgence, and Geek Fam.
With Fame Comes Drama
The qualifying rounds of Season 3 did not come drama-free as the rounds were laced with allegations of cheating via "jockeying" or "piloting" where players hired foreign representatives to play in their place in online qualifier matches. According to Moonton, new guidelines will be introduced for the upcoming Regular Season.
Logan Shaw, the Tournament Director ensure that they have taken measures to prevent such incidents.
"As the developer of Mobile Legends: Bang Bang and owner of its esports properties, Moonton is strongly against any form of cheating as it goes against our ideals of integrity and sportsmanship.

We have taken measures to introduce new regulations that will prevent future incidents, and they will be rolled out in the updated official rulebook which is taking effect from this Regular Season onwards."
He also said, "We also want to reassure players and stakeholders that we have received their feedback throughout the Season 3 qualifiers. As MPL-MY/SG grows and matures, we are committed to work through these growing pains and bring MLBB esports to the next level for the local community."
What's In It For Them?
The qualifying teams will go head-on for a share of Season 3's US$100,000 (RM407,830) prize pool. The Regular Season format is a round robin best-of-3 with a total of US$48,000 (RM195,758) up for grabs. All teams will receive a weekly allowance of US$350 (RM1427), which is an increase from last season's US$300 (RM1223) weekly allowance, and for every game won, the teams will pocket an additional US$200 (RM815).
At the end of the Regular Season, one player will get to bag a US$500 (RM2039) bonus by being crowned the Regular Season MVP award, based on professional performance and consistency. The player with the highest KDA (Kill-Death-Assist) ratio will also be awarded the Regular Season King of KDA and pocket a bonus of US$500 (RM2039).
This Regular Season will be carried out over six consecutive weeks every Friday to Sunday from the 1st of March 2019. The bottom two teams of the Regular Season will be eliminated, leaving eight teams who will advance to the Playoffs on 20th – 21st April 2019, happening at Blue Atrium, Sunway Pyramid in Petaling Jaya.
All matches will be played online and streamed on Mobile Legends: Bang Bang's official Facebook page, with shoutcasting in English and Bahasa Malaysia.
Previous image credit: Gamerbraves