The mobile phone market is a booming one, so there's no surprise to see companies attempting to penetrate the various target markets to maximise their sales.
One of the most enigmatic sectors, in my opinion, is the gaming phone market. It's one of the premium lined markets in the mobile phone market. Since most smartphones are heavily aimed towards teenagers, and teenagers are synonymous to playing video games, so it should be a no brainer.
However, keep in mind that a gaming phone costs almost the same as a full-spec gaming desktop, which I am certain that the average teenager would think more than thrice to spend their hard earned cash on. On the other hand, consumers with enough cash to spend on a gaming phone isn't interested in mobile gaming. Maybe they'll spend money on Candy Crush in-app purchases, but that does not count as a full-blown game in the current context.
I mean, why spend multiple thousands when you can plop the same amount of cash to build a more-than-decent gaming rig, or a decent gaming laptop if you prefer portability. You'll get more the performance as compared to a mobile phone.
For instance, the Asus ROG phone costs you RM4k as checked on Lazada, while at the same amount you can purchase an MSI GL63 with an 8th Gen i5 paired with an NVIDIA GTX 1050 which will let you play PUBG comfortably with smooth framerates.
Why play PUBG Mobile when you can duke it out on the full version of PUBG?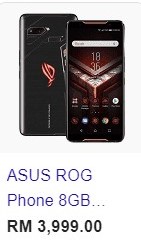 Look at that price difference!
Step Back To Reality
Let's be frank, and look at reality. The mobile gamer crowd isn't the most sophisticated gaming crowd, they don't demand their hardware to be top-of-the-line, RGB-ridden, pumping out 200 frames per second at 40° degrees celsius kind of hardware.
According to App Annie, the top three games downloaded in Malaysia are Mobile Legends: Bang Bang, Candy Crush Saga, and Clash of Clans, all of which aren't demanding games. The two runner ups, Candy Crush Saga and Clash of Clans might even be perceived as hyper-casual games.
Speaking of which…
A majority of the top downloaded games are hyper-casual games, which, if extrapolated, means that most of the mobile games played out there aren't heavy games. This, in fact, backs my earlier statement in which I said mobile gamers do not need all the bells and whistles when it comes to mobile gaming.
All mobile gamers want is enough power and comfort to decently play mobile games like some of the more popular mobile games right now, PUBG Mobile or Mobile Legends. Not to mention, we don't want to break the bank just to game at a mamak with our friends every now and then.
A New Contender In The Market
That's where Realme Malaysia comes into the picture. The company recently unveiled their new phone, the Realme 3 smartphone, which is aimed towards the younger crowd. Even the raison d'être of the company is to create high-quality experiences for young people. So we can expect plenty of features at pocket-safe prices.
What got me impressed is how realme marketed and engaged with the audience. With budget phones coming from all directions, especially from notable and established brands such as Samsung, Xiaomi, Huawei, they had to go against the grain.
Rather than putting out flashy posters, or catchy ads, the company decided to engage with its core audience. From the gatherings and so on, they receive valuable insight from the younger crowd, and with that data, they create and cater their products to the people.
A Budget Smartphone?
The Realme 3 has enough features to qualify itself as a powerful phone. It might not be a Samsung Note 9 killer, but it is a viable option for budget-oriented buyers.
The company has struck a good balance between performance and price, in my opinion. They have done this without sacrificing device quality, performance, and aesthetics.
Let's look at the budget phone market. We have Oppo, Vivo, some budget models from Samsung, and such. These phones are good but there's always a compromise somewhere.
With that said, budget phones are always viable for our hobby, depending on your personal needs and how much you are willing to spend.
Besides, all these budget phones can be used to game on perfectly fine. It's not like the phone is going to run Crysis on it.
So What?
My point is, we don't need a "gaming phone" to game. In my honest opinion, all these gaming phones advertised and being sold at premium prices is a way for companies to reach out to an almost non-existent niche. All you need is a phone powerful enough to run games smoothly without input lag and what not.
Mobile gamers do not need all the flashy RGB lighting, and those over-the-top features that surely adds a hefty amount of production cost to an already beefy price tag. As long as the device has enough power to run games, and is priced competitively, then we're all set.
You don't have to be a gaming brand to push out a gaming phone. You just have to know what mobile gamers want in their pockets.