Here's A Look At Final Fantasy Artist Yoshitaka Amano's Magic: The Gathering Cards
Wizards of the Coast will be releasing the new Magic: The Gathering expansion War of the Spark soon. Since it'll feature a ton of Planeswalker cards, the publisher will be tapping into a number of different artists to create alternate versions of cards in Japan. 
Yoshitaka Amano happens to be one of those artists; he provided the alternative artwork for Liliana, Dreadhorde General, a Planeswalker in the Magic universe renowned for creating new zombies per turn. We'll post the original and the alternate version side-by-side.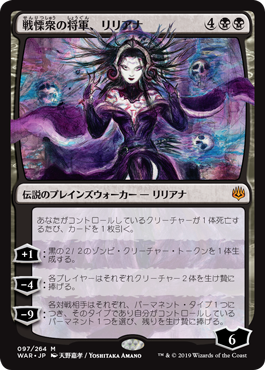 You can definitely mistaken Liliana as a retro Final Fantasy guest character in MTG: Amano's artwork is just too distinct. To recap, the esteemed artist has been drawing concept art for Final Fantasy from parts 1 to 6. Since then, he's been chipping in key artwork for the rest of the series and for spin-offs like the mobile game Final Fantasy: Brave Exvius.
Since there are 36 different Planeswalkers in this expansion, and Liliana is a Legendary, she'll be a tough one to procure. The fact that only half of the booster packs in Japan will have these alternate art Planeswalkers make these quite a rarity.
Fret not: they'll be available globally soon enough and will also be in one out of every four Wizards lay Network promo packs when the Core Set 2020 releases later this year. For now, here are some of our favourite alternative artworks.
Related