If you've been following the gaming industry since earlier this year, you must have noticed a hyped battle royale title by the name of Apex Legends. That's EA and Respawn Entertainment's masterpiece which has successfully shaken the competition.
Players from Rainbow Six Siege, PlayerUnknown's Battlegrounds and even Fortnite are jumping ship to enjoy this magnificent game. We've even compiled an unabridged, and up-to-date, guide for discerning players.
However, the reality is harsh. Despite having a stellar launch and truckloads of viewership as well as literally millions of players, the trendy game is finally coming to last moments.
The Nail In The Coffin
Apex Legends had a strong launch. Viewership and player base skyrocketed in the early weeks of its launch. However, the traffic generated by Apex Legends is not organic, as EA paid millions to streamers to stream the game on launch day.
Long story short, when the streamers stopped streaming, the interest level dropped significantly.
As you can see on the Google Trends graph above, April marks the lowest point of interest over time, with certain spikes here and there attributed to leaks and the new battle pass, Wild Frontier.

This Twitchmetrics graph tells us the same story of a steadily dwindling viewership rate. The viewership on launch week hit close to 350k viewers, but when the paid streamers stop streaming, most of the viewers went to watch something else.
There's a noticeable spike in March but, again, that's thanks to the launching of the game's first season.
If you think Fortnite lost a lot of Twitch viewers when Apex Legends dropped, think again.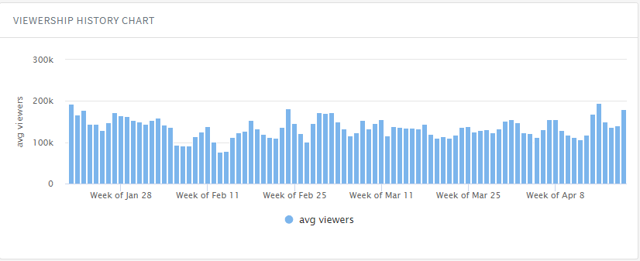 Fortnite's viewership maintained steadily and despite dropping to half of its usual viewers on the week that Apex launched (Week of Feb 11), the viewers simply came back.
A report by Newzoo suggested that viewership shot on launch week, but stabilised and dropped right after.
The same can be said when filtering YouTube searches.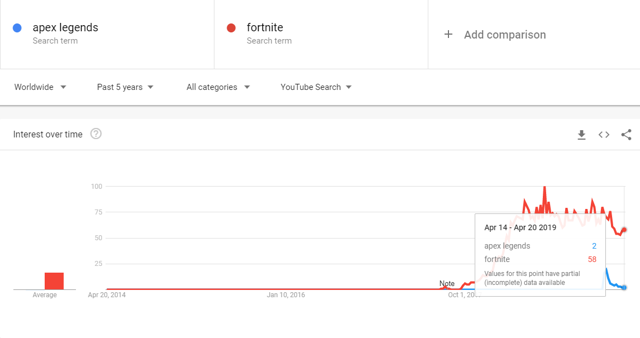 So, Apex had only 10% of the Google searches that Fortnite has, ~20% of its Twitch viewers, and ~4% of Fortnite's YouTube searches, what does this all mean?
This means the player base of Apex Legends is declining or stagnant.
Players Aren't Happy
Michael "Shroud" Grzesiek is undoubtedly the most popular streamer out there, and he's thinking of quitting Apex Legends and returning to PUBG. He said that slow servers and the lack of content as the cause.
He even said this, "I've got about three games left before I quit this game forever."
Other streamers share the same sentiment. DrDisrespect says that the game is going the way of H1Z1, a dead battle royale game. Ninja, another prominent streamer, prefers Fortnite over Apex Legends although it was rumoured that EA spent close to a million dollars on Ninja to stream the game just for a few hours.
With Fortnite now copying Apex Legends' ping system and respawn mechanics, which what makes the game unique and stand out from the rest, the game has lost its unique selling point.
Game Over?
As an avid Apex Legends player, I am undoubtedly sad about hearing this, but I have to agree that Apex is losing much of its audience. I can link this to several reasons, one of which is the lack of new content. Not to mention, the rampant hacking which turns off players faster than those speedhackers.
Now, I understand that the game was launch less than 3 months ago, and asking for new content sounds pushy, but with a game like Apex Legends, players are bound to ask for more, and when Respawn can't deliver quickly, players become disappointed.
There were so many leaks and stories indicating we might be getting new content, such as a new hero, some NPCs, a motorbike, but nothing materialised.
The game might've seen a larger and more sustained player engagement if it were on the Nintendo Switch, as the game's quick transition between games and fast-paced action offered is perfect for the handheld console.
Maybe the players are burnt out after the burst of initial hype, or maybe it's true after all, and the game is actually dying.
Either way, I hope EA and Respawn finds a way to pull itself back from this rut.