By Alleef Ashaari|July 25, 2019|
Garena, in collaboration with Activision and Tencent Games, has announced that Call Of Duty Mobile is now open for pre=registration in Southeast Asia, including Malaysia, Thailand, Singapore, Taiwan, Indonesia, and the Philippines.
Call Of Duty Mobile is the first mobile entry in the long-running FPS franchise, featuring many of the game modes that players are used to on consoles and PC. These include an obligatory Battle Royale mode, as well as popular Multiplayer modes like Team Deathmatch, Search and Destroy, Domination, Free For All, and more.
Fans of the franchise will be glad to learn that the "scorestreak" system is in the game, giving them access to brand new attack methods such as calling drones or launching cruise missiles. They should expect to meet iconic characters such as Ghost, Soap, Captain Price, and Alex Mason, as well as fan-favorite maps like Nuketown (Call of Duty: Modern Warfare) and Hijacked (Call of Duty: Black Ops).
Players can obtain special rewards for inviting their friends to pre-register for Call Of Duty Mobile. Successfully inviting 15 friends to pre-register will net them a permanent in-game item, "MSMC – Red Triangle". Once pre-registration hits one million, everyone who has registered will receive an M16 with Neon Tiger Camo (rental for seven days).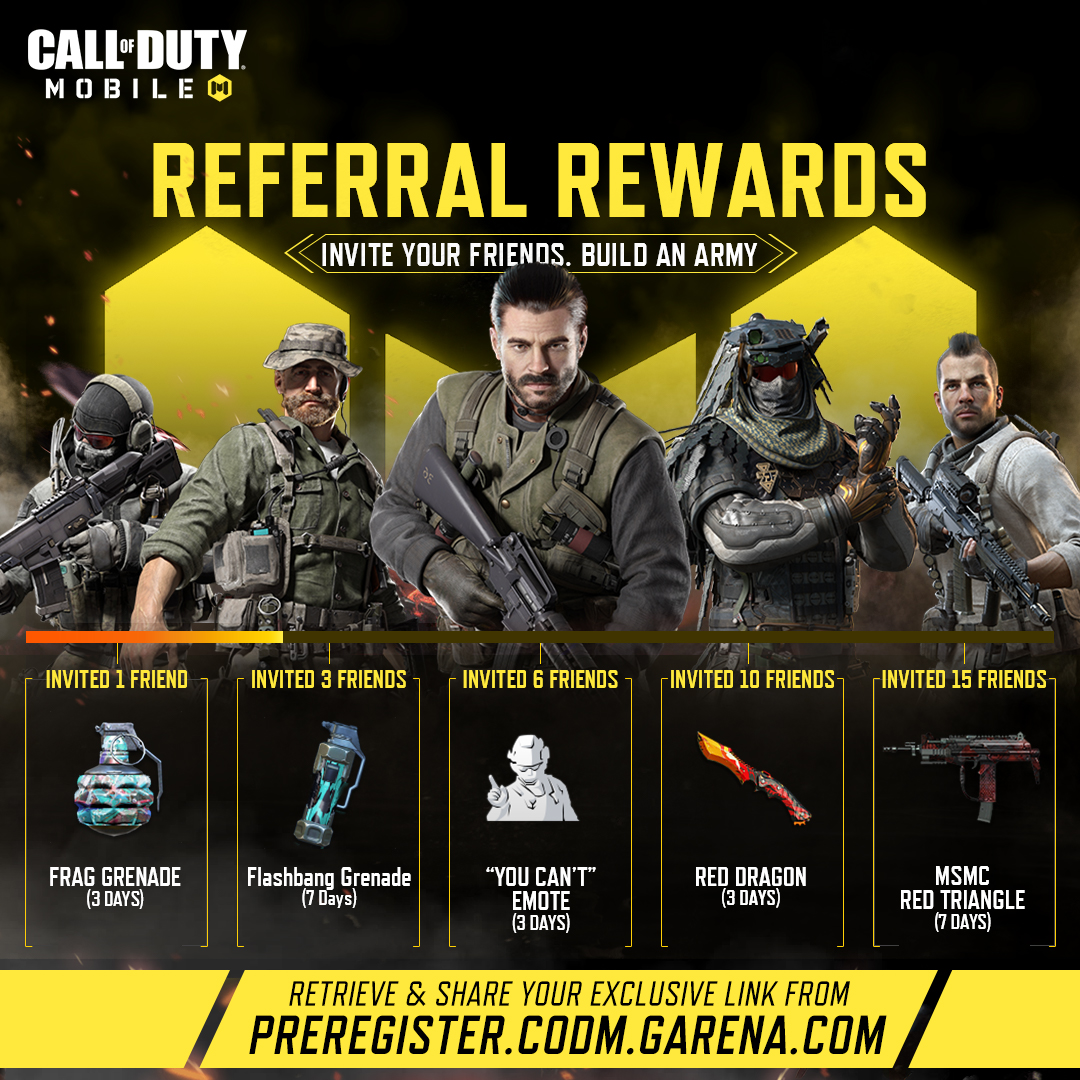 Android and iOS users can pre-register now on the official website here. As of yet, Activision and Tencent Games have not announced a release date for the full version of Call Of Duty Mobile.
In the meantime, check out the trailer below.
[youtube https://www.youtube.com/watch?v=AaZdzjc_TRA&w=560&h=315]
---