Disclaimer: This guide will be updated periodically.
We've had fun with No Straight Roads: it's an action-packed game with well-thought-out music rhythm mechanics that gets more fleshed out over time. As such, it can be considered a one-of-a-kind title.
It can also be a bit tough for those not accustomed to hack-and-slash titles with new mechanics chucked in. Fortunately, we're here to help and give you starting tips on making your road trip a bit bearable.
Look & listen.
First off: keep your ear out on how the game's music plays and follow its rhythm. All the major fights in NSR will only attack according to a particular rhythm and verse.
For instance, in the early bits of the incredibly trippy Eve fight, the elongated hand that shoots out the purple beam will only appear in sync with the BG music. Later on, she summons an elongated foot to stomp on you in sync at the end of a particular song's rhythm.
Keep your eyes and ears out so that you can anticipate an attack when it hits. NSR's aesthetics are meant to mesmerize you, but the only way to beat them with as minimal fuss as possible is to pay attention.
You can farm fan power by repeating boss fights.
Even if you've aced the first fight against DJ Subatomic Supernova, you can still replay the fight on a harder difficulty level. Why? Apart from aiming for a higher ranking, you can also earn a lot of fan power and unlock the skill tree to higher levels.
You need these to buff Mayday and Zuke up. Which brings us to…
Focus on the following skills on the Skill Tree.
Just like most action games, NSR has a skill tree. Go to your Sewer Hideout and access the Underground Gig section to check it out.
You should aim to unlock ALL the skills on these trees. Here are the ones you should start off with before unlocking the rest. Yes, we're perplexed as to why each individual skill are lacking names.
Mayday
Shoot tree, Max Ammo Lv1-4: Giving Mayday max ammo not only gives her more ranged attack projectiles but also lets her do more damage when her "magazine" is full.
Transform tree Lv1-5: Mayday takes longer to transform the tools around her, but with these buffs, they stick around longer and deal more damage.
Zuke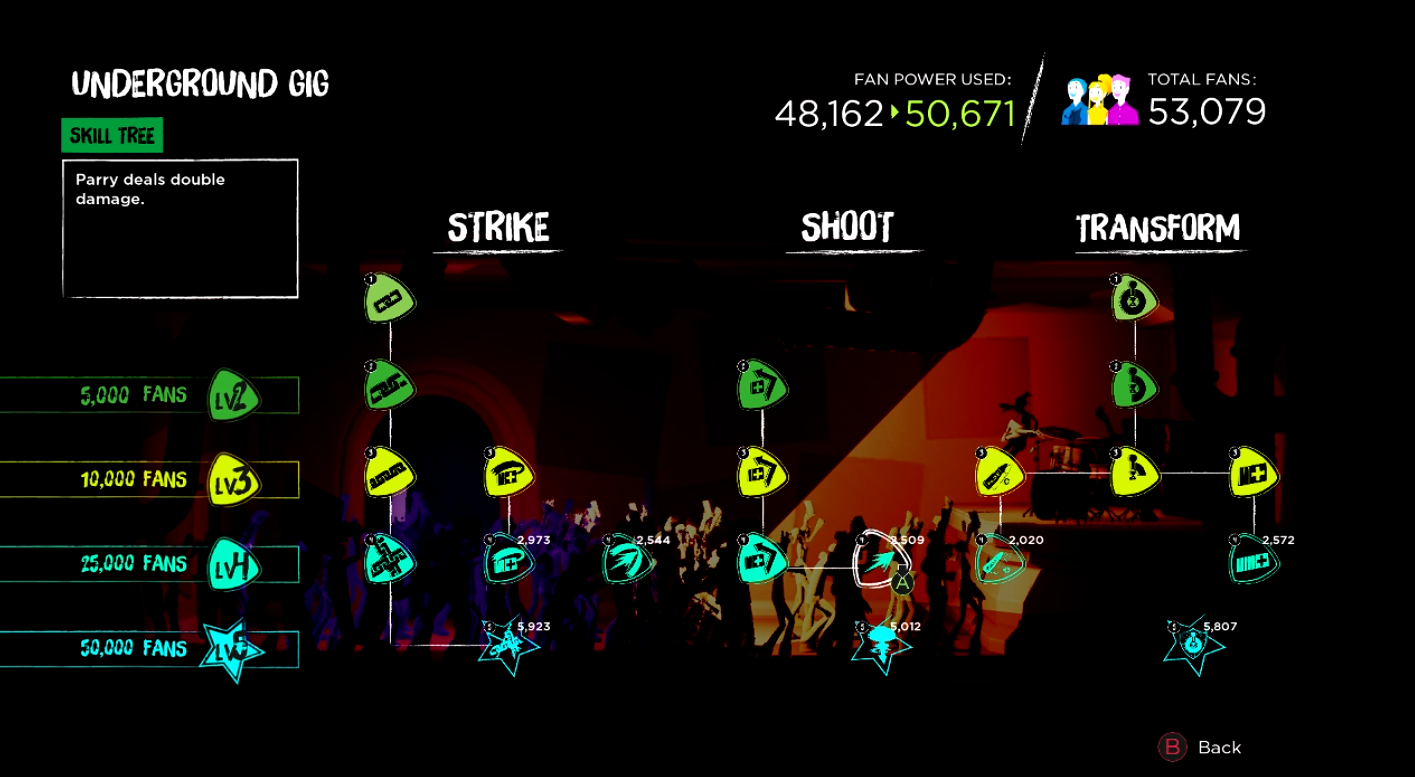 Strike tree, More hits and Healing hits Level 1-5: Upgrade all of this for Zuke so that he can chain his attacks – up to 9 hits- and unleash an AoE finisher. Higher levels of this mean he can also shoot out a free projectile when you do the final hit.
Shoot tree, Parry skills Level 1-4: Parrying is important in NSR. So opening these skills up to its Level 4 skills is important. Doing this will let you heal and deal double damage when parrying.
Transform tree, Faster transformations & free ammo Level 1-4: Zuke excels at transforming defensive shields, so it's best to buff this part up so that they come out fast. Level 5's Transform buff enables him to not get interrupted mid-transformation when attacked by enemies and/or projectiles.
Bunk Bed Junction
Double Jump & Dash: Get this asap. It'll make it easier to dodge things mid-air and avoid ground clusterf***ery.
Ammo-to-Energy converter, Level 2: When you have max ammo from parries (more on that soon), you can collect more ammo to max out your power for Mod power and Ultimate Duo attack usage.
Successful Parry + ammo bonus, Level 2-4: Max this one out as soon as you can, because successful parries will reward BOTH Mayday and Zuke almost max ammo. Very important for Hard, Crazy, and Parry modes.
Enlargen Circle Of Influence, Level 3-4: Also important so that you can transform tools away from certain AoE attacks. Depth perception can be tough to gauge in NSR since it has locked camera perspectives for fights, so widening this is practical.
Transformables Upgrade, Level 3 and 5: This unlocks level 2 and 3 transformables, meaning better damage-dealing turrets and defensive tools when fighting bosses. Obviously very important.
Elliegator drops, Level 3: This lets you summon Elliegator who drops hamburgers all over the arena when you're close to zero health, once every battle.
Revive With Health, Level 2-3: Gives you one more chance to fight with half health if you die mid-fight. If you suck really hard, just go for the Lv5 upgrade before unlocking the rest.
Your Mod Skills have generous invincibility frames.
Whether it's Mayday's boomerang projectile Mod that requires a bit of right analog finagling, or Zuke's "music note" attack that requires you to mash the attack button, both share the best benefit in a hack-and-slash game: temporary invincibility.
If there's an enemy attack that you can't figure out the timing or pattern to, just press your Mod Skill button. It'll save you and can probably take a bit of life from a boss. With this trick and your fully-upgraded skill tree for Mayday, Zuke, and Bunk Bed Junction, it'll be slightly less aggravating to get that S ranking for each boss fight.