Platform(s): PS4, Xbox One
Genre: Rock'em sock'em mixed martial arts fighting
Reviewing sports games have always been tricky.
A publication can choose to assign someone who is neck-deep in their knowledge of the sport, leading to a potentially needlessly nitpicky, emotionally-skewed review. Or go with someone who has little to casual understanding of the sport for a more man-on-the-street angle.
And there's the third option – get someone who straddles between the two; the semi-enthusiast or what I like to call – the cautious, returning customer. So when it comes to UFC, how did the team at Kakuchopurei approached our review of EA Sports' UFC4?
I, for one, fall into the semi-enthusiast category. A fan of martial arts and combat sports having learned taekwondo as a kid, I somewhat stopped following UFC after Georges St. Pierre's retirement last year. Having said that, I do occasionally keep up with several title movements most notably in the Welterweight and Lightweight divisions.
Unlike other EA Sports titles which receive annual releases, the UFC franchise balks at that trend, having seen their previous titles being released two years apart; UFC (2014), UFC2 (2016), and UFC3 (2018), with UFC4 continuing that weird tradition, hitting stores just recently. The question in everyone's minds surely circle around how far have UFC4 improved from its predecessors, and how newbie-friendly this title is.
I'm happy to report, that it's got everything for everyone.
Tale of the Tape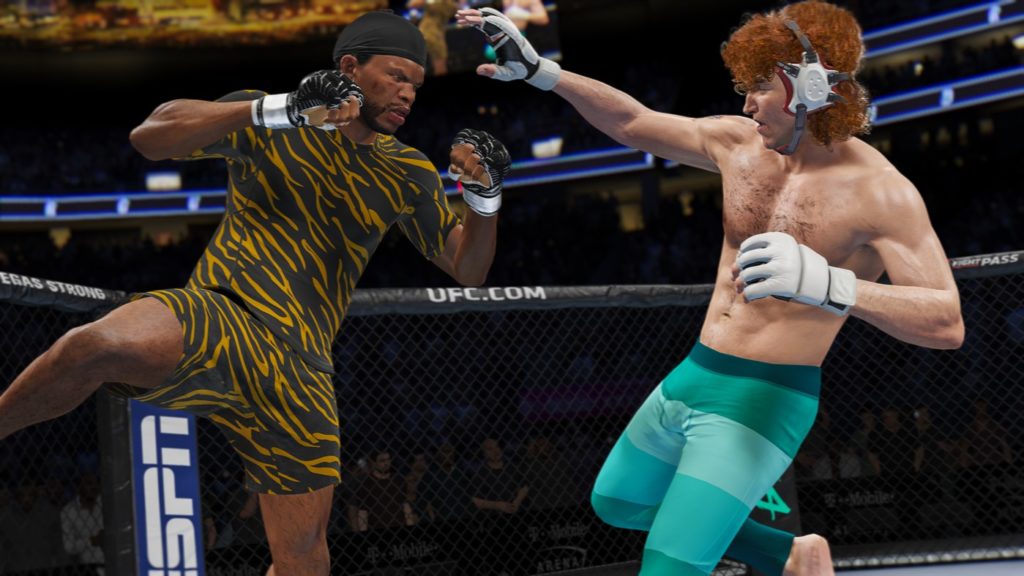 Graphics-wise, UFC4 improved from UFC3 in all areas; the same way typical EA Sports titles of the same console generation evolve from their annual predecessors. Fight nights are presented like its real-life counterpart as recognizable and notable UFC faces make their appearances including Bruce Buffer and Herb Dean.
Commentary-wise, Joe Rogan is no more as Daniel Cormier takes his seat at the mic. Surprisingly, though, DC is a natural. Never once he sounded out-of-place due to his insightful call-outs and on the fly fight analysis. You'd be forgiven to mistake him as a veteran commentator just by listening to his commentary for the duration of a fight. The only bit that immediately strikes you is when Daniel Cormier commentates on his own fight.
That seemed … surreal.
[youtube https://www.youtube.com/watch?v=5epQZVC6F3Y&w=560&h=315]
The animation is as solid, if not better than ever. The standing punches and kicks connect and feel impactful although the ground and pound animations looked a bit dodgy. You're hammering the face of a full-grown, 180lbs man who'd eat your children for breakfast, not shadow boxing with your kitten!
Bruises and welts develop depending on which area of the body are being hit while facial cuts spurt blood when piled upon.

I confess, I find satisfaction targeting specific points in the opponent's bodies, for example, repeatedly striking their lead leg until they submit due sustained punishment.
Clinches and grapples show marked improvements from UFC3 and developers EA Vancouver also tweaked the grappling mechanics, making it more palatable for those who hate the ground game, while also retaining the 'legacy' mechanics for those who loved what was introduced in UFC3.
The submission portion is streamlined into a straight-forward, cat-and-mouse mini-game which does not break the flow of the fight, although may be a bitch to counter once you're up against a BJJ or wrestler specialist. Ensuring you're at least adept in these categories is key to fully enjoying the fighting mechanics.
One awesome omission from the previous game is the Ultimate Team mode. Gone is the trading card-like, team building, pay-to-win, transaction-driven mode which garnered a ton of unwanted press. I suppose the extra polish and detail I've experience in UFC4 is mostly down to EA Vancouver being able to channel their efforts to more meaningful areas related to the core game. Hurray for that.
Step Into the Cage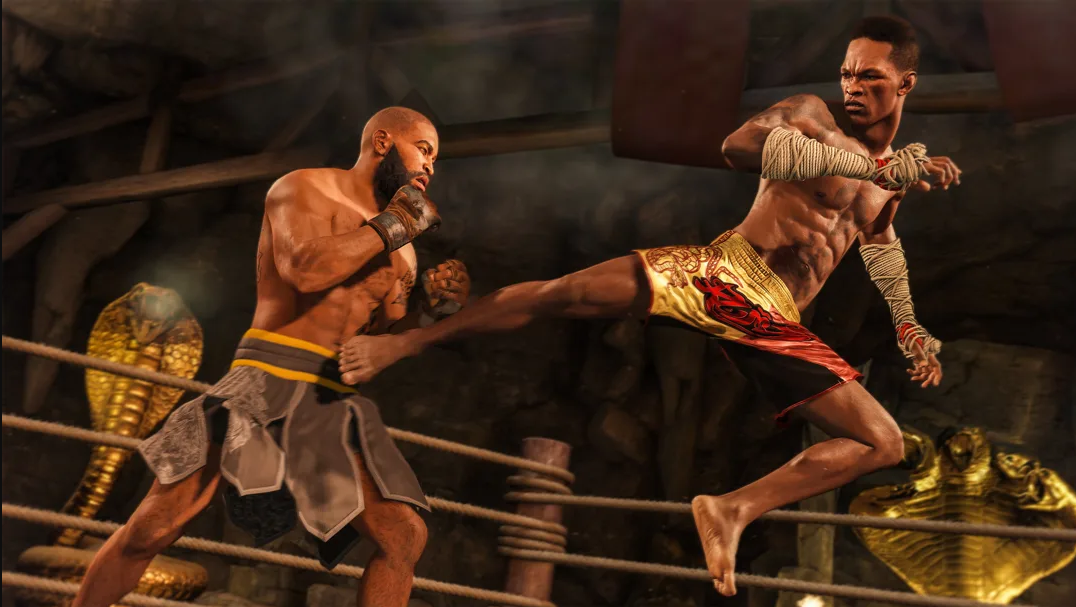 Right off the bat, UFC thrusts you straight into the action via its "Create-a-fighter" in its "Career Mode". Similar in previous UFC games, you create your in-game avatar tailored to your favorite fighting style, preferred weight class and more. Returning UFC players would easily breeze through this portion as they would already have a specific style in mind or if they so choose, directly import a custom fighter from previous iterations of the game.
However, for the uninitiated and are just making a debut in the virtual octagon, the customization for your fighter's buildup is very extensive to a point that it may appear intimidating to some. You start off by choosing one from the four mixed martial arts disciplines; boxing, kickboxing (Muay Thai), Brazilian jiu-jitsu (BJJ) and wrestling as your core fighting style.
You are also presented with the fifth and most unimaginative option there is – 'Balanced'. I bet folks who choose this category only have bread with butter.
[youtube https://www.youtube.com/watch?v=SBgnN34hy7U&w=560&h=315]
Hereon, you can further mold the fighter into the butt-kicker of your dreams through sub-classes and individual statistical improvements, and equipping specific offensive and defensive packages. In-ring attire, emotes and celebrations add depth to character customization which thankfully, does not affect the fighter's stats once the fight starts.
Every facet of customization play a role in shaping a particular fighter's characteristics. A stocky, bulky fighter like Daniel Cormier may be harder to knock out, but has limited reach while a beanpole fighter ala Stefan Struve may keep you out of reach yet tumbles like a tree the moment a hit connects. It's all about striking a good balance, playing to one's fighter's advantages while capitalizing on their opponent's weaknesses.
Fortunately for everyone, the game allows you to create more than just one custom fighter giving room for multiple saves, careers and a diverse range of fighting styles.
Learning the Ropes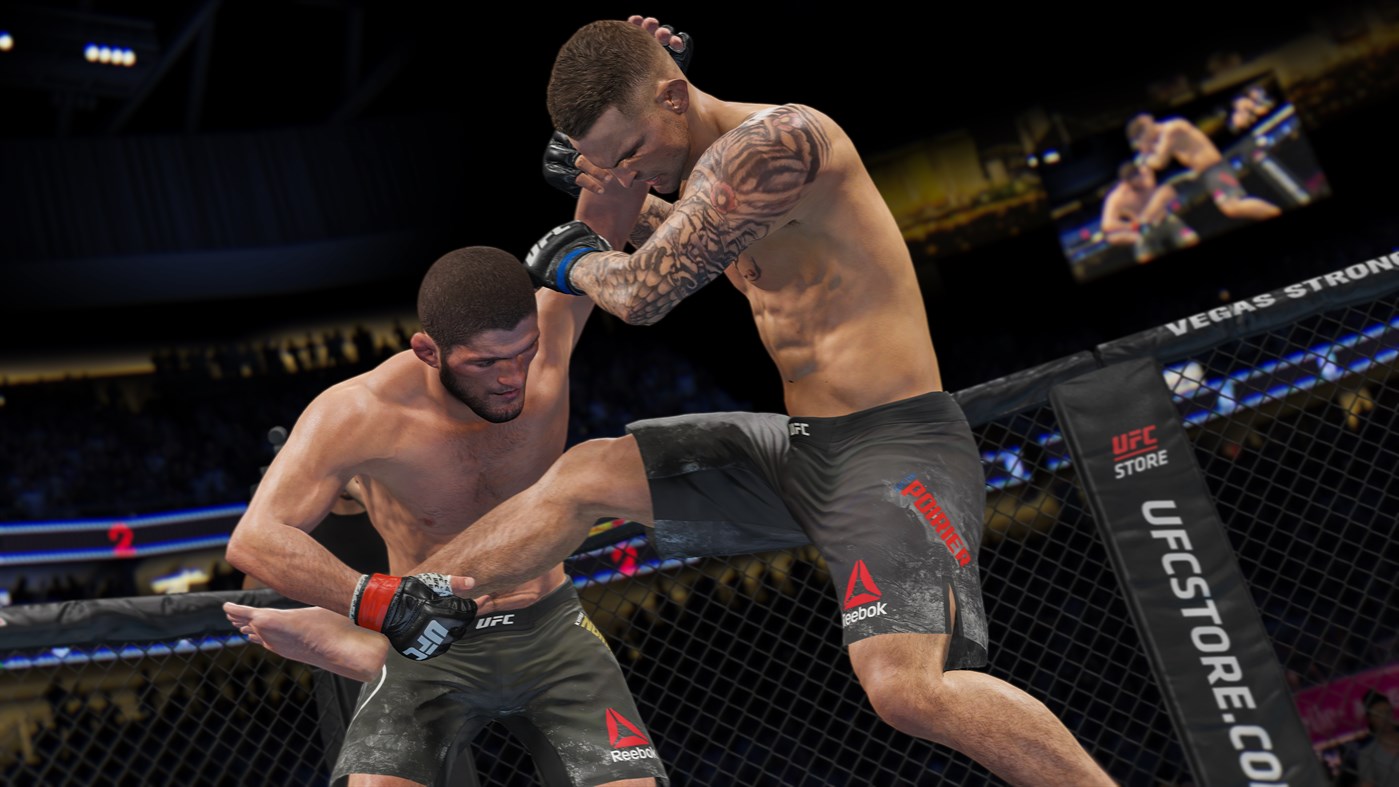 Within your first hours into the game, you are put through a series of scripted set-pieces, sparring sessions and fights which serves as a refresher course for returning players, or for the newbies, an extended tutorial for the core gameplay.
Unlike typical fighting games where different buttons are categorized to low, medium and heavy attacks, UFC4 assigns the face buttons to right and left arms and legs, while combinations with shoulder and trigger buttons enables high and low blocks, leg checks, knees and elbow strikes, high kicks and sweeps, stance switches as well as signature moves which we will get on to in a minute.
These controls may appear confusing at first but trust me – a few rounds later, once familiarity sets in – you'll be switching stances, connecting 1-2 combos, shifting into an overhand from an upper-cut in no time. Chaining attacks have never felt so good.
Once the basic tutorial portion is done, you can opt to return to the main menu for your run-of-the-mill fighting game experience, choosing from a roster consisting of over 230 male and female fighters to go against your friends either offline or online.
Do correct me if I'm wrong here but this must be the largest roster in a fighting game ever.
Just a quick sidenote: Although I personally prefer fighting standing up, I sense the online meta to shift towards the grappling game as this portion is often overlooked when it comes to training and upgrading the fighter's stats. Basically, play grappler-focused fighters if you want to own online play. 
Those who pre-order the game through their UFC2 or UFC3 copies will get access to special characters like Bruce Lee, President of the UFC, Dana White and current WBC Heavyweight Champion, Tyson Fury. However, the meat of the game is definitely the Career Mode. 
It's Time!
Assuming you've chosen to continue your journey as a fighter, you'll slowly make your way up the ladder by accepting and winning fights in the lower leagues until Dana White comes knocking your door with an offer into the UFC.
Once a fight is accepted, you get a specific amount of time to prepare for the upcoming fight. Sparring in the gym with your trainers reward skill points which can later be allocated to specific traits like Punch Power or Kick Speed.
However, over-training may lead to fatigue which affects your fighter's overall physical shape heading into the fight. You can also injure your sparring partner, making them unavailable until after the main fight is over. This is bad news especially if you're set in upgrading a specific trait – kickboxing for example. After destroying kickboxing sparring partner multiple times, I've learned to leave them just tethering at the brink of crumbling, yet still available for another sparring session.
Watching Tape gives you better insight into your upcoming opponents for a better gameplan to counter their advances while engaging in social media activities help raise the hype of the match which also contributes to your income potential.
Rivalries can be initiated and stoked via social media interaction as well – just like in real life – for higher-stakes, in-game beef. Then again, it's a shame that banter is just limited to text. We do not get to have those flashy news conferences and promotional shots during weigh-in where things normally get super exciting.
[wpvideo hVENnSnb]
These repetitive activities leading to the fight day may appear grindy and tedious to some, but the developers have done good by providing variety and rewarding outcomes. You can also invite real-life fighters to your gym to teach you their signature moves. These moves while seem weak at the start due to their 1-Star level, can lead to devastating effect once you've upgrade them. Done right, your fighter can have Anderson Silva's front kicks, GSP's Superman Punch AND Nate Diaz's Stockton Slap in their arsenal.
Rake up enough wins and you'll be rewarded with a title fight. Win it and successfully defend your title for a few times may trigger an offer for a Super Fight between weight classes for that big payday. This all contributes to the ultimate goal of being the Greatest of All Time a.k.a The GOAT.
Punch-Out Or Knock-Out?
Overall, UFC4 is a fun, engaging, and immersive fighting game for new and returning players alike. It has all the right ingredients for players to pile up their game time for hundreds of hours, in the next couple of years at least.
EA Vancouver have found that balance which makes it a worth pickup for anyone with a smidge of interest in mixed martial arts and/ or the UFC. In other words, dig in!
Pros
Fighting mechanics are very accessible for new players.
Appreciation for returning player base via import / export saving capability & carry over of ground game mechanics.
On-the-fly, play as you learn approach provides near-instant rewards.
Career mode offers good flexibility in charting fighter's journey to and in the UFC.
Huge roster which should satiate your average UFC fan.
Cons
Some sub-par ground-and-pound animations.
Pre-match buildup portion can be grindy at times.
Limited fighter dialogue options in Career Mode.
FINAL SCORE: 80/100
PS4 review code provided by EA Sports Singapore.