Larian Studio's magnum opus RPG based on the Forgotten Realms D&D campaign, Baldur's Gate 3, has a lot to live up to. Not only does it need to be a better version of its past Divinity titles but also live up to the high standards of the early 2000s CRPG that made the genre a sublime commodity in the first place.
Lo and behold, the developer released the third Baldur's Gate game onto PC. Sort of; it's in Early Access form meaning that it's just Act 1 of a grander campaign, and there are a number of chinks in the proverbial armour. Thankfully, Larian Studios has made it clear that its current version is buggy as all hell. But does it mean you should justify spending a lot of money to help them out? Let's break it down.
Fast Times In Faerun
First: some good points. The opening and Act 1 bits start out really strong and in the most epic of ways. You are a captive of a flying ship piloted by Mind Flayers, evil mind-devouring tentacle-faced freaks in robes, who are then boarded and assaulted by githyanki dragon riders. You escape, the ship ends up crashing, and then you get the hell out and figure out what to do next. Oh, and there's a Mind Flayer tadpole stuck in your brain that will eventually kill you if you don't do anything about it. So that's the setup: find out why you were kidnapped by Mind Flayers, how to get the damn tadpole out of your head, and possibly take revenge.
Or you can take on a huge number of sidequests that will power you up and lead you to get closer to your main goal. This usually means a few things: talk to folks and convince them to see things your way, or fight them and random adversaries along the way in turn-based combat. For the most parts, exploring the island we crash-landed on and finding random party members to aid you in your tadpole-removing quest is the entire gist of the Early Access build. Sure, you have to help solve a druid crisis by finding its missing leader in a goblin camp somewhere, but along the way you'll have to deal with gnolls being birthed out of near-dead hyenas being literal obstacles, as well as help a random group of soldiers rescue a duke or two from a burning building.
There's a lot of high stakes going on here in terms of quest longevity and completion, not unlike well-made RPGs like Deus Ex: Human Revolution. That burning building I mentioned? If you end up doing something else, if you come back after half a day, that building's done for and its victims are charred. But at the same time, that sense of urgency is coupled with flexibility: you can solve most problems with the skills you have if you think hard enough.
See a druid doctor trying to administer poison since she already knows about your "incurable" mind tadpole problem? You can either be dextrous and dodge out of the way, or smooth-talk your way out of it to get her off your case. Or just off her since you're in an enclosed room if your attributes are leaning more towards brute force than charisma-based skills.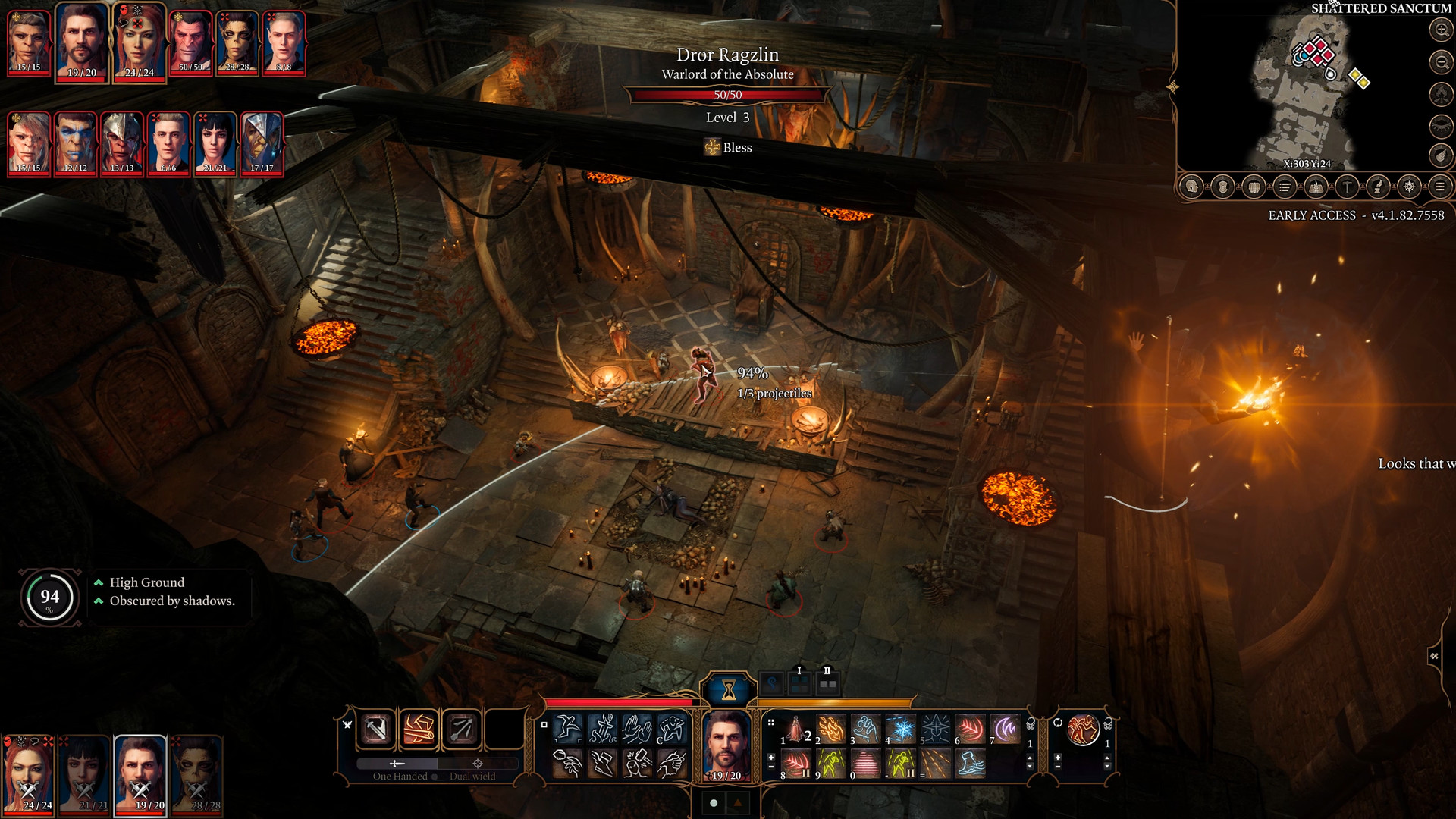 Speaking of fighting, Baldur's Gate 3's early access build has most of its combat working as intended. It's turn-based, positioning and height matters, and there's a good chance that a high attack percentage may miss, adding a lot of tension and gravity of even a simple skirmish. And said skirmishes can get pretty big, with your team dealing with a horde of goblins 2 levels higher than you.
Turn-based combat here follows not just the Divinity combat system, but also implements D&D tabletop traits. Rolling for initiatives based on your Dexterity, attacks of opportunities, moving and/or doing a skill, friendly fire, actual attacks that really hurt; it's all here except with all the counting and math done behind the scenes. And yes, just like my previous D&D campaigns, you can use bonus actions on top of your main actions to get the most out of your turn.
You can dip your weapon with special coating for extra damage, cast a small spell to help you or your pals out, or even shove people off of cliffs and from high places. This is my favourite bit in Baldur's Gate 3: sneaking up behind people and giving them a surprise push in the right direction if they're in the way. Or push them into pits of fire and/or acid, or the nearest untriggered trap.
The apex of this shoving game was my lone Ranger sneaking around, shoving goblins into a spider pit to thin out the horde. That fight near the end of this early access moment did spiral out of control as the spiders did escape and alerted more goblins, overwhelming my party. But it did teach me to plan my next attempt carefully, while also sticking to the "push baddies into pit" idea.
Tabletop D&D asks you to be creative with your solutions, and Baldur's Gate 3 offers a ton of them so early on. This is as close as you can get to a CRPG D&D experience that feels like an upgrade from 20 years ago. Imagine a fun dungeon master running your epic campaign, is fair with how you play, and isn't a stickler for time if you take too long with your customization or your current turn in combat. And doesn't mind you running off-course from the story to do sidequest stuff, as well as doing backsies via quick-save/reloading.
That's the initial promise of Baldur's Gate 3 so far; replacing the tabletop experience for an arguably better digital one while retaining manageable story-telling and gaming complexities. And it seems to hit that core point just fine.
Waterdeep Scandals
Unfortunately, as a US$60 paid product, Baldur's Gate 3 is a buggy mess. Yes, it's still an early access game as stressed time and again, but I have played other early access games on PC like Hades that at least feel a tad polished in its early stages. In the first 20 minutes of Baldur's Gate 3, I have encountered a lot of cutscenes that feel like storyboards, a lot of characters speaking and then suddenly splitting into clones mid-conversation, and many instances of character facial animations and actions not lining up properly to their respective scenes.
I've also encountered a crash or two in my play sessions, but thankfully the save system isn't borked as far as I know. So as long as you go nuts with the F5 key, you should be able to recover your progress just fine.
Baldur's Gate 3 is clearly a huge work-in-progress title, but it's given special care as the months start rolling by. The recent update fixes the following:
Fixed a crash related to using rush-type actions
Fixed a crash related to the target camera
Fixed a crash in character creation
Fixed a crash during dialogs
Fixed overlapping items inside the inventory views
Fixed "Pickup" and "Pickup And Add To Wares" inside containers
Fixed a player assignment issue when someone would leave from a full multiplayer party. The leftover character can now be assigned correctly.
Fixed an issue with summons showing up as regular companions
Fixed an issue where players could not ready up when other players joined the lobby
Fixed being able to move immovable objects
So Shaar, So Good?
"Early Access" isn't just a marketing subtitle: it's an actual honest description of the product you're paying for. Wait a year or two until everything in Baldur's Gate 3 is ironed out and is complete. As fun as the first Act in this promising 20-hour-or-so grand adventure is, it's just that: a promise of things to come.
Unless you are either a hardcore D&D fan who lives and breathes this Hasbro-owned tabletop stuff, or if you are a huge follower of Baldur's Gate and the Divinity series, you may want to hold off from being a figurative lab rat in this Larian Studios experiment.

No matter how good & sturdy the dough of the Ahm pizza is, it ain't worth paying full price for if it's barely even half-baked.
Related