Google Stadia Is Trending, But Not As Intended. Here's Why
Good news for Google: the company's streaming game service is the talk of the town on social media since 10 hours ago this morning. And it's only been a year since its debut anyway. The bad news? It's because one of its closely-associated Montreal Studio creative director said some things he shouldn't have said.
Here's how it started: Stadia's Alex Hutchinson said the following on Twitter.
"Streamers [are] worried about getting their content pulled because they used music they didn't pay for should be more worried by the fact that they're streaming games they didn't pay for as well. It's all gone as soon as publishers decide to enforce [licencing agreements].

The real truth is the streamers should be paying the developers and publishers of the games they stream. They should be buying a license like any real business and paying for the content they use."
We're not sure why he would say something like this since (a) he's an employee of Google, who also happens to own YouTube, a platform that also features livestream gamers and content creators, and (b) Google has its own Stadia games that can benefit for what amounts to free advertising and word-of-mouth marketing for their titles.
Of course, we have to keep in mind that he's a former Ubisoft Montreal guy who previously accused journalists of having "subtle racism" in the games-making business because "Japanese devs are forgiven for doing what they do". Long story short, the idea of promoters and content creators paying for the "privilege" to devs and publishers is pretty counterintuitive to getting your game out there.
Google quickly responded (via Gamasutra):
"The recent tweets by Alex Hutchinson, creative director at the Montreal Studio of Stadia Games and Entertainment, do not reflect those of Stadia, YouTube or Google."
As a result of this "hottest" of takes, Google Stadia has been trending number two on Twitter for the past 10 hours or so. Here are some choice quotes and reactions to Alex Hutchinson's remarks:
https://twitter.com/pogotoads/status/1319442702396760066
https://twitter.com/SlimeMD/status/1319444932612947968
https://twitter.com/JessicaChobot/status/1319427010775687170
https://twitter.com/oysterFAKE/status/1319403052265205761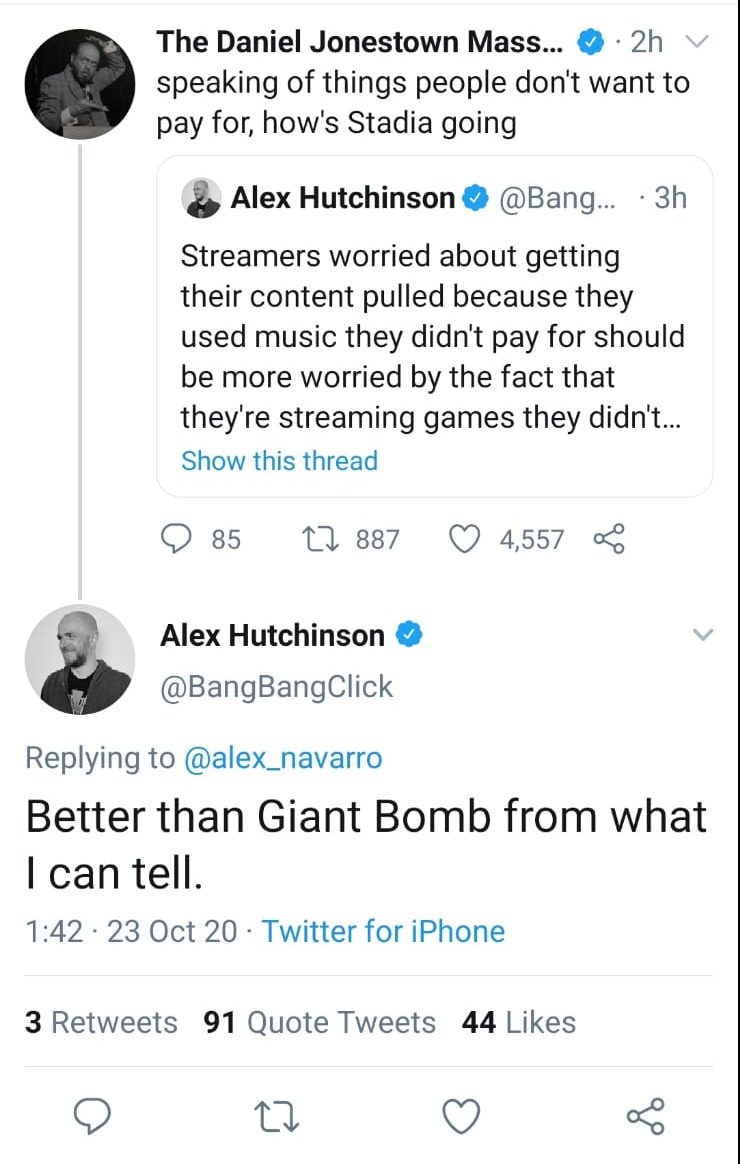 Smooth move, ex-Lax.
We cannot stress how thankful we are that we're in an age where content creators and game journalists can make income creating video game content, either post-production and livestream, thanks to tools like Twitch.tv and YouTube. This method also gives some smaller non-triple A publishers and game devs more love to their games. Granted, some things can be updated and changed up (like what Richard Hoeg pointed out concerning content creation EULAs) but it's functional and encourages new gaming content for people to get enlightened with.
However, saying things that not only discourages these sorts of opportunities, while also being in the position of both a game creator and part of the content streaming & VOD ecosystem, is going to net you a different kind of fame.
Related