Assassin's Creed Valhalla is out now for Xbox Series X, Xbox Series S, PC, PS5, PS4, and Xbox One. If you want some smooth-sailing and meaty open world viking action that's reminiscent of The Legend of Zelda: Breath of the Wild but without the weapon-breaking, AC Valhalla will sort you out.
We've played many hours of this, so why not get started with these tips and tricks? Here's how you can get the most out of razing Europe to the ground and building your viking operation. Skål!
Get The Following Skills On The Skill Tree
Stomp (Up, Bear): Half the time, enemies will be keeling on the ground and knocked down. Why not take advantage of that with an OTG move?
Brush With Death (Left, Raven): Gives you Bayonetta-style Witch Time when you dodge, slowing time down and making you do a counterattack.
Backstab (Down, Raven): Makes you deal more stagger bonus and more damage on enemies when their backs are turned. This will happen a lot during Raids, so make your killing go by faster with this.
Advanced Assassination (Down, Raven): Some high-level enemies are tough to fight head-on. Get this skill to activate an easy-to-win minigame that lets you sneak up and nearly kill these tough baddies.
Counter Roll (Left, Bear): When an enemy does a Rune Attack (ie: an unblockable attack), you can dodge forward with this skill and vault directly behind him/her. This is essentially the AC Valhalla version of Sekiro's Mikiro Counter: used skillfully, you can easily win battles against Zealots and big health bar bosses with mediocre stagger bars. Found in the far left of the Raven school skill tree.
Auto-Loot (Bottom-Left, Raven): It's exactly what it sounds like. This skill will help you save time, as every time that you melee kill or assassinate a target, you automatically loot them in the process. However, this skill doesn't work if you kill enemies with arrows or ranged attacks.
Heavy Dual Wield (Top-Left, Bear): From the very start of the game, you can dual wield most weapons, with the exception of heavy two-handed weapons like Dane axes, spears and more.
This skill allows you to dual-wield heavy weapons. You haven't seen the fury of a Viking until you see one wield dual spears.
Breakfall (Bottom, Raven): If you like jumping for great heights but hate that you almost always die from it, this skill will allow you to automatically roll when landing from a high jump.
However, keep in mind that unlike Odyssey, it doesn't completely negate fall damage. You'll still die after extremely high falls. Eivor isn't a demi-god like Kassandra/Alexios.
Save Your Leather & Iron Ore For Quivers & Rations Upgrades
What's better than upgrading your weapon(s) and armour? Upgrading your essentials and pouches so you can store more healing items and arrows for long-ranged attacks. Healing works a little different here; you collect berries to build up a stock, then save that health stock for emergency use.
Use Leather and Iron Ore to upgrade that stock number to three. You'll survive longer in case a high-level Zealot hits you with a near-death claymore swing. Ditto for quivers; it's basically free kills from afar if you have a hunter's bow.
Find Armour Sets To Complement Your Playstyle
Armour sets in Assassin's Creed Valhalla usually give bonuses to certain playstyles. Ravens boost stealth, Wolf boosts ranged, and Bear boosts Heavy; you can look at the cool graphic next to the armour name to see which set is which.
Make sure to equip each part of your body with a full set, because the secondary bonus (when you get 5/5 of the armour pieces) are incredibly beneficial. If you like sneaking around and dealing crit damage, go for the Raven armour set. If you like shooting things dead from afar and are too lazy to get close, go for the Wolf armour set. Point is, don't half-and-half it: commit to a set or don't.
Get All The Books Of Knowledge In Norway
Don't rush to get to England by doing the story mode. Spend the majority of time getting the starting country (Norway, the one with all the snow & Northern Lights) finding every Book of Knowledge in every dungeon, treasure hoard, or secret room.
Raid Early To Upgrade Your Settlement Quick
You may want to get a lot of resources to get your Settlement level to a high number like 3 or more. To do that and get a lot at one go, you need to do Raids at monasteries and villages near your settlement, along the river, and somewhere where the power level nearly matches yours.
When your Settlement gets to a good level, you start opening up fun features like Reda's contracts, Legendary Animals, and more. Oh, and you can also build a Stable to make your horse get the most essential skill in the game: Horse Swimming.
Build The Stable In Your Settlement And Purchase Horse's Ability To Swim
Building a Stable should be one of your main priorities when developing your settlement in Assassin's Creed Valhalla. Why? You can actually spend Silver to upgrade your horse, from increasing its stamina, health, and most importantly, unlock it's ability to swim.
Now you can just ride into rivers and lakes while riding your horse. It's only a little bit faster than swimming but it still saves a lot of time by not having to dismount every time you have to cross a body of water.
Raid Smart When You're At Power Level 100 Or Close
As you keep doing story missions and sidequests, you'll start building up your power level. Once you get to about 100 or so, that's the perfect time to start raiding higher-level areas.
Obviously you can't just sound the horn right off the bat unless you want to get your viking squad executed. The trick here is to sneak in, assassinate heavy hitters (Advanced Assassination helps immensely), and then sound the Raid horn. Rob every special gold-highlighted spot and chests, and the Raid's done. After that, you can run off since that quest is already over and the spoils are already in your cache.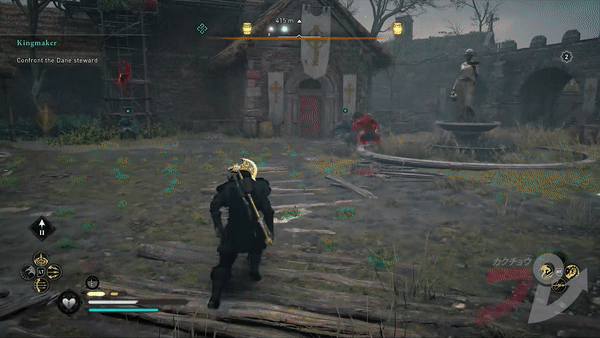 Minor spoilers for the next few tips; we'll put a warning in case.
Don't Rush To Vinland (North America) Just Yet
After many hours into the game, you'll unlock the option to visit Vinland at a certain point in the story. We're sure that you'll probably want to go as soon as you can, but it's worth pointing out that it's a separate and self-contained region. What does that mean?
Well, Eivor leaves behind all his equipment and gear behind when he goes to Vinland. One you get there, you'll have literally nothing but the clothes you're wearing. The story quest gives you just enough material to unlock a new Native American weapon, but you'll have to visit all the yellow Wealth dots in Vinland to afford the rest of the Native American set.
However, we were disappointed to learn how self-contained the Vinland story arc really is. You don't really get anything worthwhile from the two hours or so that you'll spend there. You don't even get to bring back your Native American weapons and gear back to England.
At the end of the Vinland story arc, you'll simply be able to return to England empty-handed. All you get is a bit of narrative progress, and the fact that it ties to an older Assassin's Creed title, but that's all there is to it.
You Can Romance Petra, Broder, & Randvi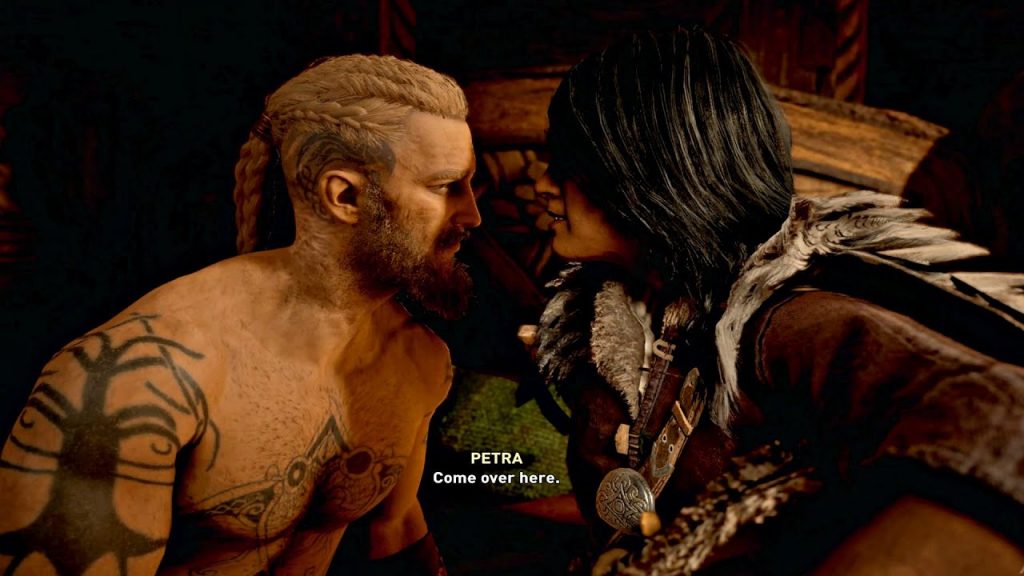 Not really a gameplay tip, but more a narrative tip. You can start with Petra when you open up the Hunter's Shack. Broder's option starts during the East Anglia questline.
Randvi's romance option starts once you completed three of the pledge quests, when you ask her to take a break from all this viking-conquering business.