Kakuchopurei is proud to announce our collaboration with Codashop, a one-stop online portal where gamers – of any platform – can go to purchase in-game premium currencies.
Through this affiliate partnership program, a small portion from any purchases on the Codashop done through our custom affiliate link goes back to us. That way, it helps us a ton, financially in running this site while also keeping our new partners – the Codashop folks – happy.
Kakuchopurei pride ourselves in being no-holds-barred in delivering our news and reviews. Our word is our bond, and we don't simply say something is good purely for brownie points. So just imagine the thought process we've gone through in deciding the folks we align ourselves with.
We trust you would take our word for it when we say this service works. Codashop is convenient, effective, and solves a ton of lingering privacy and security issues gamers face when wanting to purchase extra gems or credits. The titles in their catalogue aren't gutter-tier ones either. The likes of Mobile Legends Bang Bang, League of Legends: Wild Rift, Valorant, PUBG Mobile, and Call of Duty Mobile are all available.  And if you always had reservations sharing your card details with PlayStation Store or Steam due to the frequent data breach cases, store credits for these stores can also be purchased via Codashop.
Codashop is also a godsend for those who want to purchase them credits, but are unable to due to several reasons – you could be in school and college with no access to your debit card, have limited budget or you just prefer to stack and track all your spending through one of those e-wallets thanks to integration with localized services.
Compared to other websites offering similar top-up services, you won't need to log into Codashop to make your purchases. All you need to do is fill in your corresponding ID for whichever service you intend to purchase from. For example, if you want to get some Wild Cores in League of Legends Wild Rift, all you need to fill in is your Riot ID. Thereon, select the amount you intend to purchase and key in your details in the payment section.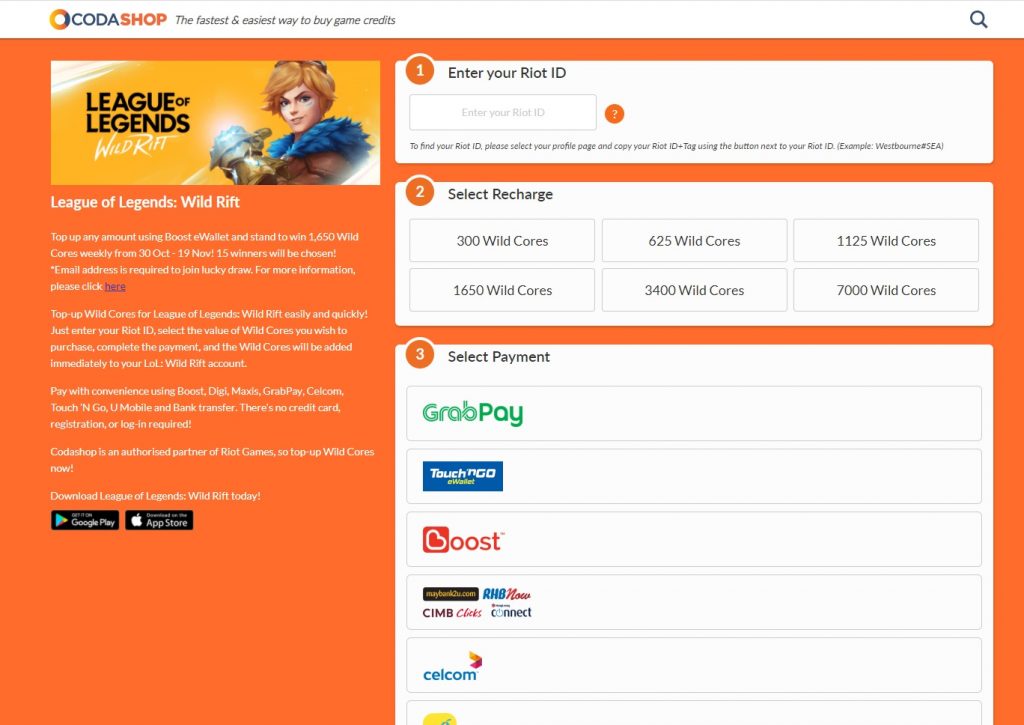 And since they have an official presence in the local market, the folks in the backend have made things simpler for Malaysian customers. Codashop accepts payment in a variety of methods including the most widely-used wallet in the market right now like GrabPay, Boost and Touch N Go; almost all local online banking services, and even via telecommunication service providers including Celcom, Digi, Maxis and UMobile.
So there you have it: the easiest, safest, and fastest way to pay for game credits. Planning to get yourselves some premium currencies for your game? Be an awesome friend and head over to Codashop using our affiliate link here.