Street Fighter 5 has received its final update a couple of months ago, and after weeks of playing, we finally know who the best characters are in this iteration of the game.
Truth be told, this is the most balanced the 2D fighting game has been; it's a huge step up from its 2016 version that's for sure. But who are the top picks in tournaments? And who are the most consistent characters who placed mid to high in the entire part 5 timeline?
Disclaimer: we're going by Dictator, Boxer, and Claw when referring to 3 of the 4 kings. M.Bison/Vega is Dictator, Balrog/M.Bison is Boxer, and Vega/Balrog is Claw.
First up, we have fighting game pro Fuudo dishing out his tier list online. He's currently maining Poison and Birdie.
S Tier
Luke, Cody, Poison, Dhalsim, Dictator, Chun-Li, Guile, Rashid
Despite the nerfs a lot of the S-Tier characters have received, they're still better than everyone else in the cast due to their damage output, footsie work, and their current toolkit. Cody has seen the biggest jump since he's usually in the B and C tier.
A Tier
Kolin, G, Urien, Necalli, Falke, Cammy, Karin, Boxer, Abigail
While these characters are still viable, they have seen a few nerfs than buffs. Having said that, Falke herself has seen the biggest jump, at least in Fuudo's eyes.
B Tier
Kage, Menat, Seth, Zeku, Lucia, Akira, Juri, Akuma, Ken, Laura, Claw, Sagat, Rose, Nash, Ed, R.Mika, Ibuki, Ryu, Blanka, Alex
C Tier
Oro, Birdie, Sakura, Gill
D Tier
Zangief, Dan, F.A.N.G., E.Honda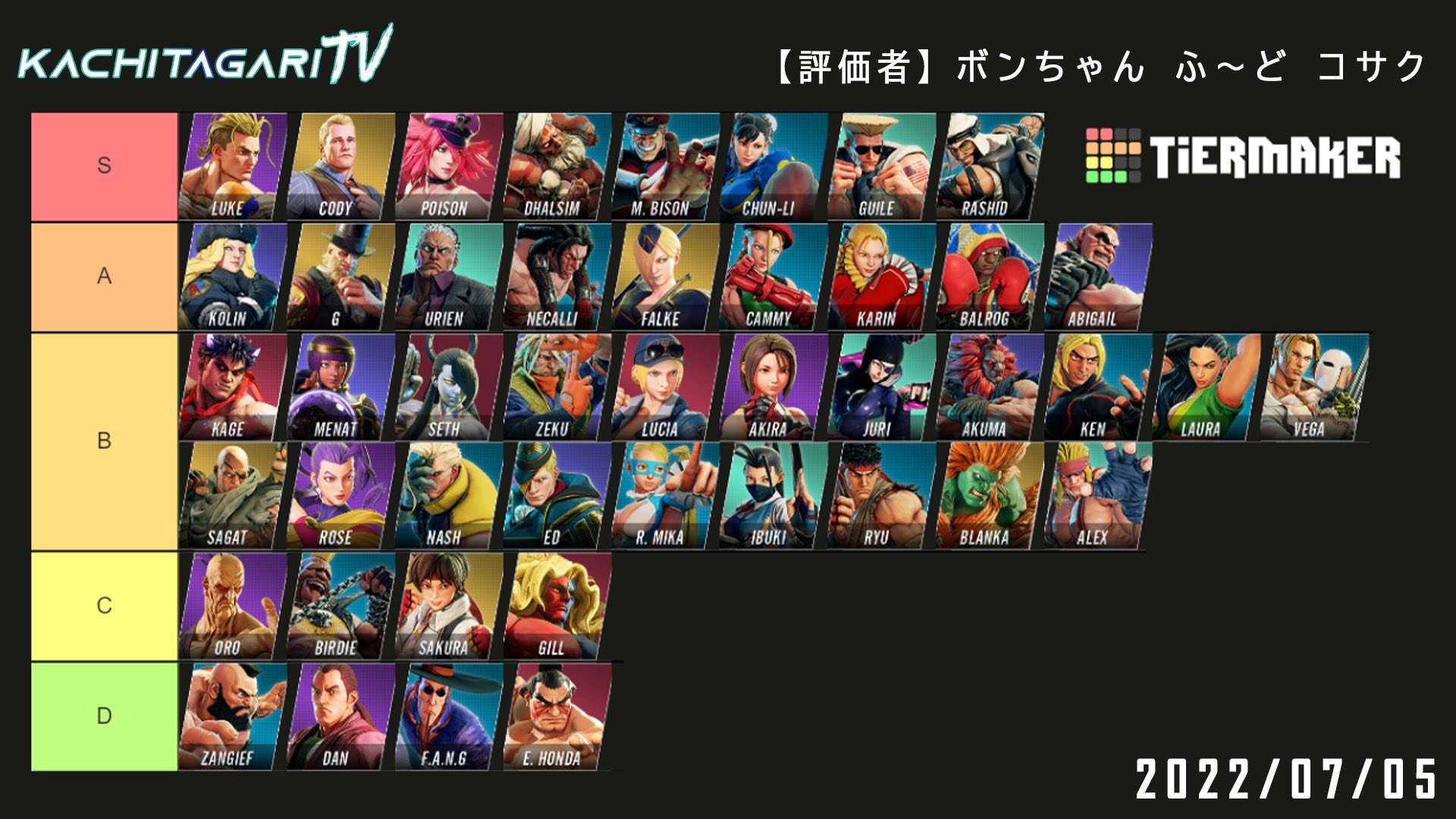 Next up, we have Punk, one of North America's best fighting game players out there. Once again, Luke is leading the pack because of his late inclusion and "future of Street Fighter" status, giving him the best kit.
S Tier
Luke, Poison, Dhalsim, Ken, Juri, Dictator, Chun-Li, Zeku
Luke again takes the top spot, with Poison, Dhalsim, Dictator, and Chun-Li still hanging around the upper echelons. Juri and Ken has seen the biggest jump in improvements and toolkit-tweaks according to the esports player.
A Tier
Guile, Karin, Cody, Rashid, Cammy, Alex, Urien, Necalli, Falke, Boxer, Laura
B Tier
Seth, Ibuki, R.Mika, Akira, G, Menat, Akuma, Kolin, Kage, Rose, Sagat, Oro, Sakura, Ryu, F.A.N.G. Dan, Vega
C Tier
Lucia, Abigail, Ed, Birdie, E.Honda, Gill
D Tier
Zangief, Nash, Blanka
Our Takeaway
Despite some tweaks and nerfs, the developers are adamant in keeping Luke at the top of the food chain. His shoto-like prowess and damage/range with his normals and footsies are pretty spot-on and will put him in the general top of the roost for a long while.
Cody has seen the highest rise thanks to his recent buffs in the past few updates of SF5.
The most consistent characters who show up at the S and A tiers since the early versions of the game are Cammy, Guile, Rashid, Chun-Li, and Dhalsim.
The most consistent low-tier characters since 2016 are Zangief and Nash.
Tier lists are subjective and are meant for equal-level players, but they are still viable in gauging a character's worth and viability in the long run. This is the most balanced Street Fighter 5 has been since, well, ever. Every character in their game has their own good and bad matchups.