Eximius Seize The Frontline is a strategy shooter hybrid seamlessly blending FPS and RTS action, which finally leaves Early Access on PC via Steam today. Ammobox Studios is an indie developer based in Malaysia, and Eximius Seize The Frontline is their debut title.
Eximius is a highly-strategic 5v5 FPS where one player on each side supports their teammates from an RTS viewpoint by commanding AI infantry squads, vehicles, and air support. Eximius combines tactical FPS gameplay with high-level strategic decision-making of an RTS game. The game features competitive 5v5 team battles where players square off in a post-apocalyptic urban environment.
Eximius provides a multi-role gameplay experience where each player could choose to play a diversely different role and fight not only with brawns but also with their brains. The objective of the gameplay is to win by holding down the most victory points. Alternatively, if your forces are powerful enough, you can completely destroy your enemy's base and win the match immediately. The command headquarters cannot be rebuilt and the game will be instantly over.
As a commander, you are also an officer, but you have the extra capability to switch to a top-down RTS interface to build bases and command units. An aggressive commander can also join the battle in the frontline but they are normally expected to stay in relative safety and manage base development. A commander needs to be nominated by the team.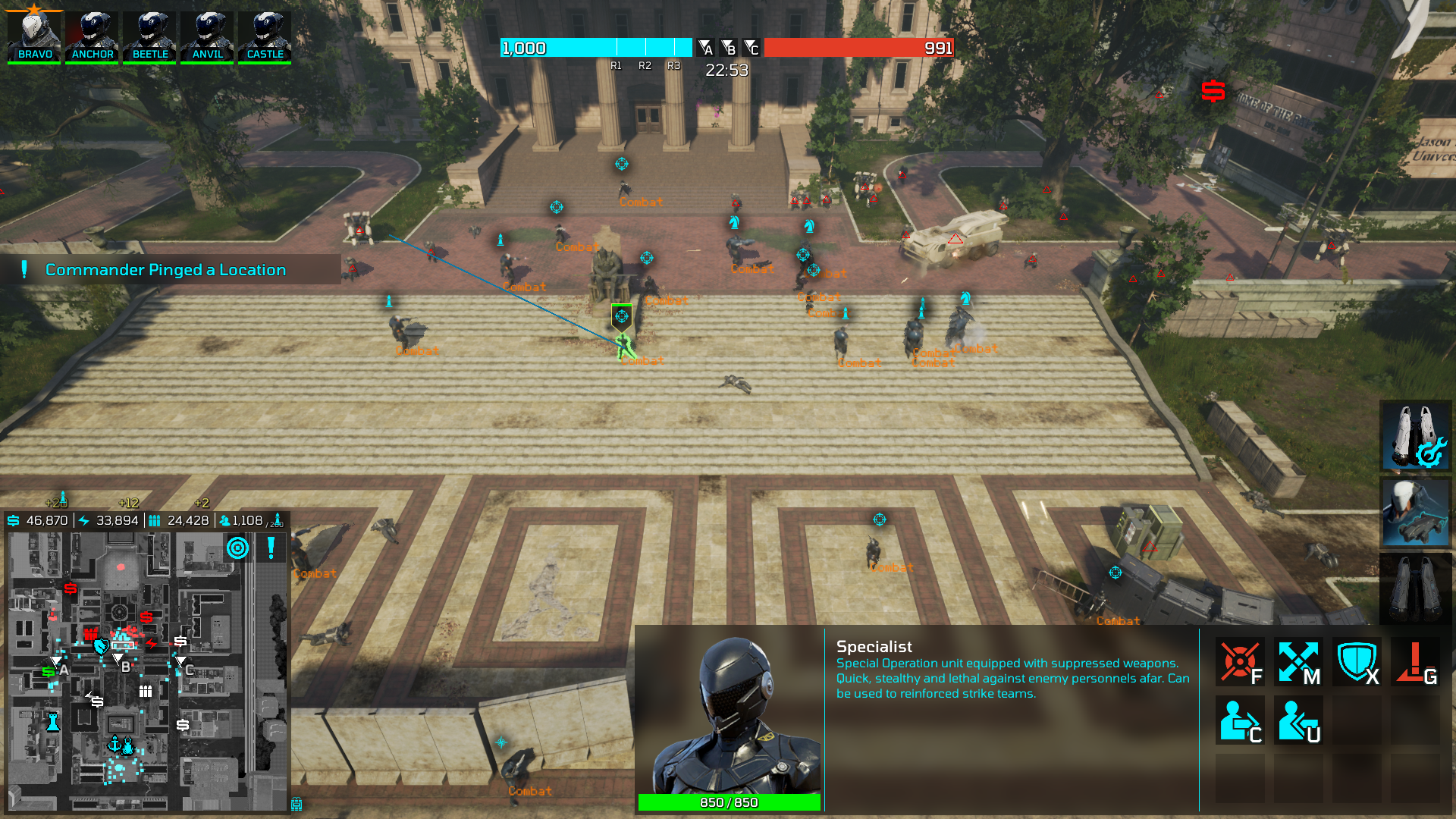 As the gameplay of Eximius revolves around PvP battles, each team shares a base, resource and technology tree. Commanders can train AI infantry and assign them to players. Leading them as a frontline officer; your squad will fight with you sensibly, taking cover and help you both offensively and defensively.
As your resources and technology grow, you can construct increasingly powerful units such as armoured vehicles, gunships and elite soldiers. Your team can also gain powerful team abilities when you tech up to new tiers, where you can call down artillery, deploy quick-response force or launch EMP strikes.
The pinnacle of each team's firepower is the legendary battle-suit. Equipping battlesuits allow players to use powerful abilities, have increased stats and is able to push the frontline much faster. Officers will have a choice of several choices of battlesuits, each with their own play style and set of abilities.
All 10 of these mechs come with a range of skills and customizable loadouts that can turn the tide of battle. Avoid detection by cloaking in the Orion model, protect squadmates with the guardian-class Aegis' shield, or rain missiles down on foes in the Assault suit.
There are three game modes: Strategic mode (online), Cooperative mode (online), or the offline Skirmish mode, where Officers or Commanders take on waves of AI foes.
Ammobox Studios director Jeremy Choo said:
"Eximius: Seize the Frontline offers players a wholly unique online experience.

We began developing Eximius to explore and expand upon the boundaries of both FPS and RTS games.

We're thrilled to have players across the globe experience the next-generation of warfare with Eximius: Seize the Frontline on Steam!"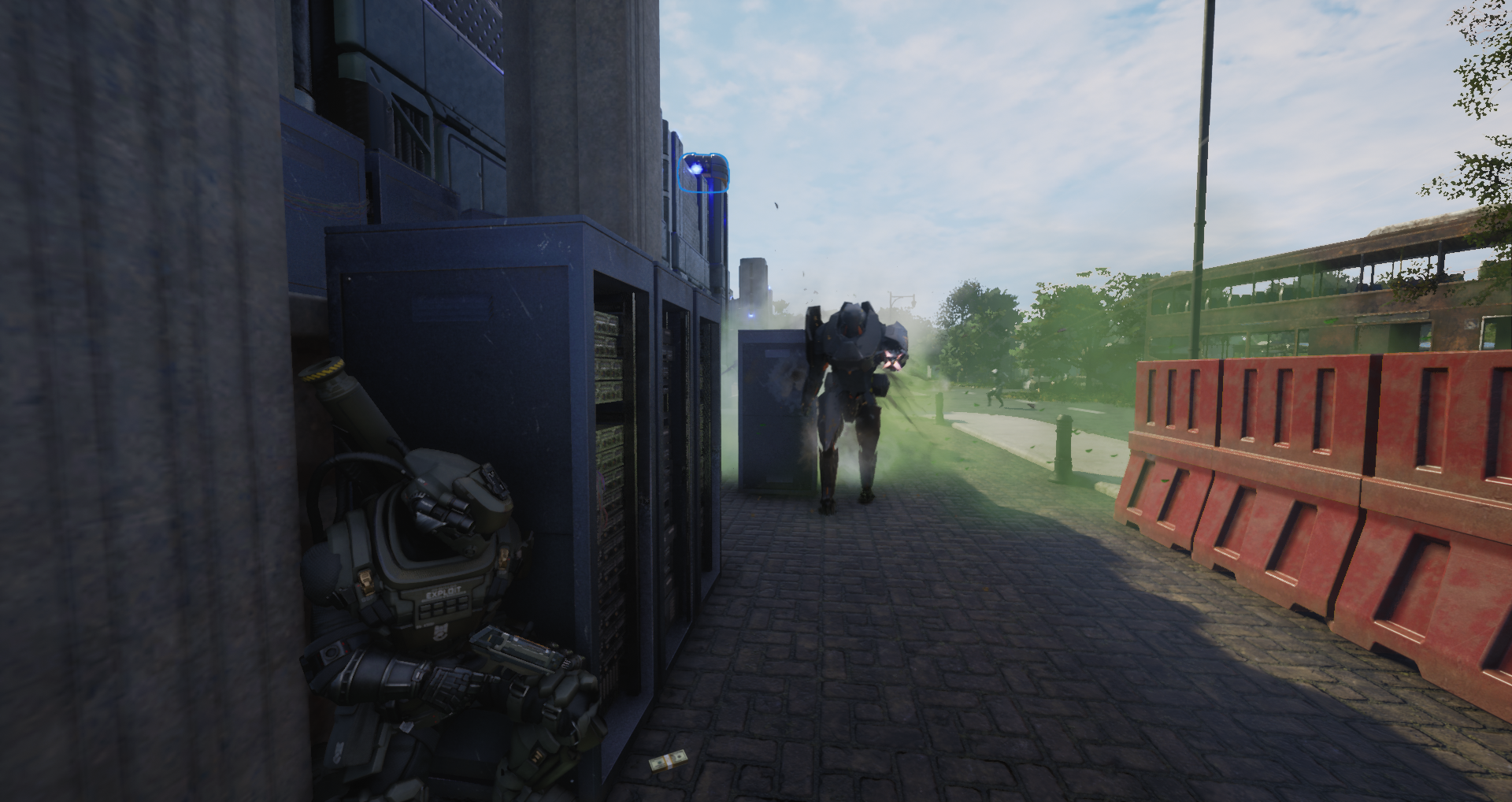 Eximius Seize The Frontline is now available for Windows PC via Steam and the Humble Store for US$29.99 or RM51. It features English-language support at launch. German, Russian, and Chinese (Simplified and Traditional) language support will be available in a post-launch patch.
You can visit the official site here and join the community on Twitter, Facebook, and Discord.
Related