Genshin Impact 1.6 Update Features New Inazuma Swordsman, Summer Events, & Swimsuits!
Mihoyo has revealed tons of details about Genshin Impact's upcoming 1.6 update featuring a new gacha character, a new region, and a ton of new events. It's currently streaming right now in Chinese, so we'll be updating this story as it progresses.
Kazuha The Inazuma Ronin
First up is the official reveal of Kazuha, the Anemo swordsman. He hails from Inazuma, is a runaway fugitive from his own country, and has the ronin vibe about him. And yes, he's just as pretty as the ladies in the game.
His Elemental Skills let him pull enemies close to him with a wind vortex and then hit them all simultaneously with an attack that lifts him up to the air. After that, he can do a damaging plunging attack that creates a wind tunnel that pulls enemies to his position.
Holding his E skill key can make him draw enemies to him, much like the Traveler's Anemo skill. The charged skill deals more damage and covers more ground.
His Elemental Burst is Kazuha Slash. It's an AoE slash attack that deals Anemo damage and has damage-over-time properties.
Midsummer Island Adventure
This new event involves the Favonius Knights Klee and Jeanne, as well as singer/clergyperson Barbara. It's basically Genshin Impact's anime beach episode, complete with new gacha specials like new costumes for the involved heroes.
Jean's new skin will be on sale at the shop (1350 Genesis Crystals) while Barbara's new skin can be obtained in the event Echoing Tales. Collect the Echoing Conches scattered throughout the archipelago and trade it for either Barbara's new skin or other rewards.
You also get to pilot a skiff called a Waverider that can fire explosions made by Klee. You need these to destroy Hilichurl outposts and guard towers in the ocean. Watch out for whirlpools; they can impede your Waverider.
Destroying these encampments will reward you with Wavesplitter Insignias that can be cashed out for in-game rewards. We're guessing this is how you can score Barbara's new outfit.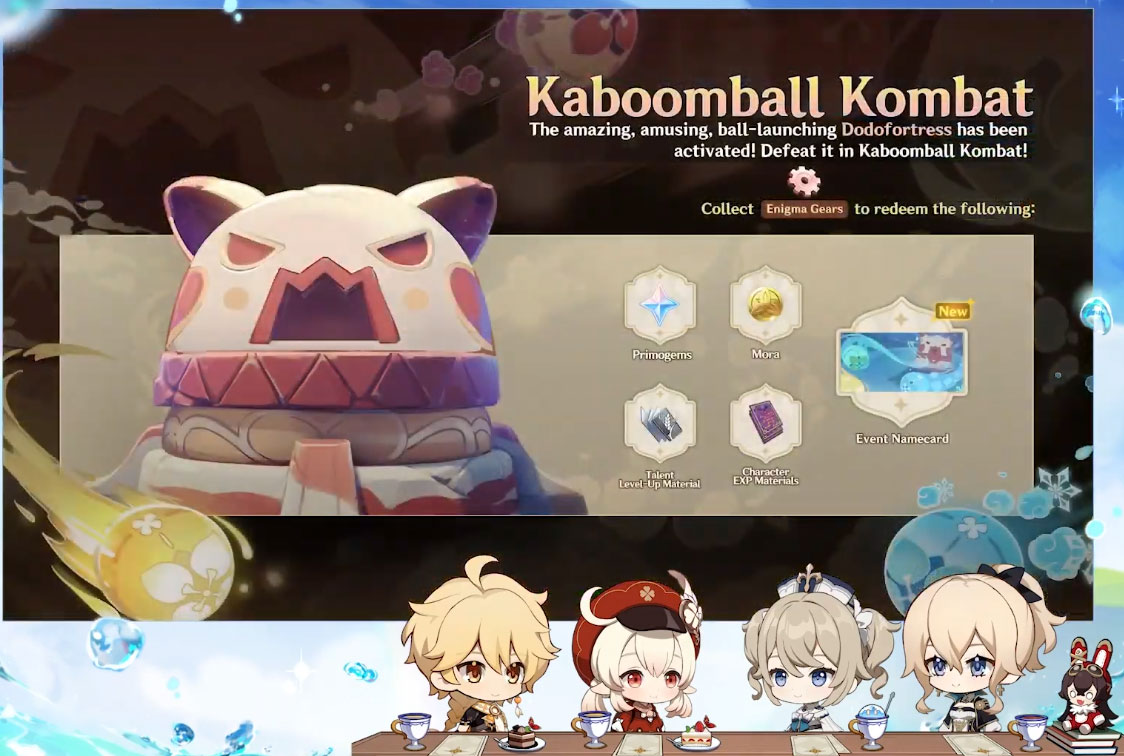 There's also a Kaboomball Kombat minigame in this event: reflect bombs back at a Kaboomball Dodo Tower to damage it. Destroying it means you get Enigma Gears to redeem for prizes like Primogems, Mora, and Character EXP materials. This event has co-op too, but only two players can team up at a time.
The event also introduces a new Never-Ending Battle Challenge. Use the mechanism and the blessing from Momentum Discs to defeat oncoming monsters and stronger Berserker foes. Hit Momentum Discs that pop up and use buffs to stand a chance against enemies.
New Boss Fight: Maguu Kenki
Players will be able to fight a new Anemo-powered samurai giant boss who fights with two halves of an "oni" mask. It's called the Maguu Kenki and it's an automaton with long-ranged sword attacks.
When its HP reaches a certain point, it goes in a Phantom State, meaning it can summon a doppelganger and has amped-up Anemo-powered attacks.
And to amp things up, the domain featuring this fight will also give you the opportunity to fight two of them at the same time!
Livestream Primogems Up For Grabs
Oh yeah, and here are the Primogems codes from the stream; about 390 of them plus some Mora & other goodies. They will expire in a day or two, so redeem them now or later after midnight (do it here):
WTNTBYSZJNRD
8A6ABHTH2N9Z
UTNBBGSZ3NQM
GS6ACJ775KNV
SBNBUK67M37Z
The 1.6 update will be available after the current Eula banner, on 9th June.
Thanks for the translation, ZealsAmbitions!